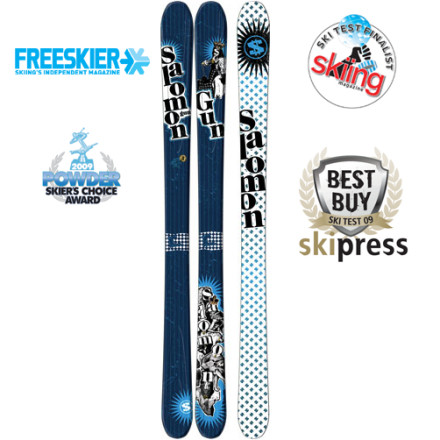 what's the sidecut on the 181 and the...
what's the sidecut on the 181 and the 188??
181: 20.4M
188: 22.2M
Found this right on Salomon's website, hope it helps.
thanks, but that's the turn radii.
I have skied the salomon 1080s for a number of years, i tried the gun and was really disappointed. of course being a lot fatter they are going to be slower on piste, but i found them horrible on hardpack. they would not set an edge. but off-piste they are great
Big/strong skiers will over power this ski. Definitely maneuverable and light, but that comes at a price. if you like a ski that will push back when you crank on it, look elsewhere. This is a ski for the masses, not the top 10%. Gotama would be better option.
I skied rossi s5 in some serious powder...
I skied rossi s5 in some serious powder and loved them. I am 5'10 and 215 lbs. I ski very aggressive. III+. I liked the soft flex and forgiveness of the s5's, how would these compare?
These will have an even softer flex, and if you ski very aggressively you will flex through the ski and probably think it is pretty week.
The gun is softer then the s5 and a much better powder ski, The only prob. is that they do not hold an edge on the groomers nearly as well as the s5 they chatter all over the place because of the lack of wood in the core. If you loved the s5 get them, or try the 4frnt vct you would like them even better and I think they ski kind of like the s5.
helloI live in France and the salomon...
helloI live in France and the salomon teneighty gun 181 2009 are not available this year.Is it possible to buy them (with the bindings) on your webshopand how much does it cost (with the transport)thanks
Click on the "Chat Now" button in the upper right of your screen to chat with customer service.
Great powder shredder but nice all around also
I bought a pair of guns late last season 07-08 and love them. They float great in the pow and make the most of it if its only 3" or if its 16". They don't do really well at high speeds on groomers but they get the job done. Not only do they do well in the powder but I've been skiing with some buddies of mine in the park and they are still light enough I'm able to throw them around. All in all I am very satisfied with the Salomon Gun.
I am an intermediate tele skier and I am...
I am an intermediate tele skier and I am looking for a new ski. 3 skis have been recommended to me, the Salomon Gun, the Line Prophet and the Rossignol s6. I am 5'6", 135 lbs and I currently ski a 160 Karhu Jil but I think it is time to kick it up a notch. I mostly ski the heavy cottage cheese snow in Juneau's backcountry but I will also ski the resort on the nasty days. Any recommendations between the three?
I would really look at the 166 Czar.
Hi there Liz! Silly girl, you didn't ask me, and you posted a question like this to backcountry.com? Seriously girl, I'm the one who got you to wear your boards on the right feet, and you dis me like this? ;)

If you're looking for anything new this next year, I highly recommend the Volkl Aura or Kiku. By the way, you're an advanced skier now, and no longer an intermediate. Let me know when you get back to town--August starts tomorrow, and that's a whole new month to ski in!
I am looking for a powder ski, off the...
I am looking for a powder ski, off the groomers for Utah / Colorado skiing? I am 5'10" and weigh 180 lb ...
G3/el hombre K2 COOMBA 177CM
, ☃bcs_badge_alumni_label☃
Good All around Ski
Great all around ski ...Lightweight, great in the freshies but also perform well on the hard pack and rip on the groomers. I was looking for a ski I can take out and just have some fun with and the Guns did not dissapoint..This is not a ski for just one condition good all around.
Got some guns in 189cm 2 years ago. These ski absolutely rip. They are fat and light. They excel in the steep and deep but blast through crud, and crush on groomers. For a large ski they can make pretty quick turns.
This is a really light ski that you can throw around. Be it jump turning through glades or big carving turns down a bowl. It floats on powder and has no chatter in high speeds. The only problem i have had is with corn snow on hard pack in which it seems to get kicked around on.

While they won't perform as well as a pair of Mantra's or Prophets in deep powder it is a much more versatile ski that is lighter.
Love the Guns in Powder, they do not hold on groomers at all. If you are looking for a powder/backcountry ski the gun rocks. If you are looking for all mountain ski buy something else. This ski will not carve or do very well on hard packed snow..
Would The Salamon Gun be a decent backcountry...
Would The Salamon Gun be a decent backcountry ski?
very decent. light & wide. i see alot of people in the backcountry on this ski. also check out the salomon Czar. It will ski even better in variable conditions.
I use this ski for BC. Skis great in a big mix of conditions and is surprisingly light for the uphill. I love it.
I'd like to buy these for my man: 5'8"...
I'd like to buy these for my man: 5'8" intermediate/advanced skier for all mountain conditions here in Utah. What size and binding for the ski do you recommend?
Hi paula-- Iv'e put lots of hours on this ski and it is a fun ski, but i would reccomend the line prophet 100 over these skis anytime, they will work better on groomers and float more in powder plus last longer due to the wood core and you will sve some money. for size if you gun go 181, but if you prophet go 179. as for bindings get the look px 12 legend wide or salomon sth12.I hope no one minds that I deleted all that, probably not the most helpful dialogue anyway...
I have skied 174 guns for two seasons...I'm 68, 6', 185 pounds. Not a problem for my skiing, but they can chatter at higher speed. On bumps and steeps they work fine. Will not set an edge in the crud like Gotama's. But, they are light and maneuverable, and are very good in powder. The twin tips have good release from a turn, unlike Nordica Mach 3s which hang on forever. Good ski to start with as an intermediate an move up to advanced or expert. No structural problems through about 100 days of skiing at Crested Butte on single and double blacks. Want to compare next with K2 Coomba.
I have been skiing on the Guns for 2 seasons now and can't complain. I ski all sorts of terrain from groomers to backcountry and even do a little touring on them. These skis are really light, which I like, but it doesn't take away from their durability. My skis have gotten a lot of use and still look great. I used to ski K2 before these skis but now I think that I will stick with Salomon.
i've skied these boards alot and think they are great. the 188s are 101 underfoot so they offer good floatation in the pow. i like that they rip on groomers and also have the versatility of a twin tip.
The Gun is a great all round alpine/backcountry ski. A mid-fat ski that is light enough to tour with but also sturdy enough to do some serious skiing. It has high performance in powder, is reasonable to set on edge, has excellent absorption, but is a bit light to sustain radically high speeds. Excellent versatility on the mountain and can handle bumps, crud, ice, and powder to varying levels of expertise. The twin tip is not always so handy in the backcountry elements but if that's how you roll, you may enjoy that aspect for your tricks. It is a smooth, sturdy, dependable ski that is great for an advanced to expert skier. It may be a little light for the big boys..