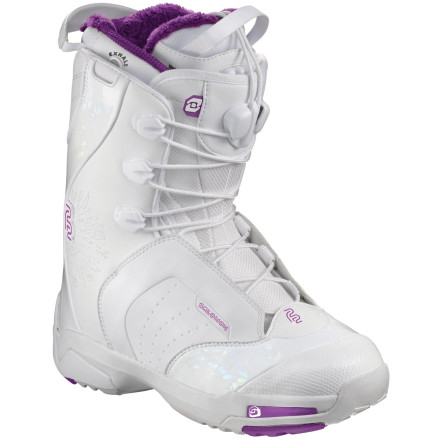 Break down the barriers between you and your board with the Salomon Women's F22 Snowboard Boot. The F22's Fusion Exhale liner is ultra-low-profile for maximum board feel and response. It also includes valve to release air pressure generated by wearing the boot, slow liner breakdown, and increase your comfort.
Liner is heat-moldable for a custom fit; Self-Gel dynamic foam conforms to your foot throughout the day, too
Ultra-lightweight Rusty outsole features shock-absorbing Adiprene for enhanced feel in the toe and impact absorption in the heel
Conform'able pre-shaped footbed stabilizes your foot and supports your arch for better support and performance
Powerlace Pro lacing system makes lacing up a snap
I just bought these boots as an upgrade from my 2009 F20's. I was ready for something a little stiffer, but I learned the hard way all the sizes are different. Even though they use mondo sizes, the 23.5 is way bigger than it was in '09. Order at least half a size smaller than you think you need. They are longer through the foot and wider in the toe box.
I bought the 2009 F22s online, and went...
I bought the 2009 F22s online, and went to have them heat molded. SURPRISE! The liner did NOT come out, even though the official Salomon product description said it was removable. Can anyone tell me with 100% certainty if the 2012 liner really does come out?
The "F" in F22 stands for Fusion. It has a fusion liner to save on bulk. That doesn't mean you can't heat mold them though. You just need to put the heat sticks (usually in shops w/ 32) in them to mold them. It's a great boot that I love because of that fusion liner saving on all that bulk and ensuring that all the movement you put into your boot isn't getting lost in small movements between the shell and the liner.
Fantastic, stiff snowboard boot. I was searching for a boot for both an upgrade and better fit. I have a really narrow heel, and this is the first boot where my heel didn't slip. On my first ride out I noticed a quicker response changing edges, right from the boot to the board. I'm generally a 6.5 shoe, and got the size 6 (23cm). Fits perfect, though I do use custom foot beds.

Love the F22, and would totally recommend it.
Unanswered Question
I'm trying to get these boots to replace...
I'm trying to get these boots to replace my gf's old f22s. Did this years model get made in a 26cm size, or are they just sold out?