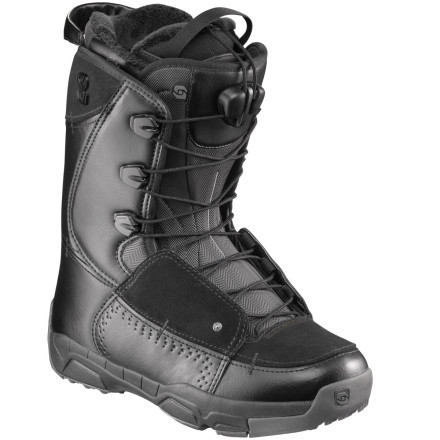 The Salomon F22 Snowboard Boot's fused liner and shell reduce its shell size for better board feel and reduced toe and heel drag. The stiff flex adds edge control, and Powerlace Pro centers your foot in the liner, centers the tongue on the boot, and tightens the forefoot and heel, all in one pull.
Best boots I've ever owned
Usually wear 11 or 11.5 and glad I sized up to 11.5. Wore these for the 1st ride this winter and cannot be more stoked. I usually plan on my feet cramping up after 1 or 2 runs on the 1st ride of the winter but I couldn't have been more stoked when my feet felt like they were riding on clouds after the 4th and 5th runs. Now we just need more snow!
Cool, but why do boot manufacturers still do this?
Alright, so to start off, I have to say that these boots run a bit narrow, so if you have a wide foot, you probably want to look elsewhere. Other than that, they are true to size. Also, the inner lacing boa is shorter than in years past, so you won't be able to wrap it around your leg and hook it back on to the front of the boot anymore. I've kind of yet to find a good place to put the inner lace clip. Also, aesthetically speaking, the boot in the picture is probably an 8 or a 9, as well. I've heard people suggesting that the F22 has a smaller footprint, but let it be known: the bigger size boots definitely do not have a significantly reduced footprint size. You'll still need your XL bindings.

However, Salomon keeps making the lacing system of their boots with this chasm between the laces and the tongue of the boot. This can eventually make for wet feet, since snow can get into that area of the boot, melt a little, and end up taking up permanent residence. You can see what I'm talking about in the sample picture for the boot at the top of the page: on the sides of the outer lacing system over the arch of the foot, there are two little dead spaces on either side of the tongue that can fill up with snow. I had a pair of the Salomon Pledges from a few years ago, and they had a similar design flaw, which led to wet feet after about 4 hours. Had some 32's before that, same story.

Melting snow leads to wet feet = wet boots = stank boots = stank feet = you not getting laid. This is a problem that needs to be addressed.

Other than this, these are great boots. Very stiff, but my spider senses tell me about 2-3 weeks of riding in them will break them in, no problem. And remember, they are a narrow footbed design.
equal size in centimeters of its actual...
equal size in centimeters of its actual value?
Pretty close. Salomon uses their own sizing system. Use "View Sizing Chart" right under the item price to verify your size.
Can't complain about a single thing with these boots, aside from the high price. This is my second pair of Salomon's after years riding in Burton gear. I will never switch. The only reason I got these is my old Dialogues were way too packed out - just couldn't get them tight enough. This time I bought them a half size smaller than usual (I usually wear size 10 1/2 - 11, bought the 10's). After three days of hard riding, they are already broken in.

The one problem I had before was the cord on the inner boot breaking - a flaw that has since been corrected.

Super light weight, warm, stiff, and very comfortable.
If I get these in a size 11 or 11.5 what...
If I get these in a size 11 or 11.5 what size should I get my Cartels? It seems like they would fall right in between a M and a L.
Got with the Large Cartels and adjust the straps to fit.
Spent the last 3 seasons riding in Salomon F24's.. and those boots are totally cashed. Loved those boots so much I decided to pick up the successor to the F24. These boots are definitely stiff, but it allows me to not lace them as tight. The liners are super comfortable and the lacing system doesn't cause any random pressure points. I'm also a huge fan of the footprint shrink technology they use. I wear a 10 in this boot and it allows me to run a medium binding without having the straps maxed out. As someone who prefers to go really fast, while still being able to play around in the trees, I'm already in love with these boots. I hope I get as much use out of these as I did my F24's (which was about 120 days of riding).