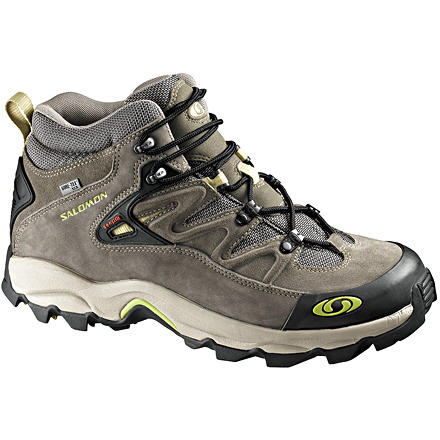 I thought my old Salomons where good!
I love these boots! They don't have the Thinsulate like my last pair of Salomons. So, I'm interested to see how warm they are. But they stay dry, are very light, and are the most comfortable pair of footwear I own. I'd wear them all the time if I could. I feel very sure-footed wearing them and I can't wait for my first birding trip.
almost perfect?hard soles and hurting toes
This is my second Salomon pair and my first Gore Tex. I only have one complaint, the soles are a little hard. The fit is good except for my toes. They hurt when I was hiking downhill. Everything else is perfect. I purposely stepped in a puddle of mud to test the Gore-Tex materials. It worked like magic. My feet were dry throughout the 7 hour hike with several wet terrain. I know this technology has been proven by many people but to actually experience it yourself is exhilarating. Several people were actually looking at me in disbelief when i did that test.
Best boots I've ever owned
Light, waterproof, comfortable, tough, good looking (at least before slogging in the mud in Peru's rain forest and Inca trail). Hey, I'm 71 yrs old and couldn't have done this without them; absolutely the best boots I've ever owned.
I love these! Comfy from the first wear, very lightweight. Nice alternative when I don't really need my heavy leather boots.
Perfect for wider feet. I sized up 1 size, laced them tight, and they feel great. Provides good arch support as well as some ankle support. Even more comfortable than my Brooks Beast running shoes. High quality build and cool details. Moss color looks good. Well cushioned and soft high grip tread. May not last as long as other hiking boots but the ride is much better. Great for summer 14er hiking.
Salomon Extend Mid XCR Day Hiking Shoe - Men's
I ordered these shoes in 9.5, they run small & I am exchanging them for a 10. Other than that they are incredibly comfortable. Side note: the young lady who helped me with the exchange & order was incredibly helpful!! Way to go!