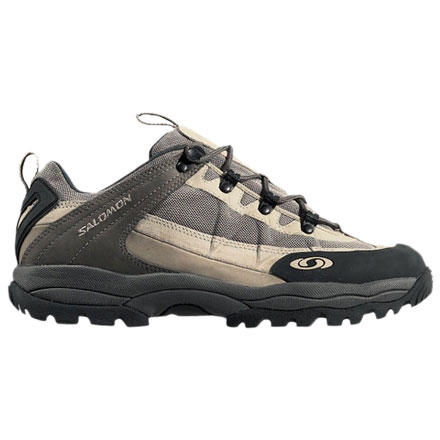 Buying these shoes was a bad choice—they are so low at the back that they are completely useless for any activity related to walking, not to mention hiking. Even though their name alludes to a low cut they are certainly no hiking shoes, rather a slipper with a decent front part.
Very good shoe. The toe is stiff—good protection. I was hoping for a lighter lining.
I was expecting to have to wear my old one-piece leather hiking boots through a 6-day trek in the Southern Alps of Japan. When they didn't arrive in time I was (luckily) forced to use these for the six days of steep ups and downs on very rocky terrain. Great shoes, nice hard sole with great traction and very good breathability. Highly recommended.
And for the price they're darn nice boots. I've been wearing them every other day, swapping off with a pair of Salomon Extremes (now discontinued) and hiking around 6-8 miles a day in fairly rugged badlands on the Wyoming/Colorado border. I've only had them for a couple of weeks, but so far they're doing great!

I tried on about every brand of light hikers and chose the Extremes and Experts because of their excellent arch support, and because they fit my EE-wide feet. I highly recommend them for anyone else with wider than normal feet and a need for good arch support.

I also like the heavy rubber toe cap, which has saved me from more than one prickly pear, and the relatively stiff sole, which gives excellent protection against sharp rocks digging you in the bottom of the foot. On the down side, being low-topped hiking shoes, they don't give much ankle support or snake protection. Of course, the trade-off is their lightweight, and they are cool out in the hot desert.

Very nice boots at a very good price, and I will buy more of them.
Comfortable, relatively light and breathe great!
I hiked an 11 mile section of the Lost Coast right after I got these with no break in and didn't have one problem. A nice change from some big old clunky boots. They're nimble like running shoes but the sole is much more substantial, great grip. They lace up quick and tighten down with great support. I did it many times after empting them of the black sands. I can't wait to try them out on some granite in Desolation Wilderness.
These shoes are great, much more of a low boot than shoe. Very supportive, relatively rigid sole. I carried my basecamp load on Rainier with these shoes last year and they worked extremely well. I have shelved my heavy boots for hiking unless it involves snow or need for crampons. I am on my second pair.
From the moment I put these on they simply felt comfortable. Earlier reviewers had mentioned buying 1/2 size larger than normal and that was good advice.
great multipurpose hiking shoe
I had the previous iteration of this shoe, the Salomon Exit Low (2000). I used and abused that shoe for two years before it fell apart. The Expert Low appears similarly well-made and able to take lots of abuse. It is very stable and supportive without being overly constricting... this is due to what appears to be a board last construction. The polyurethane midsole provide a good amount of cushioning, but is not bouncy or springy like running shoes. These shoes are relatively heavy, but not overly so--this goes along with their very supportive nature and construction. They do take a few days of walking around to break them in, but once done, you're set. If I had to change one thing about this shoe, though, it would be the lacing system--I don't like the speed laces (i.e. one pull tightens everything). The speed laces are too hard to keep tight while you're tying them, and difficult to adjust for pressure at different points (i.e. if you want them to be tight at the top but a bit looser in the middle).
Salomon's Expert Low Hikers
These are my fifth pair. They're the greatest for everything from walking around town to tackling all-day hikes!! Regarding sizes - I have to go up 1/2 size U.S. to get the fit I need.
Salomon should take the "hiking boot" label out of the name. They feel and respond just like cross-trainers. Ultra comfortable with plenty of support for going anywhere.
I got these boots for a weeklong hike through the Italian Alps. I could not have done it without them. The traction was superb and the cost was even better. They show no wear and will probably be that way for a long time. Salomon is a great company as is backcountry.
GREAT SERVICE, GREAT SHOES!!!
I received my pair of Salomon Expert hiking boots just in time for my vacations, as promised by your sales person. I love the shoes and I sincerely thank you for helping me with a fast processing of my order to accomodate my departure.
This boot is just a little more "aggressive" in fit and feel than the Exclaim (which I also have), but it has a similar comfort. And, boy, it looks great and gets lots of comments. And isn't that really the most important thing?