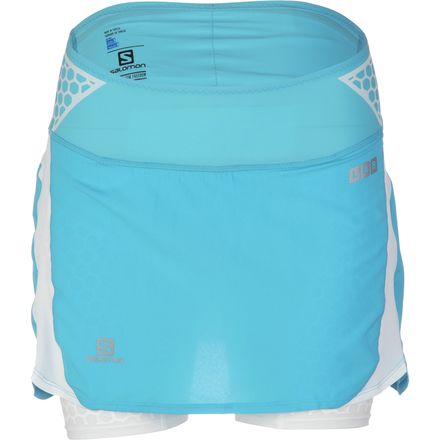 Detail Images
Description
Not your ordinary skort.
Simply because you're determined to break the course record at the Western States 100 doesn't mean you need to cross the finish line looking (and feeling) like a deranged mountain goat with the mange. Instead, break the tape looking and feeling great in the Salomon Women's S-Lab Exo Twinskin Skort. More than a simple running skort, this twirly piece of tech provides graduated compression to support your long-running efforts and speed up the recovery time. The skirt hits high on your thigh to show off the skin-fitting shorts that grip your gams like nobody's business. Two mesh pockets sit above your cheeks to carry energy gels, bear spray, or an ultralight jacket. Designed to be snug, this spectacular skort exemplifies the deliberate design and attention to detail you've come to expect of Salomon S-Lab products.

Synthetic (Actilite Stretch Woven), lightweight skirt
Inner brief lining with PU honeycomb compression
Bonded synthetic (Actilite Stretch Mesh) waistband
EXO Sensifit Stability technology
Graduated compression, 15hPa at cuffs, 10hPa at waist
7-inch inseam on short, extends below skirt
2 rear mesh pockets
I just received my skort I ordered from...
I just received my skort I ordered from Backcountry...which I purchased from Amazon...and here is the image on Amazon (see link)

Is it the same skort? Because I received a skort expecting the same as what is in the image on Amazon. I have the one that is the image on Backcountry website. What year is the skort on Backcountry vs the one on Amazon?



http://www.amazon.com/gp/product/B00IGEIR8O/ref=pd_lpo_sbs_dp_ss_1?pf_rd_p=1535523722&pf_rd_s=lpo-top-stripe-1&pf_rd_t=201&pf_rd_i=B00BO8D982&pf_rd_m=ATVPDKIKX0DER&pf_rd_r=0G40DVD20Y384RAW3HH0
Best Answer
Begging your pardon, but as far as I can tell between the two photos, they are the exact same skirt, unless you're comparing the Score Blue/White color to the Aluminum/Racing Red/White...



Edit: aka4006672,

My apologies; that was the one detail I did not see the first time around, haha.
Please call or chat in with your order number and one of our Gearheads can assist you with a resolution!
Notice the red line at the bottom of the skirt on Amazon image compared to the Backcountry image. It's totally a different design. The one with the redline matches the blue model or version.
Is the measurement correct: 18-inch inseam...
Is the measurement correct: 18-inch inseam on short?

This seems rather long - should it be 18cm?

Thank you
Hey Maggie,



You are correct, that should be 18 cm/7 inches. Sometime our content monkeys have a hard time with units. I will send a banana down the line and see if we can get somebody to fix that.