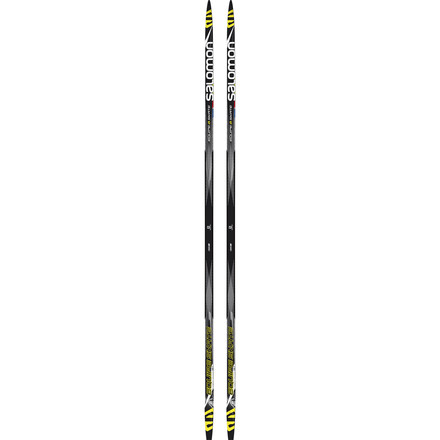 Colors
Description
Fast, light, and ready for fun.
Salomon built the Equipe 8 Skate Ski to be fast and light and to provide you with plenty of stability for those tough training sessions or long days on the trail. In Salomon's Equipe lineup, the Equipe 8 falls between the Equipe 9, which is built for club racers and elite fitness trainers, and the Equipe 7, which is made for beginner to intermediate skiers to allow them to develop confidence in their skating technique. The Equipe 8, then, is ideal for intermediate to advanced skiers who love getting out there on training adventures without blowing a whole ton of dough on a super-light race ski.
The Equipe 8 sports Salomon's G4 Zeolit base with a race universal grind, which is created using a low-pressure stone grind that's designed to hold wax and increase the speed of your glide in all conditions. Javelin sidecut and Powered Camber provide well-balanced pressure that increases stability and control while making your kicks and glides more efficient. Salomon built the Equipe 8 utilizing its Densolite 3000 core, which consists of a carbon and fiberglass wrap with a pre-shaped Densolite foam core, which makes for light, responsive, and consistent performance. The end result is one ski that hits all of the bases for a perfect all-rounder.
Powered Camber
Digital Dynamic Flex Control
Densolite 3000 core
G4 Zeolit Base (waxable racing base)
Protective foil
Javeline skating sidecut
Race Universal grinding
Digital Grinding Measurement