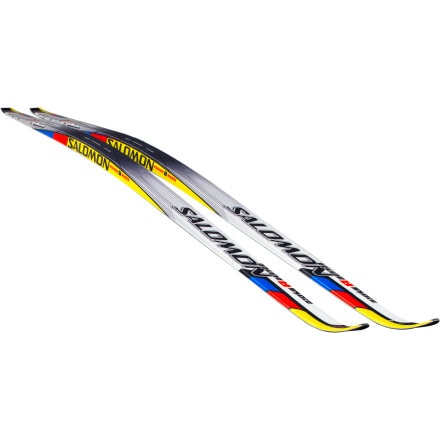 Detail Images
Description
Get more out of your kick.
Last time that we checked, skate skiing was supposed to be a fun way to enjoy the outdoors; not a punishment for our bodies to endure. And along these lines, we don't always want or need equipment that's as unforgiving as it berating. This is where we gladly enter the domain of the Salomon Equipe 8 Skate Ski.
The Equipe 8 benefits from shared technology with the Equipe 9 and even the venerable S-Lab EQ10. One example of this is in the Equipe 8's Digital Grinding Measurement (DGM) base tuning methodology. However, where the Equipe 9 and EQ10 both feature World Cup universal grinding, the Equipe 8 uses Salomon's race universal grinding. This method uses a low pressure stone grind in order to increase the speed of your glide in all conditions,while the S-Lab is split into universal, warm, and cold designations. But, like the Equipe 9, the Equipe 8 features the same javelin sidecut and powered camber. Together, these designs provide a well-balanced pressure that increases stability and control, while making your kicks and glides more efficient. And aside from the host of similarities, the two begin to differ at the core construction. The Equipe 8 uses Salomon's Densolite 3000 core, which consists of a carbon and fiberglass wrap that's been paired with a pre-shaped Densolite foam core. This combination and layup creates a consistent and responsive ride quality, but it does contribute to the 20 gram differential between the Equipe 8 and 9. But, regardless of weight, the increased flexibility provides a much-needed level of forgiveness without cutting into the ski's natural power transfer. So, you get one ski that hits all of the bases for a perfect all-rounder.
Digitally molded Densolite 3000 core ensures an easy-to-kick flex
Power camber ensures balanced pressure distribution between the front and rear gliding zones, which allows the ski to stay above the snow for improved glide, kick acceleration, and stability
Traditional, flat mount binding compatibility allows the use of any binding system on the market
Share your thoughts
What do you think of the
Salomon Equipe 8 Skate Ski
? Share a...
Quality is great,
Member since
Groups:
Posted on
But I have no idea what I'm doing. I hear there is a bit of a learning curve and I'm pushing through. Should have an update soon.
IS Jack B. working today? Jack, is there...
Member since
Posted on
IS Jack B. working today? Jack, is there any reason I should look at the Equipe 9 rather than this one? I am an intermediate skater - not to mention 57 years old. Not sure it makes sense to spend the extra money. If I went with this one, what one would I need? I weigh 195-200#.
Member since
Responded on
Tracy, I am assuming you talked to someone on "Chat Now" during an earlier question. Most of the questions answered on these forums are not BC employees. You can try the "Chat Now" and ask if Jack is working but I doubt your question will get answered by him on this forum.
Just cross countried for the first time....
Member since
Posted on
Just cross countried for the first time. I saw skate skis and I think the skating motion is a much more natural motion for me. I am going to buy the Solomon equipe 8s. I am 6' 220 any sense of what length I should get?
Member since
Groups:
Responded on
Definitely the 191. Weight is the crucial factor and the 191cm is recommended for anyone over approx. 175 lbs.