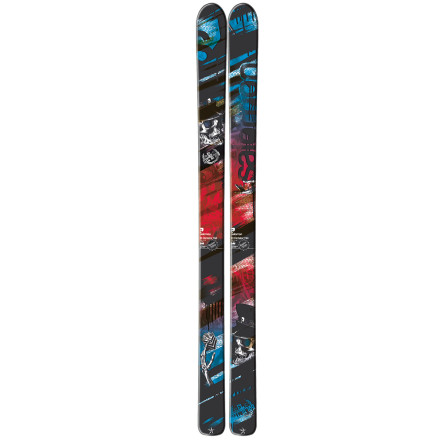 Community Images
If you're a rebel leader who's looking for a big-mountain artillery piece to keep your minions in check, the Salomon El Dictator Ski is your weapon of choice. Designed by freeride rippers Cody Townsend and Kaj Zackrisson, this stiff and burly plank was definitely built for powder, speed, and huckin' your meat, but it also features a rockered tip and a small amount of camber underfoot for added turnability and edge hold on the hardpack. In a market trending toward forgiveness and all-mountain versatility, few skis stand apart to represent the old school. This is one of them.
Double Monocoque (cap) construction adds a second cap layer for strength and exceptional edge hold
All Terrain rocker at the tip aids flotation and prevents deflection in variable, choppy snow
A small amount of traditional camber underfoot improves edge hold on hardpack
Full wood core lends stable, predictable performance at any speed
Total Edge Reinforcement adds a layer of fiberglass directly on the edges for added durability
Wide edges stand up to abuse and provide additional shock resistance
Pulse Pad elastomer layer along the edges reduces shock and vibration
This ski is awesome for hiking, it is lightweight, flat tail, wee rocker, stiff, & likes to go Mach 1. It is the perfect ski for Jackson, I have some other fatter & skinnier skis in my collection, but this is my daily driver. I wish Salomon did not discontinue this ski. I saw Salomon has a ski coming next year with similar specs kind of like this but the knock is that longest length 188 cm, I like the stability of a 194 cm.
When I first started skiing these they were super fast and very stiff. After around 30 days or so they are a little softer and a little easier to smear. That being said they are great skis and I'm a big fan. They are nice and straight so you are doing the turning not the ski. The early rise could go away for me. The only problem I have had is not feeling like there is enough to press on in the front. I am 225 a 6'2" so I'm on the bigger side.



They don't seem to be ageing well, there are already some dents in the edges, average durability.
im 6 foot, 150 pounds. I love to ski fast...
im 6 foot, 150 pounds. I love to ski fast and turn as minimaly as possible. Will this be too much ski for me?
I meant that i like to take super long, drawn out turns. as long as im not too small to control this ski, i think it should be fun.
Hey graham,



Thanks for the question. With the El Dictator from Salomon,a fast and aggressive style is definitely a prerequisite. You've got speed which fits, but I want to focus on the "turn as minimaly as possible" part of you. If this means that you make huge, long, drawn out and fast turns, then you can definitely get on this ski so long as you stay attentive and aggressive. If you mean that you don't like to put a lot of force or effort behind your turns, then I'd look to a different ski as minimal effort on these babies will lead to pretty much straight lining 24/7.
For the past 6 seasons I have been using...
For the past 6 seasons I have been using the Salomon 1080 Gun Lab S. I really like the stiffness of the ski. Based on these reviews it sounds like this is the new ski for me. Does anyone have any thoughts/perspectives on comparing the 2?
Hi oofalong,



Thanks for the question. When it comes to comparing the Salomon El Dictator Ski to the 1080 Gun Lab S, both have a very aggressive flex pattern and have the same end result which is an aggressive and stiff big mountain ski. The El Dictator is definitely wider which gives it a bit more of a planky feel, but also gives a much better landing platform for airing out. The turn radius on the El Dictator has about half the sidecut of the 1080 Gun Lab S so it definitely prefers a very long turn shape with speed.
Cody got this ski right on
It may not be the fattest ski, it may not have the biggest rocker, but it's a charging ski with little rocker that likes to go really, really, really fast. They charge it like a boss.



I enjoy skiing these in Jackson Hole. Get them before they are gone FOREVER!!!!
Sad to see this ski 86ed.
Gender:

Male

Familiarity:

I've put it through the wringer
A pure kick ass charger ski. The Rocker 2 has taken over the whole line up in the 122,115, & 108 models, which is a kick ass ski in it's own right.



The El Dictator was for such a high skill level (like the Dynastar Pro XXL or Rossignol RC 112), maybe it was destined to live a short sales life, because of it being a ski with wee rocker, flat tail, stiff & fairly straight. Pick them up now before they are gone forever. It is a ski if you can hit Mach 1 straight lining gnarly lines.
great strong skies, even they look heavy, they run fast and ligth.
real stiff on the tail and the point. the one size looks a bit big for my 5 11", but speed them up and they'll react as you want.
exelent performance on icy terrain, on the southamerican Andes mountain range snow type.
I give them a 10
Skiing Blackcomb on Salomon El Dictators
Skiing Blackcomb on Salomon El Dictators
If you can work it, it will pay you back
Thirty years ago, people wanted "a slalom sidecut with a GS flex". This is today's version of that ski. Stiff, with a very stiff tail. You can make all the turns that you make on a Shogun (I have those, too), but you have to be going at least twice as fast to get them to bend enough. They are rock-solid stable, and the foot of rocker is just enough, without so much that they chatter. You work a lot harder on these than on the Shoguns, but you are rewarded with two to three times the speed, skiing the same line. I am 6'3" and I weigh 230 lbs, and I have strong legs. You need them for this ski.
The ultimate big mountain ski
Stiff stiff stiff. This ski is a big mountain skiers dream. At least the hard charging ones. This ski isn't flashy. Its not going to be scene throwing dub 9's or whatever. This ski is meant to go straight, fast, and make sure you can huck the biggest of cliffs. With a 114 underfoot it excels in the deep powder. But with a stiff tail. These skis were made for hucking.