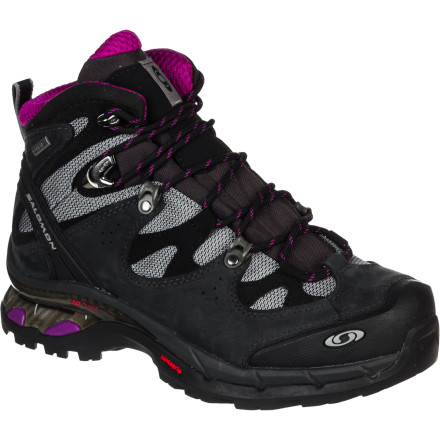 Detail Images
Description
Go ahead, venture further.
Pull on the Salomon Comet 3D Lady GTX Backpacking Shoe when you're shouldering heavy packs through unpredictable weather and tricky terrain. The Comet's Gore-Tex waterproof breathable membrane prevents heat and moisture build-up while blocking external moisture (so your foot doesn't get drenched when it's raining and you're working up a sweat).
3D chassis provides stability, comfort, and protection for your mountain pursuits
Contragrip outsole uses a combination of rubber compounds to provide you with optimal grip on varied surfaces
Molded EVA midsole provides extra stability and comfort
Textile lining is abrasion-resistant so you won't wear holes into the interior anytime soon
Lining breathes well and dries quickly for less blisters
Die-cut Ortholite EVA sock liner provides extra cushion
Mud Guard lines the base of the shoe and protects against damage from mud, rocks, and evil sticks
My mom's first hiking boots!
Familiarity:

I gave it as a gift but have feedback to share

Fit:

True to size
I flew my mom to Seattle from Minnesota for a visit and wanted her to not only see more of the beauty of the Pacific NW, but also for her to experience it - so I bought her her first pair of hiking boots. She immediately said the fit felt great whether she had on thin or thick socks, felt nothing rubbing her feet wrong on the inside of the boot, said they felt great when I took her on 3 short hikes. I'd give them a 5-star rating if we/she had actually been able to put the Goretex to the test. She's going to wear them as winter boots in MN - and will bring them with her when she visits me again in Seattle!
Unanswered Question
How does the Comet fit compare to the Quest? Forefoot/ Heel? Comet appears to be 4oz lighter - do they have significantly less stability?
I'm a fan
Familiarity:

I've used it once or twice and have initial impressions

Fit:

Runs large
I bought these boots about a week ago for a trip to Utah. I bought them since I was supposed to be going backpacking (didn't happen). I broke them in for only two days before the trip, and the break in period wasn't so horrible. After that they became really comfortable. While I wasn't carrying much, I did a few long primitive trails in these boots and they served me well.
Sturdy
Familiarity:

I've used it once or twice and have initial impressions

Fit:

True to size
I needed a pair of boots for some winter hiking without a lot of time to shop around. They felt like they might be too big at first, but when paired with liners and wool socks they fit true to size. These boots were sturdy and worked well with my micro spikes but definitely could have used some breaking in as I hiked for about 8 hours on rocky/icy/snowy terrain and ended up with dark bruises on left ankle bone. Regardless, I am looking forward to more hiking and getting these boots fully broken in.
Well Padded Boots
Familiarity:

I've used it several times

Fit:

True to size
***May 2013*** (4 stars) Overall I think these boots are great. I wanted a boot sturdy enough for backpacking and light enough for day hikes...these boots fit the bill. Over the course of 2 days, I backpacked 16 miles with about a 25 lb pack. I did get a bit of a hot spot near my ankle from the edge of the tongue of the boot and/or the metal lace gromet, but with a little relacing technique, I made it go away. I am thinking that once the boots get broken in a bit, this will go away. The boots are nicely padded and appear to be made well. My last boots were Salomon and they lasted about 15 years...I am hoping these do as well. Can't wait to hike more trails in them. I recommend them.

*** UPDATE*** 5-15-15
(Updated to 5 stars) I've done a couple more overnight backpacking trips and recently just got back from a week of hiking in the Smoky Mountains. These boots are GREAT. They seem to have broken in fully and no longer rub my ankle. As we were hiking I mentioned that I should buy another pair now, so when they wear out I'll have a spare (that's how much I like them!)
Climbed Mt. Fuji and feet are great!
I climbed Mt. Fuji for the first time yesterday, and bought these shoes for that purpose. I cannot be happier with how these shoes performed. Not a single blister, and I just wore regular white athletic socks with them. Most impressive was the descent, which is loose dirt/sand/rock so you're slipping a lot down the mountain. Not a single pebble made it into the shoe, shoe held my ankle very steady, and when I took the shoes off at the bottom, my socks were still completely white! I have confidence that the gortex/waterproof feature would perform well, but I'm happy it didn't rain on me yesterday! Also, not that I'd recommend this, but I only wore them once the day prior to my Fuji climb. I have other Salomon shoes so I was pretty sure about the size I ordered, and agree with other reviewers that they are comfortable out of the box. Great shoe!
Not happy
Familiarity:

I've used it several times

Fit:

True to size
This boot is comfortable out of the box. After 3 hours on the mountain my feet ached in the metatarsal area, I carried a 10 pound daypack. Thought maybe I was just tired but on further trials walking my usual 4 miles on a relatively flat trail my feet ached in the same area. I can feel every bump, rock and root on the trail. I can't imagine carrying a 30 pound backpack anywhere in these boots. They feel more like high top tennis shoes.......very expensive ones. Disappointed and unhappy as these were advertised as a backpacking boot and since I had experience with previous products from this company I thought I couldn't go wrong and the reviews were good.
Just love these boots
Familiarity:

I've used it several times
Its been many years since I bought a pair of hiking boots and based on reviews on this site I finally decided to get the Comet 3D.

They are amazing - absolutely no break in needed, extremely comfortable - (just been dianosed with gout so comfort was essential) no cold toes either while out in the snow and freezing temperatures. I had thick socks and there was still enough comfort space around the toes that my feet didn't feel constrained. The padding under the foot was in just the right places.

I can highly recommend these boots.
True Love
Gender:

Female

Familiarity:

I've put it through the wringer
I have some pretty horrible and long term planters fasciitis and have found that wearing the salomon boots has really helped. These ones have been the best so far. I wear them all the time. For hiking and every day. If only they made these in evening wear, I'd be all set.
great boot
Gender:

Female

Familiarity:

I've put it through the wringer
I have tried many hiking boots from Teva to Keen and at the end of the day my feet were always killing me....Not in these ! Rugged, yet comfortable, plenty of toe room and doesn't feel too tight with heavy socks.. Very stable in wet conditions and they will keep your feet dry. I wear them for hiking, hunting and chores, just about anything involving the outdoors these are my go to boot. Love them, well worth the money.
Love this boot!
Gender:

Female

Familiarity:

I've used it several times
I've had several pair of hiking boots over the years and this pair is, by far, the best pair I've ever owned! From the very first afternoon, these boots have been comfortable and I haven't had a single blister! What a relief, since I was getting blisters every week even though I was alternating between different pairs of shoes/boots prior to getting these boots. I couldn't be happier! I have about 40 miles on the boots at this point. I haven't made it into the mountains yet, but have about 10 miles in fairly hilly terrain.

This boot is lightweight (~1/2 the weight of my previous boots) and very stable. The boots were true-to-size and the toe-box is roomy enough for my foot. I have high arches and these provide good support.
I bought these and another pair of boots at the same time because both boots received good reviews. The Comet 3Ds blew the other boots out of the water. The fit was awesome right out of the box. I will be returning the other brand of boots because they just did not compare in comfort and stability to the Comets.
I'll admit I have a hard foot to fit: narrow heel and wide forefoot. This boot was comfortable out of the box. My memory was I used to size down in Salomon, but after reading the reviews I bought my "normal" shoe size of 6.5 and they fit. At first I was afraid the heel was a bit loose, but that turned out not to be a problem at all. I wore them around the house for a couple of hours and took them on a 12 mile hike today with 2500' of elevation gain. They did amazingly well. Great support, tread is very sure-footed. I did a few sidehill scrambles and mucked through a slimy creek. My feet stayed totally dry. They were truly inspired on the downhill. My toes didn't run up against the end and the extra "cush" in their 3D chassis felt really good after a few miles. Maybe my only nitpick is that, like all goretex lined boots, they get warm. Today was a relatively hot day, though. Close to 80. So they had every right to feel a tad on the warm side.
They lace easily and are easy to slide on and off. A plus if you like to dip your feet in streams at rest breaks.
Works well so far on 9 mile hikes and less
I have not done a multiday backpack trip in them yet, but they seem to be working for me so far. Salomon boots seem to fit me "true to size," as in, I have had two different pairs now where I fit the 7.5, which is the same size I wear in tennis shoes with thin socks. Other boot brands, I have to get an 8 to accommodate the thick hiking socks.
How do the Salomon Comets W-GTX compare...
How do the Salomon Comets W-GTX compare with the Salomon Discovery? I have only seen that Comet is recommended for 1-2 day backpack trips, but what about the Discovery? I saw a review that Discovery was slippery like banana peels, but that's it.
The Comet is a much more stable boot. It is also just a bit wider through the ball of the foot. I have a pair of Discoveries boxed up for a return trip to Amazon. I was trying to save a few bucks, but it's not worth it. I hiked for close to a month in the UK (just got back) with the Comets. Most waterproof boot I've ever owned. Also mud/muck stable.