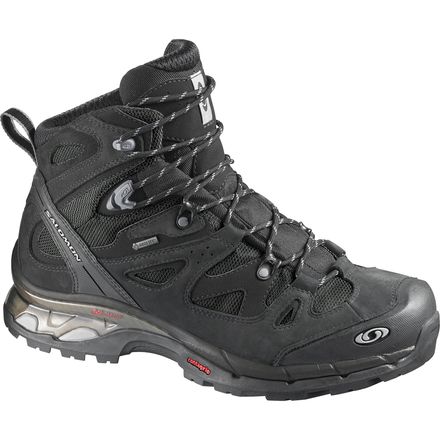 Detail Images

Community Images
Description
Further into the mountains with better gas mileage than a 4WD.
When you lace up the Salomon Comet 3D GTX Backpacking Boot, it's like shifting into four-wheel drive. The Comet's Gore-Tex waterproof breathable membrane prevents heat and moisture build-up while blocking external moisture (so your foot doesn't get drenched when it's raining and you're pushing your internal mph dial into the red zone).
3D chassis provides stability, comfort, and protection for your mountain pursuits
Contragrip outsole uses a combination of rubber compounds to provide you with optimal grip on varied surfaces
Molded EVA midsole provides extra stability and more comfort for your endeavors
Textile lining is abrasion-resistant so you won't wear holes into the interior
anytime soon
Lining breathes well and dries quickly so you don't have to suffer through a day of wet feet
Die-cut Ortholite EVA sock liner provides extra cushion and maximum comfort
SUPER Comfy!!
Familiarity:

I've used it several times

Fit:

Runs large
Recently got these and I can say that after wearing MANY different kinds/styles of boots thru many years in the Marines, these boots are AWESOME. I am looking forward to wearing the soles right off these babies!
Best Boots I have EVER owned!!!!
Familiarity:

I've put it through the wringer

Fit:

True to size
Just got back from a 25mile trip on the PCT with a 60lb pack. I had no time to break these in. I had zero problems, most comfortable boot I have ever put on. Highly recommend!!
uncomfortable around ankle and instep
Familiarity:

I've used it several times

Fit:

True to size
I have only purchased this boot about a month ago and done 3 fullish day hikes in them. The traction is amazing as the terrain is quite steep in my area, and they certainly keep my feet dry.
My biggest complaint with them is the ankle support. I just did a 15km quite hilly hike on the weekend and the pain around my ankle and instep at the same height was quite significant. I have tried tying them loose etc but still ended up with welts around my ankle/instep. This was the 1st thing I noticed about them from the get go. I will trying tying them loser again next hike, but if no better i think these will end up in the bin.
I have a very long, narrow, low-volume foot for a woman so it has been seemingly impossible to find a boot that fits. I typically have to get men's because of the length which are often too wide. These boots fit me perfectly right out of the box which was so relieving. They have a snug heal, the laces tighten nicely around my foot and the toe box is roomy. I have worn them for my job as a dog walker for the past couple months which is more than adequate break-in. They work great for that, my foot doesn't slide, they are sturdy enough to protect my ankles and toes but light and breathable enough to wear every day. However, I just took them on their first backpacking trip. 28 miles total with about 45lb pack. They took the weight great, i have no ankle or knee pain. They are not too flexible to strain the tendons- issues I've had with other boots, BUT I got a blister on the bottom of almost every toe and my left big toenail must have been pushing against the top of the shoe because it's so painful, discolored I'm afraid I might lose it. I'm so bummed and wondering if an insole would help this? Is the toe box too roomy? Even with shoes that I returned after backpacking because my feet hurt so bad, I've never had blisters like this. I tried switching up socks during but it didn't help. Any suggestions? Thanks!
I would get the next size up. When you tighten the shoe laces this will prevent your toes from hitting the front and keep your foot in place. I initially wear a 9 1/2 men's when I changed to a 10 all the issues you mention went away.
Caveat Emptor
Familiarity:

I've put it through the wringer

Fit:

True to size
I'm very disappointed: after hiking in these for less than six months the left boot began pinching the outside of my foot to an excruciating degree during an 11 mile hike. I'm still not sure what happened, but I'm out $200. My only advice is to try on multiple pairs of hiking boots before settling on one, and if in doubt be willing to spend a little to take care of your feet - you won't regret it.

In the future I'm willing to spend more if necessary and have the return policy of one year through REI vs. backcountry which requires one month.

Tough boots
Familiarity:

I've put it through the wringer

Fit:

True to size
I am on my second pair of comets. My boots get worn for everything from cutting firewood and clearing brush to backpacking. Care and cleaning consists of a hose off. They are put up wet and muddy and get absolutely no conditioners or cleaners. My first pair lasted four years before the sole started to separate. Still wearable but water started making its way in. Very little break in. I love them!
Awesome boots, however...
Familiarity:

I returned this product before using it

Fit:

True to size
Don't give me wrong, these are excellent constructed boots. Unfortunately, I have low arches for my feet. As soon as I put my feet into these boots, I realize the squish feeling from my arches right away. In another word, if you have below average arches, don't bother them.
Tanks on my feet
Familiarity:

I've put it through the wringer

Fit:

True to size
I typically buy Salomon boots. They last forever and certainly take a beating. A word of caution though, Salomon boots may be uncomfortable right out of the box (my last three pair were and so were these). For me, they require a break-in period (~1/2 day). Stick with them though, and you will be rewarded.
Perfect backpacking boot
Familiarity:

I've put it through the wringer

Fit:

True to size
First thing I did when I got these was go on a 40 mile backpacking trip in the snow. Boots worked great with 0 break in and never leaked walking through 2 feet of snow. Since buying these I've hiked hundreds of miles, off trail, on highly technical terrain. I love the fact that these boots are robust, but not overly heavy and clunky. I tend to do a lot of scrambling on rocks or obstacles when I backpack, so I like a light boot.
The boots for me.
Familiarity:

I've used it several times

Fit:

True to size
After having these for about a month and a half, I've done multiple ~5 and a couple ~12 mile hikes on both flat and steep terrain, and I have nothing but good things to say about these boots. I'm itching to take them on longer trips, and I'm sure they'll be perfect for that too. I don't have money to own multiple hiking boots, so I wanted something good enough for the occasional multi-day backpacking, but light since I mostly just do short weekend or day trips. These shoes are very light, have very good support, and are exactly what I was looking for. And with the smartwool socks I use, I've had no blisters or need to break them in. I was originally thinking about purchasing the Ultra Mid GTX (a buddy of mine owns them and I was blown away by how light they are), but I decided to go with these since they're not that much heavier and they seemed better quality. I'm very glad I did. I don't understand the craze about hiking in trail-running shoes when you can buy a nice pair of mids like these with great support that's just as light or lighter. If you're like me, I think these are the boots for you as well.
I am in Love with these boots
Gender:

Female

Familiarity:

I've used it once or twice and have initial impressions

Fit:

True to size
These are by far the most comfortable boots I have ever worn. I love that they are study and provide nice support for my ankle without being heavy and bulky. They also have continued the wonder of the wide Salomon toe box which makes these boots for me. I decided to buy the Men's version of these boot rather than the Woman's because I felt like the shoe was slightly wider and also more durably built. I wear between a 9-9.5 in women's boots, and ended up getting an 8.5 in men's. This gives me room for fuzzy socks and doubling up as well. The more I wear these, the more I think they are my sole-mate boots!
3D Chassis fit like a charm.
Familiarity:

I've put it through the wringer

Fit:

True to size
My everyday shoe for hiking, trail running, and casual wear are the Salomon XA Pro 3D Ultra's. For that review see: ( http://www.backcountry.com/salomon-xa-pro-3d-ultra-cs-wp-trail-running-shoe-mens?contentIdSocial=review-atg339751 )

If you love those shoes, these are the fit up for you to go right to the harsh trails in the backcountry that require a bit more stability.



They also really fit well with crampons as I learned. LOVE THESE BOOTS. Both the shoes and comet boots with the 3D chassis have treated my feet well, never letting them see a blister or even a harsh rub.



Most shoes I wear 11, in Salomon I wear 10.5. and they fit like a dream. They break in well from 10.5 to 11 and hold solid from that point on (I believe)
Great Boot for one season of hiking
Gender:

Male

Familiarity:

I've put it through the wringer

Fit:

True to size
I absolutely loved these boots out of the box. So much so that I bought them again after I split a seam near the toebox w/ about 700 miles on them. I thought it was a fluke, but I developed another split in the same place on the new pair after about 400 miles! Can't say enough about comfort and waterproof-ness, however. If they were less expensive, I'd probably continue to replace them every year, but I think you should get more than one season of hiking for $225. (cost at time of purchase)
Hi there. I am hoping to be able to use this Boot for a trek to Base camp and Island Peak in Oct/Nov when temps get down to minus 10 C in the day. Has anyone used this in very cold temps? I seem to have noticed all boots I look at, someone reviews them as being cold. Thanks for any advice!
Hey Paul,



The Comet is an excellent backpacking boot and excels in a variety of situations. It is fully waterproof and is breathable thanks to a Gore-Tex membrane. However, it is not an insulated boot and will not provide any warmth.
I just wore these out in -12.2C in the snow.



With the slightest movement (hiking/walking) I am warm with your average wool socks.



After experimenting with insulated vs. non hiking boots, I prefer to have the option to insulate with socks rather than the boot. The boot, then can be applied to a wider range of activities. These boots are so smooth I could wear them with a thin pair of breathable socks and feel great in the spring/summer/fall and stay dry from outside moisture with the Gortex.



I only had cold toes when waking up to do the nightly hydration relief around 1100PM, 0200AM, and 0400 AM not wearing any socks.



Long story short, insulate with socks and have your dollar stretch.
Good construction but narrow
Familiarity:

I returned this product before using it

Fit:

Runs small
I'm giving this boot 4 stars. The boot appears to be very well constructed and would be a great waterproof hiking/backpacking boot. The sole seems a bit stiffer than most hiking boots, in a good way, and the rest of the boot looks to be top quality.

Unfortunately I never got to use them because they are very narrow in there forefoot. I have average to low volume feet, but these were just to narrow in the front. Maybe sizing up one would help. If u have narrow feet, I think these boots would be great, but unfortunately they did not work for me. I'm still giving it 4 stars because they appear to be top quality.
Can anyone provide feedback on the grip...
Can anyone provide feedback on the grip on wet concrete?
Wet concrete with what finish?



I say they are great if its just water. BUT I warn on the longevity of the tread. They are great on terra firma, but will wear out on concrete/asphalt conditions pretty quick. I completely stopped running in them on any concrete to make them last longer. (and its better anyway :) )
Quality decreasing sharply
Familiarity:

I've used it several times

Fit:

True to size
This used to be my favourite shoe for running on soft terrain (woods...). Not anymore. This shoe is not he same it used to be 5 or 6 years ago. My first pair lasted for 4 years, gave me no blisters, was very comfortable and gave me great stability. It was never the best shoe for running on hard terrain, because cushoning was never good, a bit on the thin side. New pair gave me constant blisters on the heel, heel was slipping out and after a few months inner fabric on the heel was already torn. In a year you get to the plastic on the heel. The sole also almost dissapeared in a year. Not buying them again. They are still very stabile and lacing system is great, however quality is not hte same anymore.
True to its High Rating
Gender:

Male

Familiarity:

I've used it once or twice and have initial impressions

Fit:

Runs small
I got these boots for a Hiking Trip to K2 Basecamp (5200m) and Gondogoro La crossing (~5900m).



First of all I must commend the service backcountry.com provides. I got these boots after a detailed chat regarding the size with one of online backcountry reps. He was very helpful. Once i received the shoe here in Pakistan and put them on they fit perfectly.



During the trip, each of my group members had problems with their shoes, but not me. Even some of the foreign trekkers/hikers endorsed the brand and the boot itself.



The boot is very comfortable. It has good ankle support and great traction. I spent two weeks trekking and hiking over rocks, glacial ice and snow and I did not slip or bent my ankle even once. Though its not recommended but i used mid feet crampons with the boot during the night hike over the Gondogoro Pass.



The boots were kept my feet dry until the time i was knee deep in the molten snow from the last day.



All in all, these boots were great. Highly recommended.