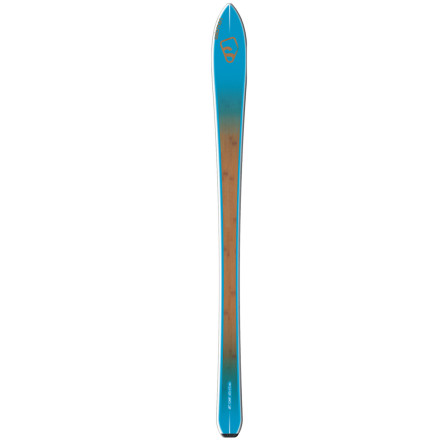 A slimmed-down version of its float-happy brother, Salomon's BBR 7.9 Ski keeps up with the best East-coast carvers, but ain't 'fraid of playin' in the deeps. Crafted and shaped by the man who created Solly legends like the Pocket Rocket and the AK swallowtail, the BBR was meticulously designed for all-mountain domination.
V-shaped early-rise tips float over pow and variable conditions without hooking
Full wood core creates a powerful and dependable flex pattern for both carving and surfing
Sandwich sidewall construction creates long-term durability and solid edgehold
Overstated skis
Gender:

Male

Familiarity:

I've put it through the wringer
I am an experienced skier who goes pretty much everywhere. For spring "beater skis", I got used BBR 7.9. Based on the reviews online, I expected something great. Unfortunately, my experience with these skis was less than ideal. The skis don't carve well, don't do well on powder, or bumps. It is hard to keep the skis on the edge even at moderate or mild snow condition, not to mention they lose grip quickly on crud or even slightly icy places. The only thing I was able to make this ski do was long smooth turns on gentle slopes. So after multiple tuneups and tries on various conditions, I am NOT impressed with the skis as some review suggested. I get questions on the shape of the skis to start conversation on the lift though. The bottom line is that I am not enjoying the skis despite of high expectations derived from some online reviews. I will sell the skis to someone who possibly has better skills and experience with the BBR line.
Best money I've spent on skis
Gender:

Male

Familiarity:

I've put it through the wringer
I've owned them for one and a half seasons now (pretty close to 120 ski days on them), and I'm very pleased for what I do with them, which is mostly backcountry touring, mild to moderate ski mountaineering, and messing around on the groomers at my local mountain here in Montana. They float comparably to or better than the Karhu Jaks (with Fritsci Freeride Pros) that they replaced. The tips float in all but the deepest powder, and the ski shape forces them to pop up naturally. They turn with less effort than any other ski I've used since I started skiing in 1987. They hold edges beautifully on icy sections (stuff that I'd be screwed trying to self arrest with an axe on) and ski under bad snow conditions better than my Atomic Beta Rides skied on great snow 15 years ago. I would bet that high speed skiers won't like these as much, but I've never been that kind of skier. If you want really precise control in variable snow conditions, these serve that purposes for me very well. I plan to wear them out.
Built for the Easy
Gender:

Male

Familiarity:

I've used it several times
Demo'd these at Blue Mountain. They held the hard and shiny spots really well and floated through the ever present eastern crud with ease. They'll get ahead of you if you sit back but if you stay on top of them they'll fly like a rocket.

This is the next step in shaped ski evolution --- wide in the shovel to take you up and over and narrow in the waist to grip and carve.

Most cutting edge powder skis are now being built with a rapidly narrowing tail. Salomon led the way with this ski and it's big brothers
Not that hot in mixed conditions
Gender:

Male

Familiarity:

I've put it through the wringer
Rented these and used at Beaver Creek. 6in fresh pow and mixed tracks. Shovel bit and tail skidded when pressed to edge for carve. Yes it floated in deeper 6+ fluff. Floppy at high speed and hooky. Not impressed with stability. NOT A ONE SKI WONDER! Preferred my K2 Apache Recons for these conditions. Also Certified PSIA instructor who skis in the mid-west. Liked the color scheme.
Senior expert ski no shamr
Report from Spring in Taos . As an old PSIA cer
tified guy, I found the 7.9 a great ski for variable conditions, frozen and soft. 8.9 was too stiff in bumps.
Be sure to get adequate length. I liked the 169s, compared to my usual 163 Tiger Sharks or Bridges.
worst ski I have ever used!
I demoed 2 different pair of these in Idaho last month.
the shortest pair were bad, the toes washed out on every turn but I could turn them. I moved up to the 159- ish size these did not want to turn and when they did come around the tails shot me across the hill. I am no novice. I am a retired PSIA instructor and way above average woman skier. Soloman should burn these in a big bonfire in my opinion. I tried K2 paybacks a few days later and loved them so much I bought them.
Not for everyone, but not a bad ski
So, an easy-to-turn ski that doesn't chatter on hard snow and floats in pow? Bummer right? The BBR struck me as the skiing equivalent to a mellow surfing long board - it makes life easy for casual skiing all over the mountain. The sidecut easily rolls back and forth on groomed snow and the combination of a wide nose, tip rocker, and a pin tail allows you to ski nimbly thru forests and bumped out chutes without getting beat up by a dedicated big mountain ski. While it won't replace the Rocker2 on most people's wish lists, the BBR is an intriguing ski that's worth a demo and -I believe- is more of a peek into the future of ski design with it's exaggerated combo of sidecut and rocker than a quiver killer of today. Take 'em for a spin and see what you think.
They were really lazy. They wanted to turn with only a little lean and the tips were on auto float in the powder. They stayed flat with little chatter when ripping on corduroy. Honestly, I don't think you'll be impressed unless you have artificial hips, knees and a fanny pack.

Its essentially of a ski for an old guy that doesn't want to have to work.