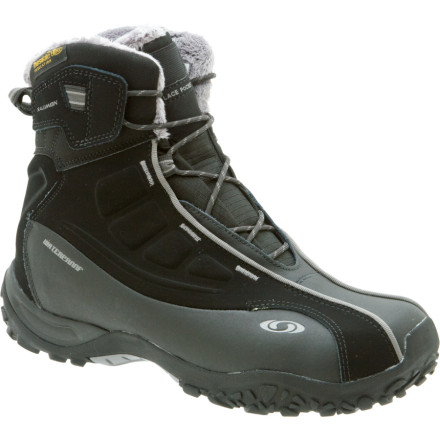 Detail Images
Share your thoughts
What do you think of the
Salomon
B52 Dry WP Winter Boot - Men's
? Share a...
Great boots, have done exactly what they where suppose to do, keep the feet dry and warm.
Very comfortable and look good to.
Would highly recommend these boots.
Cheers.
I was looking for a good winter boot that I could hike in and be comfortable........this is the boot! The fit was comfortable.....though not as secure a fit as I've had with some others. Nonetheless, I was out and about in the AZ mountains in the dead of winter and they did the job. It's a good boot and does what its supposed to...keep the digits warm and dry! Thanks Salomon!
Almost two winters down the road, still great.These B52s are warm (from 0 to -40 celsius so far), light, durable, comfortable, much much better than the Columbia Bugaboots I had before them. Wearing them on the pavements, forest paths, to work, in the snow if there's no path, wherever the hell I want ;)
Upper still in one piece, no annoying stitches on the inside that rub against your ankle through any number of socks.Hopefully they'll serve me well a few more winters, but once they do die, I'll probably look no further than another pair of B52s.
Love the look. Love the comfort. Love the weight. The only complaint is that I thought they would be more waterproof then they are. I work for flood control. They are very warm but not as waterproof as I need for my job. I would recommend this shoe to people that are looking for comfort and warmth.
Good for a daily walking boot
I bought this boot with the intent of light hiking 3-5 miles in the snow. It was a great boot until there was some elevation change. The boot bends too much at the toes and digs into your foot. This only happens when you're climbing/walking up a hill. I've tried thicker socks to fill the boot a little more but it still bends and after a mile or so it becomes a pain.

The boot is extremely light which is a huge plus. The lace system isn't very good. It's nothing like what Salomon uses on their thin laces. The clamp rattles when you walk and doesn't hold very well. The tolerance is too big on the part that you push to loosen the laces, so it moves back and forth while walking and rattles. To solve the problem I cut the clamp out and tie the boots normally now.

I wouldn't recommend this boot for anything other than walking on the street.
Very different, but cool looking--without laces to tie up. Nice and warm, quite light. Pretty stiff overall. I would have kept them, but they are nowhere near wide enough for me (3E width feet)
When they showed up I wasn't sure the box contained boots they weigh so little. They've got a really snug fit around the lower leg and open up a bit for the foot. Pretty comfortable insole, I've stood with them on for hours and not had my relatively sensitive feet give any feedback. Exceptionally warm (though I've yet to try them to the rated temp0, my feet are usually ice cold in regular shoes and socks but with these boots they stay toasty warm. Good sole, keeps traction well. Quite like the styling of them too, kind of authoritative.
I wore these boots on a short snowshoe trip in the Adirondacks this weekend. Temps were around 10 deg most of the day with single digits on the peaks. My feet felt great after 9 miles. The boots are very light weight and worked very well with my snowshoes and crampons. The only downside is the plastic clips for the laces tend to loosen every few miles.
I spent 2 hours shoveling snow in 12 degree weather today and my feet woulda never known it. These boots are incredibly light weight, and keep your feet cozy and dry. They are comfortable, but they could be more flexable, however it's not a deal breaker for me. They are still great boots!
I have only been out with the boots one time, but they were great for snowshoeing. They are clearly very high quality. The light weight and the quick lace mechanism are top notch. I'm not sure how the quick lace mechanism will work over the years, but if it fails, there's no reason one can't just start tying the laces. The boots have a very sporty look, and I expect them to be great for winter activities for years to come. By the way, I would say they're true to size. I have a somewhat narrow foot, but found the support and fit excellent. I would not try to go up or down a size - just order what you normally wear with your shoes.
Salomon B52 Dry WP Winter Boot
These boots are super warm and fit pretty well, but more than one person has asked me why I was wearing snowboard boots around town - so they're pretty wide and don't fit very well with slim pants. I do like them for to/from the slopes and any sort of casual winter hiking or snowshoeing, and they are holding up great.
these boots are wide enough for my webbed(2E in the am, 4E in the pm) feet and they are very warm. Had to wear thin liner socks to keep feet cool in Aspen with temp 6-26. Also, they look very cool. I felt like the rich people.
After my 89 yr old father saw these boots on my 27 yr old son he wanted a pair.

Both of these guys love the boots. They are light weight, warm, supportive of the ankle and easy to put on.

Thanks for keeping my men happy!
These are super warm boots
I bought these to wear with my snowshoes and finally got to use these yesterday and this morning (8-9 Jan 2010). The boots are SUPER warm! I wore with light weight merino wool sox and thought the boots were a bit too warm (temps ~15-20*F). Tomorrow will be ~10* cooler and will see how they hold up.I wore with MH gaiters and was barely able to close the gaiters (velcro running up leg). I think they are a bit bulky at the top of the boot. Additionally, I am not sure how I like the lace lock device.The boots provide excellent traction on icy/snow roads.I usually wear a wide boot. I like the width of these.If you want a warm winter boot, these are a great choice.
Outstanding boots, does everything as advertised and then some......extremely warm, exposed for hours in Buffalo NY 20 degree weather. Wear a 'wicking' sock and your feet will be warm forever. Boot fits me (11 medium) snugly.
These keep my feet dry and warm through the harshest of conditions. First off though, the size is pretty true. My guess though is that it runs a half size larger to take into account sock room for you.

My uses: snowshoeing / winter hiking / walking the dog; all in lovely Utah.

They fit well into my MSR Denali Classic snowshoes. The reason I went with this shoe over others is the fact that it is sooo light. If you compare this to the popular Sorel Caribou boots, for example, you're looking at the Sorels being over TWICE the weight.But honestly, I stood in freezing water (literally) with these on and could not feel any coldness at all. I was even wearing ankle socks at the time.The only thing I don't like about these is that they look a little like snowboarding boots, which for me being a hardcore skier, can be annoying. But that's really just me...

And, I know some have criticized this boot because the lacing doesn't provide the proper support around the ankles and such. But, I personally have not had any trouble with these boots not being supportive enough or anything while snowshoeing and such. With that being said though, these are not mountaineering boots, that's for sure. I wouldn't recommend these unless you are in snow most the time.
Would these boots be too wide to ride a...
Would these boots be too wide to ride a bike with? Chicago winter has left me with unbearably cold feet for too many years.
If you are trying to fit them into toe clips then yes they definitely will be too wide.
Best Answer
If you're NOT trying to fit them into toe clips, though, they'll work pretty well. Not as well as normal shoes, obviously, they're a bit cumbersome, but definitely the best option if you want to keep your feet warm and dry on a bike. I bought these for exactly the same reason (biking in CO) and they're about 1/4" wider than the shoes I normally ride with.
Haven't a complaint. Took these on a 3day backpacking trip up Fairview pass, plan on taking them deep into the backcountry for 10 days on the first of the year. Boots are super warm in the cold, comfortable in warmer weather (appropriate sockwear!), super wide to accommodate my wide-flat feet with extra room for another layer of socks, absolutely waterproof, and they look sick, but they don't look so sick if you live in the same town as me.
How flexible are these in the ankle? I...
How flexible are these in the ankle? I need to be able to drive stick shift in the winter. I know boots like the Sorel Caribou would be impossible, but are these flexible enough?
The boots provide good support in the ankle, have significant flex after they've been broken in, but still enough support to keep you from breaking an ankle while scrambling scree fields. I know this one's obvious, but if you loosen the laces just a little you can get quite a bit of flex in the ankle.
Yea, I agree. I drive in these boots just fine.
Haven't broken mine in yet but they are a bit stiff when driving. I've managed to cope with it though so its not too big of a deal.