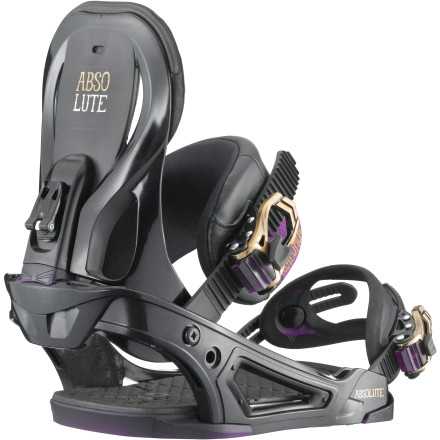 Videos
You can outride most of the dudes on the hill, and you're having more fun than any of them them anyway, so why ruin it with some lame shrink-and-pink women's binding? Especially when you can run a setup that's designed from the ground up for your style, like the Salomon Absolute Pure women's snowboard binding. The composite baseplate is made from 30% short glass fiberglass, for a highly responsive setup that doesn't sacrifice comfort. The Drumframe women's specific highback similarly blends stiffness and response, for trenched-in turns without giving up an ounce of tweakability. The 3D asymmetrical Supreme heel strap is cushy enough to stop hot spots dead in their tracks, and that means you can ride all day without suffering through it. Same goes for the Deluxe Lock-In toe strap. Plus, the base plate is heavily padded, to take the sting out of overshot landings and choppy conditions. You don't hold back, don't let your binders hold you back either.
Composite base plate
Drumframe women's specific highback
Supreme 3d asymmetrical heel strap
Deluxe Lock-In toe strap
Tool-free forward lean adjust
What do you think about this product?
Have questions about this product?
Salomon Snowboards Absolute Pure Binding