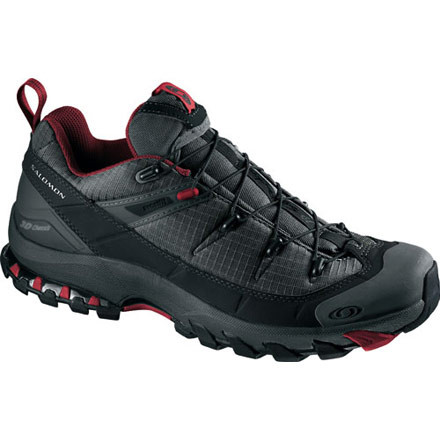 Detail Images

Community Images
Time is money. The lightweight and sturdy Salomon 3D Fastpacker Boot adheres to that mantra. Built on Salomon's toughest 3D chassis, the Fastpacker delivers top-performing trekking technology for harsh terrain. The 3D Fastpacker Boot's Sensifit system precisely and securely wraps the foot, stabilizing you on harsh rocky terrain. The anti-debris mesh and synthetic suede upper make the 3D Fastpacker Boot more comfortable and breathable than a boot so you can forget about cramping and stiffness on your way to the summit. The Quicklace system and lace pocket will get you set to jam in no time in this true day trekking boot.
I haven't been able to utilize this boot as much as I want to but I have gone on a couple 10hr+ hikes with this boot and was amazed at it durability, breathability and light weight. My feet were not tired nor were they sore after hiking or the following days, granted I also had smart wool socks and changed socks and dried my feet half way through each hike. I have also worn these in just daily use, walking city streets and found them just as comfortable and useable.
Good with light loads and heavy mileage
Gender:

Male

Familiarity:

I've put it through the wringer
Did a few days of twelve mile/2000 ft (up and down) backpacking with these guys. Performed flawlessly with twenty pounds on the back. To their credit, I couldn't find the right volume wool socks (well I found two mismatched pairs) so I had to settle for some zoot running socks -fine for running but crap for multiday hikes. My feet still were fine despite the poor poor choice of socks. I have beat the hell out of them over the past year and the only thing that disintegrated were the insoles (immersed them in one too many stream crossings). I have so many other boots but I end up grabbing these for some reason.



My XA Pro 3D's for example do not get out in the backcountry because I like the adjustable laces of the fastpack. My 4D's are overkill most of the time as well but when I need those guys they are the best as well.



There is nothing fancy about these guys but they are my goto boot for light backpacking on maintained trails. Offtrail and heavy means I whip out the 4D's or Kayland's.
I just bought these from amazon.com, and...
I just bought these from amazon.com, and the seller is listed as backcountry.com. Same sale price as your website. However, amazon advertises them as gore-tex (GTX) and your website does not. Are the shoes I ordered really GTX?
Thanks!
If you look at the picture on backcountry you can see the gore-tex pin. So I would assume that it's gore-tex.
That's kind of what I thought, but no where in the description does it say gore-tex or GTX...and somebody here answered a question saying they are not waterproof which made me wonder.
5 years ago I bought a pair of Solomon low hiking shoes and they are hands down the best hiking shoe I have ever owned. The fit is superb, and the support more than you would expect for a low cut shoe. I have high arches and suppinate quite a bit when I walk, these shoes really help prevent that. However, they are finally showing their age and I was in the market for a new pair of hiking boots. I decided this time to go with a mid cut boot for more ankle support.

The problem is is that I can never find any stores locally that sell Solomon boots, and if they do have some in stock, they are not models I am interested in.

So, when I saw the 3D Fastpacker on sale ($69 off with free shipping!) at Backcountry I decided to buy them sight unseen and take the chance that they would fit similarly. Sadly, they don't. Based on the positive reviews posted here they clearly work well for other people, just not me.

The day I received them, I put the boots on after work while I sat and watched some TV. After about 3 minutes, I felt a hot spot developing at the inner part of the ball of my feet. Really unpleasant. I noticed they are signficantly narrower at the ball of the foot than my older Solomon's. So, thinking I just needed to stretch them out some, I got up and walked around the house a bit, but it didn't relieve the discomfort any. I took the boots off and found out why they were bothering me. The removeable insole has a soft rubber 'bumper' that extends up into the sides of the boot, but stops just short of the ball of the foot. This leaves a gap that my foot was being squeezed into. Based on past experience, I didn't think that this was a break-in issue but a fit issue and decided to return them. I don't have wide feet and normally wear a D width, so it isn't that I have wide feet, just the design of the boot.

On the other hand, the boots appear to be very well made with the quality I've come to expect from Solomon, and they definitely provided excellent ankle support and the same resistance to suppination that I have come to love in my older Solomon's.

Backcountry was a pleasure to purchase from, with good prices, free shipping, and a very generous return policy. I will definitely buy products from them in the future, but probably not boots unless I can try some on locally first.
They are not waterproof. Highly water resistant but not waterproof.
used my new boots on a 9 mile hike straight out of the box and they were very comfortable. break in period is almost nonexistent with these. I look forward to using them at MT. Whitney soon.
Hi i will be hiking Mt. Whitney in August...
Hi i will be hiking Mt. Whitney in August and i need a good pair of boots for around a 35lb pack, i really like these but not sure if i need something beefier? im 6'3" 225lb
will these work?
Best Answer
Used mine on Whitney last year, perfect. Awesome fit and comfortable all day long. I'll be using them again on Whitney in August.
I own 2 old pairs of Salomon boots. I had to get them in a size 9 even though I normally wear a size 8.5 because they were so narrow. I bought a pair of the Fastpacker boots from Backcountry in a size 9 hoping they would fit like the other boots. Sadly, they didn't. They fit very true to size, so I had to return them, because they were a little big. Unfornutately, Backcountry is currently out of the size 8.5 so I'll have to wait to buy an other pair. I was able to get 1 pair in my size from an other company, and they look, feel, and fit great. They felt broken in right out of the box. I took them on a 12 mile hike with a 35 pound pack, and they gave very good stability and protection from rocks underfoot. I love the way they're very lightweight, yet supportive. I will be buying a 2nd pair when Backcountry gets my size back in stock.
This is a cool shoe, but it didn't work for me. The arch area didn't fit my foot.
It looks to be well made and would be a good day hiker. It seems pretty light on the feet.
I just got these shoes in the other day and I've just started breaking them in. Pretty awesome! I wear a size 13 and the sizing is great and even with my flat arches I feel super supported. It a good, snug fit that covers your whole foot and ankles making me feel like a mountain goat. Throw in the fact that these shoes are still light and you've got yourself an amazing boot. Well worth the price!!
Very light, and very breathable, I used these this summer in the Utah desert and high mountains and they performed beautifully in both. (They are thin though, so don't expect snowshoing out of these.) Waterproofing wasn't an issue, and the grip was sufficient for what I needed, but maybe that's just me chalking up slipping to the sand on the rocks around here. Either way, I strongly recommend them. The only thing that didn't hold up for me was the insole. The included one is a sheet of foam. It'll pack down quickly if you're carrying weight (I'm 5'7", 170lb and usually carry a 20-40lb pack). I replaced it with my standard Superfeet inserts and they are perfect now.
A year later - Fastpacker 3D gtx Review
It's been a year since i bought my Fastpackers and i guess it's a good time from a review.

My style: I like to hike fast and hard, i don't choose my steps to ease with the shoes, but to be fast, efficiant and easy for me. Usually i wear mid weight shoes and tear them a part after a year or two.
I travel usually with 35 lbs.

Fastpacker pro's:
- They're Light.
- They make you go fast (really...)
- Good quality of upper body.
- Comfortable for every day use.

Con's:
- The sole started to rip too fast, just after 50 miles
of hard hiking on sharp rocks, but still i expected for more!.
- The sole Grip is not good enough on slick terrain.
I wonder if these related to the fact that salomons aren't using the Vibram sole.

I hope i help with this. comment's are welcome.
goodbye and happy trails
Out of the box and into the boonies . . .
Just finished JMT#11 and happy as hell with this summer's choice of the "fastpacker."

I would have loved to blow few more bucks on the credit card and buy the top-end Solomon's, but it just wasn't to be––so I got these instead and don't know how much happier I could have been on the trail.

I wore the boots for about five hours before I actually got on the trail; walked around the house, the 'hood, the beach, a hill or two and they felt great.

Then I got them on the JMT and fully expected hot spots on the first day, but nothing. I do have fairly tough feet, but all that uphill on day one, usually produces some sort of discomfort, but I got nothin'

And as for wear and tear, the JMT and all that sharp granite, can really chew up a boot, but after 211+ miles, there's barely a hint that I had these on the trail.

I brought along another pair of insoles, but in spite of dunking the boots a few times, the insoles stayed fresh and I never felt the need to perhaps change them out. Maybe a new pair of insoles would've "hot-rodded" 'em a little more, but I was overall very happy with the comfort.

Now if I could just find a bargain on these for less than the current price, I'd go into debt a little further and be set for the next few summers.
Awesome kicks, lightweight hikers. durable as hell and waterproof. They do have a break in period as mine felt a little stiff at first. I wear them year round (as needed), and looks like I'll easily get several more rounds out of em!
Unanswered Question
Has anyone used this on a LONG DISTANCE...
Has anyone used this on a LONG DISTANCE hike (IE thru-hike of PCT, CDT, AT, etc)? How many MILES did these last and how did the comfort change over time?
Thanks,
JSLM
Can anyone comment on the waterproof-ness...
Can anyone comment on the waterproof-ness of the GTX ones ? I bought the GTX (am guessing that's the only version available) but my socks were wet within 3 crossings of a shallow creek - first the right shoe (leaked from the front) then a bit later, the left shoe (from the heel). Water didn't enter from the top.

Thanks
Thanks
Best Answer
First, I never get on websites and write reviews, but after reading so many before I purchased my pair, I figured I go ahead and help out. I too wanted to know about the waterproofness of these shoes and it was hard to get a clear answer from reading reviews online. Well, I got mine today and I can assure you they are waterproof. I placed them underwater up to about the third or fourth shoelace for about 30 seconds and they did not leak. For those that say these aren't waterproof and that they do leak, I'm guessing that they have defective shoes or they have worn the shoes for awhile and the GORE-TEX has ripped. If it is the latter, GORE-TEX has a lifetime warranty and will repair/replace any GORE-TEX garment for free. By the way, I am not a Salomon or a GORE-TEX representative, just a guy that want to clarify that these shoes are in fact waterproof. Here is a video i found of a guy testing these shoes waterproofness out himself: http://vimeo.com/17211241
I wear a 8 1/2 EEEE Would salomon...
I wear a 8 1/2 EEEE

Would salomon fastpacker shoe be wide enough?
These take their design from the Salomon trailrunner range, and it shows in the width. I have "average" feet, not narrow, and they fit well, but I don't except them to be too comfortable for wide footed peeps.
Ok, I hiked all over Colorado and these shoes did what they told me what they would do, although they had a couple of cons.

Pros: Comfy as hell, they fit like a glove, were super light and they grip like a cheetah wearing track spikes!
I hiked up a summer ski run still covered in snow and they gripped very well while in a steep incline.
Also, as luck has it, it rained the whole time and these shoes were the only thing that stayed dry, even the tent got wet.

Cons: Hurt the bend in my toes as I broke them in (although i did break them in for the first time hiking 3 miles up), they had a chunk of side sole come hanging off (might have been hiker error)


Pro +: Backcountry.com is helping me out with these few cons......without that I would still recommend these to a freind as they are really good hiking shoes.
I LOVE Salomon shoes, light, comfy, and...
I LOVE Salomon shoes, light, comfy, and the gortex ones are great for hiking in the Northeast. My question here is I want to buy a pair of these boots now and other online retailers have a gortex version of this shoe and BC does not. The picture even looks like the goretex version on the other sites. I have asked different BC "experts" a few times now if the ones on this site were the goretex ones or not and I have received yes AND no as the answer. Your picture even has the goretex label on it right next to the top lace. Can someone please do a little research and find out for sure? I'm loyal to BC, you guys rock in many aspects. I want to order these from you folks but please get your act together on this. P.S. When is the next sale happening?
Best Answer
Yeah, answers are all over the board on this, but yes, this does have a Gore-Tex membrane according to Salomon. Also, from what I found out on their site, there is only one version of this boot, and this is it...Gore-Tex. Hope that helps and puts the issue to bed.