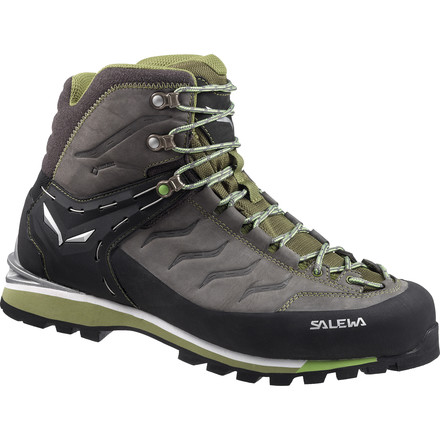 Detail Images
Description
Salewa's lightest crampon-compatible boot.
Light mountaineering in technical terrain calls for the Salewa Men's Rapace GTX Mountaineering Boot. Gore-Tex Performance Comfort gives this boot waterproofing that remains highly breathable for active pursuits. Constructed with Salewa's innovative 3F System Evo, this boot provides a surprising amount of flexibility without ridding any much-needed ankle support.
Salewa built this boot out of a highly durable Cordura with nubuck reinforcements and a 360-degree rubber rand for long-lasting use. The climbing-style lace ensures a snug fit from toe to heel, and the Multi-Fit Footbed offers customized comfort. The Rapace also features a nylon midsole for mid-stiff stability, and Vibram's Mulaz sole has the rugged lugs you need to tackle any terrain.

Gore-Tex Performance Comfort
3F System Evo
Cordura upper with nubuck reinforcements
360-degree rubber rand
Climbing-style lace
Step-in crampon compatibility
Multi-Fit Footbed
Mid-stiff nylon midsole
Vibram Mulaz sole
great for off trail work
Familiarity:

I've used it once or twice and have initial impressions

Fit:

True to size
I'm a sedimentary geologist who spends a lot of time off trail mapping field areas. I picked up a pair of these boots before heading out to the mountains around Death Valley to map in primarily Dolomites and quartzite (I.e. very sharp rocks). These boots have a pretty sturdy construction. The full rand border provides excellent coverage against sharp rocks and desert brush. Their weight is excellent for how tough the boot is. The ankle support felt a bit more flexible laterally than my old pair of Asolo powermatics but still present. I did not break in these boots before the trip and while the first day or two the boot's soles were pretty stiff, the excellent heel hold and snug fit prevented the usual blisters from forming. That same snug fit provided a feeling of security while scrambling up steep slopes and bare rock. The bases are heavily lugged with a great nose and climbing zone for edging. These features in combination with the somewhat tacky Vibram sole would make these boots an excellent choice for mountaineering with mild 5th class exposures. These soles did see some abuse over the week long trip. A bit more than I would have liked to have seen, but they can be resoled. The laces are hard to slide through the leather loops but provide an ability for customization in fit. With some more wear in the leather this should become a non-issue. The laces are a bit exposed in the toe to sharp rocks, etc. and I did notice some wear after little use. This likely occurred while kicking in steps in loose rocky soil which may not be a concern for all purchasers. The fit is overall pretty wide, but their unique insole provides different fits to take up volume both vertically and laterally. I use super feet so I can't speak much about how well the insoles work. These boots tend to run a bit big I would say, compared to Asolo and La Sportiva. I bought a size true to my foot size and felt there was enough toe room left for a comfortable fit(something that is not true with the other two brands). Using these boots in combination with crampons should only be limited to summer adventures. These boots are not very insulated, actually not insulated at all. The sub-zero temps in the desert often lead to cold toes. I imagine numb toes would be inevitable once these boots get wet using crampons. While the sole is concerning, I look forward to wearing these boots for many more trips into the mountains.
Holy S***
Familiarity:

I've used it once or twice and have initial impressions

Fit:

True to size
I bought these boots a week ago and i'm extremely impressed.
I took them out for a spin, and decided to really test them out. I ran up and down a mountain. Everything from mud, wet roots, jagged rocks, minor scrambling and climbing, aswell as very steep scree. I ran as fast as i could, slowly giving more and more trust to these lightweight, ultra grippy, waterproof/breatheable everything boots.
When i got to the bottom it was dark amd i realised that id been putting too much focus on having fun, instead of remembering what paths i took. I ended up jogging for about 5 km along the road back to my car. (In the boots)
No blisters, no sore feet, no sweaty feet.

They are the best boots ive ever had.
Dont whine about the price, just buy them and you will thank me.
Metal Shoe Lace Brackets Will Break
Familiarity:

I've put it through the wringer

Fit:

True to size
After six months, the metal brackets that hold the laces around the ankle broke. They broke on both sides. They are very malleable, junk metal. North face uses steel on theirs. For a $200 boot, that is just unacceptable, especially since these are crampon compatible and a failure in a remote location could be catastrophic.

I contacted Salewa regarding the same and got no response.

Other than this major defect, the boots were comfortable and durable.
Are these boots re-sole able?
Car-to-Summit Champion
Familiarity:

I've used it several times

Fit:

True to size
This boot solved one of my biggest peeves: switching from approach shoes to mountain boots when you gain elevation and hit snow. I mostly climb Spring mountaineering routes in the Eastern Sierras, Tetons, and Wasatch. For those conditions this boot cannot be beat!



This boot hikes very well. Don't expect it to breathe like a mesh-sided approach shoe, but there is no insulation, just some padding around the heel. There is a great deal of for-aft flex, but lateral stability is superb. Excellent heel support when hauling large loads.



It climbs rock very well. Laces go clear down to the toe so you can really tighten it up if needed. I have no problem with class IV and low class V rock that you encounter on most mountaineering routes. It edges well, and the sole is soft enough to be sticky.



This boot paired nicely with my semi-auto Grivel G12 crampons for steep couloir snow/low angle ice climbing. Crampons stiffened it up perfectly for this kind of alpine work. The outer leather does wet-out, and I recently had water squishing between my toes after 12 hours on Mt. Owen in the Tetons. I'm going to put some waterproof treatment on ASAP to combat that.



I have the 2015 revamped version that is mostly red. I ordered this boot in my normal street shoe size and I pair it with the Smartwool Hike Light. I have a medium width foot, medium arches, and a rather pronounced heel spur. The fit is perfect. This is the first pair of mountain boots that has not given me heel blisters on big mountaineering routes.



I highly recommend this boot for Spring/Summer mountaineering routes in the lower 48 with the exception of Raineer. It's the perfect light weight climbing boot that honestly most people would be better off owning over a stiffer mountain boot.
Unanswered Question
There might be something wrong with sizing of these boots. I first bought a pair of older model of this boots (the ones with several red details). At size 10.5, they might be a bit too big for me, so I decided to try size 10. For that size, there was only the new model (in pewter/emerald color). When it arrived, it turned out that the two pair are of exactly the same size! The labels on the boots say 10.5 and 10 respectively, but both the sole size and feeling them on the feet is the same. The actual size of both pairs seems to be closer to 10.5.
Good boots for the Price and Versitile
Familiarity:

I've put it through the wringer

Fit:

True to size
I'm on my second pair of these boots now. Bought the first set used at an REI gear sale because they accepted crampons and I was heading up to Rainier. Summited the mountain with them and hiked a bunch of sub-alpine stuff as well. Didn't try any steep ice and the mid cut might not be rigid enough for it. They have lasted 9 months out here in Hawaii which is actually a really good shelf life still rocking them but they are cooked because I am a back-country biologist out here and pretty much hike on volcanic scree exclusively. They outlasted my Asolo's by a few months already and this was a previously used pair. I support em! Also lighter weight than most of my previous hiking boots specifically the Asolo Tps 520's.
Is this primarily a stiff soled climbing boot that does well on approaches, or a burly backpacking boot that also climbs well?
Best Answer
Burly Backpacking boot that climbs well. In warmer climates you could get away with putting a crampon on this thing and approaching a climb or walking on a glacier.



You can call or email me directly. 801-736-6398, or bporreca@backcountry.com