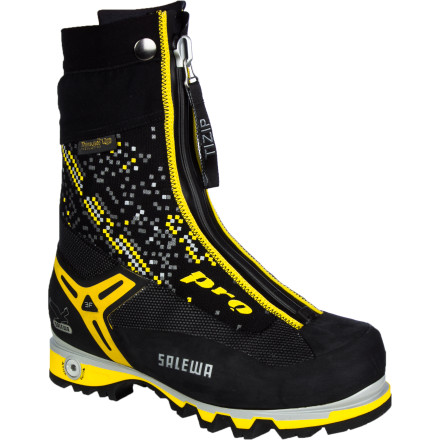 Detail Images

Videos

Community Images
Description
The right footwear for a professional approach to your favorite alpine project.
Your favorite mixed or ice project will crumble underfoot, particularly if that foot is wearing Salewa's Pro Gaiter Performance Fit Mountaineering Boot. This rugged, four-season boot features an embedded aluminum stay in the heel that tightens or loosens at the turn of a key to switch between walk mode and a rigid climbing mode. No longer do your feet need suffer on the approach.
Lightweight Schoeller Super Fabric upper resists abrasion and moisture while maintaining breathability
Included Allen wrench lets you easily tighten or loosen the clearly labeled sole tension system depending on whether you're walking or climbing
Waterproof breathable membrane keeps your feet dry and comfortable
Thinsulate 400 insulation traps heat so you don't have to drop out of a multi-pitch ordeal to hold your toes over a fire
Salewa 3F system locks down your heel for a blister-free fit
Standard lacing with speed hooks and glove-friendly waterproof zipper pull makes for easy operation and the custom fit you're used to
Top seals off with elastic, anatomic collar and secure lock
Full rubber rand adds durability and protection
Durable, grippy Vibram Salewa Pro outsole features aggressive lugs that offer a high level of grip on mud and snow when you're not stepping into a crampon Climbing toe profile offers edging performance
I wish to order a pair of Salewa boots, the boots are made in Europe, you are based in the U.S. when I order do I quote US (size11) or European ( size 10)

I have read through the question section with plenty of size talk, but no clues

I assume that with the U.S. sizing is on the left of the sizing chart that I quote US sizing in the order section?

Might be missing something but there is no prefix in the sizing section of the order



Thanks, just don't want to end up with a size 11 European.


Thanks to a little help from our wonderful gear gurus (Adam Saucedo). They went and found out that the number size you are choosing is UK. Therefore if you get a 8.0 its really a US 9.0.



You can call or email me directly. 801-736-6398, or bporreca@backcountry.com
Unanswered Question
I have been wearing the Scarpa Jorasses Pro for 3-4 seasons now, and it has never fit quite right. My heel is never locked down well and I've always suffered through heel lift on steep ice. As I've gotten better and want to climb harder, I need something that doesn't feel sloppy or make my toes numb.



The issue is probably that I have a wide forefoot but a narrow heel. How does the fit of Salewa boots compare? I've heard good things but figured I'd ask here. Thanks!
Overall a pretty good mountain boot
Familiarity:

I've put it through the wringer

Fit:

True to size
I am a 9.5 actual ordered a 10, which fits great. I would recommend ordering whatever size you wear for sneakers. I've worn them on multiple mountaineering routes as well as days spent ice cragging in Ouray and they have been great for both activities. I found that on less demanding activities such as approaches on snowshoes the built in gaiter has more or less eliminated the need to carry additional gaiters that go on over my boots and pants.



The ability to adjust the stiffness of the sole is pretty sweet, when released these boots really do walk much better. Many have complained about stripping out the hole that the allen key goes. I feel this is fairly easy to avoid if you clean any debris out of the slot before you turn the key. I bring a spare paperclip along for this purpose and dig any gunk out before using the allen key on the boot. 90% of the time I just set the boot on the setting I need ahead of time. I feel this has largely mitigated any problem with the allen key slot on the boot. Also the boot is plenty comfortable and I've not had any blisters even walking for miles in climb mode with it.



These boots perform best when the temperature is cold as they are really well insulated. Towards the tail end of the spring mountaineering season they were a little too warm to be comfortable to be honest. I would give them 4.5 stars
Goods and Bads.. You Decide
Gender:

Male

Fit:

True to size
Just returned from a successful 3 day summit of Mt Rainier. I decided on these boots because I wanted a boot I can take up Rainier and eventually Denali. I went with a gaiter boot because they are recommended for extreme cold at 6000 meters.



First, the Goods: Insulation

My feet never felt cold. Ever! I took the boots up Rainier in early season when it was "unusually cold". While the conditions were in our favor on the summit, it snowed heavily on our decent. On the summit, we were told it was 6 degrees with 20 mile per hour winds. So that's a very low wind chill. My feet were super toasty! On the decent, my feet were covered in powder the entire way down. They were always comfortable.. No issue with cold feet. None. I used Black Diamond Crampons. They fit perfectly on the boot. No Issues there.



The Bads: Blister City!!!

I did everything I read to avoid blisters. I trained in them, walked in them for several days, weeks before the trip. But, every time I put weight on my back, there were hot pots on the inside heals of booth feet.



I purchased these boots a half size bigger like recommended.. In my attempts to avoid blisters during training, I would use mole skin, lube, use sock liners, and NEW padded socks. I would try with laces tight, perfect or loose.. It seemed, No matter what I did to avoid a hot spot, the hot spots would be there.. As a result, on day two (summit day) the blisters started to show. I would stop, apply new mole skin, lube, new socks, TWO liners. Nothing worked! Then, on the decent I started feeling hot spots on the top of my middle toes (not the front). As a result, on the decent, Day 3, I was hurting down the mountain. I was in so much pain. THERE WAS NOTHING I COULD DO! I was so helpless.



After the climb was done, I had two blisters on my heals and blisters on the top of 6 toes!! Horrible! What baffles me is the details say BLISTER FREE! I am so naive.



Most of the people on my team were wearing La Sportive EVOs. They never got cold
Where are these boots made? Thanks
Where are these boots made? Thanks
The Salewa Pro Gaiter Performance Fit Mountaineering Boot is currently made in Italy.
Which would be the warmer boot, the Pro...
Which would be the warmer boot, the Pro Gaiter or the Pro Guide?
Best Answer
The Pro Guide is an excellent alpine boot but the Pro Gaiter will be the better choice for warmth in extreme alpine conditions. I would also recommend checking out the Mammut Nordwand TL which I have worn on several occasions and find to be very warm and comfortable.
Thanks for the chance to ask questions on...
Thanks for the chance to ask questions on the site!

I am looking at this boot...I'm 5'9" 160lbs and have always worn a 9.5US boot. I have worn the LaSportiva Trango S Evo for a couple years for spring/summer mountaineering in CO, but now need more of a 4-season mountaineering boot for the likes of winter trips on Mt. Washington, Adirondacks, etc.

The Trango fits me quite well...a little tight in the toes at the end of a trip...I've never worn Salewa's but have been hearing great things about them. Can anyone speak to the fit comparison between this Pro Gaiter (performance fit, not the wide) vs the Trango S Evo or the Batura...another boot I'm also looking at...in the length and toe-box width? I usually wear a medium weight merino wool sock. Should I stick with 9.5 or go to 10? I do have a local shop that has the Salewa Alpine trainer and not sure that last is close enough to the Gaiter to compare them.

Planning a trip to Huntington Ravine on Mt Washington in February and hopefully then other winter trips in the northeast and the Adirondacks, possibly Rainier. Bigger/higher altitude trips will be looking at boots more the likes of the Baltoro...thanks much!
Best Answer
Hey Joshua,

I have tried these on along with the batura, before i ended up in the Millet Davai. (which we unfortunately do no carry) But i can say that they have a similar fit to the batura, and feel a bit more comfortable if I remember correctly (it was last fall)



as for the sizing, if your toes hurt on shorter trips in your trangos at a 9.5 then kick that up to 10 man. the bigger you climb the longer then downhill on the way out, so give your toes some room, as long as the boot does not feel sloppy its good to have lots of room at the toes, and with how well this boot holds your ankles you should not have a problem with a size 10. your feet will stay warmer since there will be a bit more wiggle room, and if there is too much you can take up the room with a nicer insole like super feet.



basically my rule of thumb when it comes to buying shoes/boots is to go bigger rather than smaller, because there are always ways to take up extra room (foot beds, thicker socks etc.) but you can't make extra room in boots too tight
Salewa Pro Gaiter Performance Fit Boot
Blister Free?
Gender:

Male

Familiarity:

I've used it once or twice and have initial impressions
Initial review/thoughts: Me: 6-1, 198, purchased size 11. I'm a 10 1/2 and the 11 fits great in the Performance.

Now keep in mind my first climb in these was in relatively hot weather. I live in So Cal and close to Mt. Baldy and we've had some good snow thus far. But, I picked a day where it was in the high 60's at the trail head, around 5,700 ft. I need to break them in, so instead of wearing trial runners at the start, I wore the boots. I got hot. I also want to say my sock choice was stupid as they were thin but old and kind of worn on the inside. My bad. But I got a blister x2. Witholding judgment for now as to the "Blister Free Guarantee" but the seam was noticeable.

Ok, now for the climb part. In the walk mode, I dug this boot. It flexed just enough to put some miles in on the approach. The heel underfoot was very stable. Not too wide, not too narrow compared to my Mammut GTX. So getting going was....thoughtless. Meaning, I was motoring along and never thought about traction, roll or anything. Once on the route, the snow was super firm and I didn't put my crampons on right away, switched to climb mode and edged up a 35-40 degree angle. I cut a couple of steps with my ice ax, but mostly just edged and used the toe to climb a short section. Kinda dumb as it was super icy and sketchy, but dang there's nothing like a new Vibram sole! The sole on the Salewa is quite different than the ones on my Mammuts. It's better. Better uphill and downhill, as breaking was awesome. Once the crampons were on, I made short work of the route section I was on. Is there still some flex? Yes, a bit. But not much. Is this a completely rigid boot like my Millet Radikals? Nope. But for me, who is more of an Alpine / Mountaineer climber, they are bomber. I just wish it was colder and I was not moving so fast in order to see how warm they were, but I'll never get a good feel for that until I get into the Eastern Sierra next month.


Can someone explain is the gaiter version...
Can someone explain is the gaiter version simply the addition of the schoeller fabric to the boot?




Gilp,

The 'gaiter' version does include a waterproof-breathable membrane made of Schoeller and Salewa's proprietary SuperFabric, whereas the 'Guide' version does not include this supergaiter. Both boots are insulated and include climb/walk modes.
Tried on the Guide version yesterday in a...
Tried on the Guide version yesterday in a US 13 / EU 47 (Gaiter version not available in my size). The boot fit my foot really well - great start. Walking around in 'WALK' mode is an eye opener, and I could def see how the flexibility would make approaches measurably easier/faster. In 'CLIMB' mode, however, there was still some flex to the boot (way more than my old Baturas).



So, a question to those of you who have this boot and have climbed steep ice/mixed in it: how does the flex in 'CLIMB' mode affect your climbing on steep terrain? (I realize this flex might only be an issue with the largest size.)
Erik,

I haven't noticed a difference between the older Baturas and the Salewas (while in CLIMB mode, though I attempted to climb steep terrain in WALK mode and it was very wonky) and I'm a size 44. I use the BD Stinger with the standard centerbar (not the flex) for most steep ice/mixed, so my crampons keep the boot fairly stiff. However, the newer Batura 2.0 with a carbonfiber honeycomb sole makes the boot stiffer and does make a noticeable difference. You may find yourself working slightly more to fight calf-pump when standing on the frontpoints as compared to the Batura 2.0, though when able to engage the secondary points this difference was nearly eliminated. These newer Batura 2.0s are much stiffer but the lower profile keeps me from walking like Frankenstein on the approach. Though the convenience of WALK mode makes this minute sacrifice worth it for any routes with a substantial approach.
i was wondering about the key hole. would...
i was wondering about the key hole. would it lead to moisture getting into the boot. or is it plugged?
i just got these boots and i was wondering...
i just got these boots and i was wondering if there was any guidance on how far the walk climb screw should turn and how easy it should turn. the pair i have the dot turns from walk 90' up and no further. i don't want to break them.
Hi, Salewa rep here. 90 degrees is the correct amount. It should feel fairly stiff to turn.
just to clarify it doesn't matter that the dot does not line up to the climb arrow. as long as it turns as far as it can thats the correct position.
Hey Guys, Could you please explain the...
Hey Guys,



Could you please explain the difference between Insulated Plus and Performance fit between these boots.
Best Answer
Hey Brad. I've researched the Mammut Nordwand, Scarpa Phantom Guide and the Salewa's. The difference between the Salewa Insulated Plus and the Performance is simply how the boot fits. Both have equal amounts of Thinsulate insulation and lacing system, however the Insulated Plus has a wider toe box. I just returned the Insulated Plus in favor of the Performance. I am 6-1, 195 with a 10-5 to 11 mid volume foot. I ordered the Insulated in 11 and with a normal sock (not mountaineering) the boot was too wide in the toe box and heel was not locked down. So I ordered the performance that has a more streamlined fit, also in 11. The size of the 11 was spot on, with just enough length. Just too wide for my foot. I can't comment on the boot yet until I get enough trips to pen a review. Hope this helps.
Hi Brad, Salewa rep here. Spencer has it right. The Insulated Plus is 4mm wider (approx. an "E" fit) than the Performance. Good for wide feet, thicker socks & when you want to come home from Denali with all your toes!