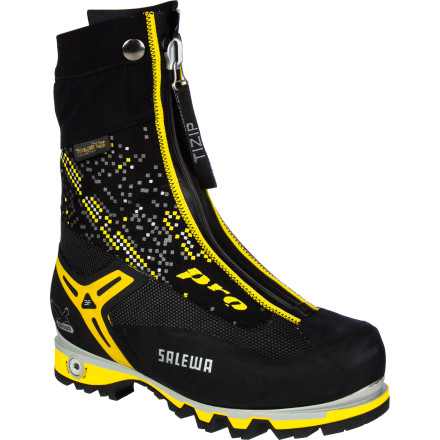 Detail Images
Description
Climb confidently.
Tackle that mixed or ice project with the confidence that comes from knowing you're equipped with the tech-savvy Salewa Pro Gaiter Insulated Plus Mountaineering Boot. Built with the intuitive features of the Pro Gaiter template and equipped with both walk mode and climb mode at the turn of a key, this boot boasts extra warmth and a wider, circulation-conducive fit to keep your toes on the climb with you rather than off in whatever land numb extremities go to. Salewa's signature 'Y' brace distributes lacing force more evenly across the boot to help even out support and fit.
Lightweight Schoeller Super Fabric upper resists abrasion and moisture while maintaining breathability
Embedded heel stay adjusts rigidity to accommodate walking or climbing per your needs
Waterproof breathable membrane keeps your feet dry and comfortable
Thinsulate insulation traps heat so you don't have to drop out of a multi-pitch ordeal to hold your toes over a fire
Salewa 3F system locks down your heel for a blister-free fit
Standard lacing with speed hooks and glove-friendly waterproof zipper pull make for easy operation and the custom fit you're used to
Top seals off with elastic, anatomic collar and secure lock
Full rubber rand adds durability and protection
Durable, grippy Vibram Salewa Pro outsole features aggressive lugs that offer a high level of grip on mud and snow when you're not stepping into a crampon, while climbing toe profile offers edging performance
Flawed
Familiarity:

I've used it several times

Fit:

Runs large
The boots were used several times for ice climbing, all of which involved short (15-20 minute) approaches in relatively deep snow. Every time the adjustment system was used twice: at the beginning and the end of the outing.



The Insulated Fit in Men's size 9 sits somewhere in between sizes 9 and 9.5 of the Scarpa Phantom Guide. They also have a significantly roomier fit than the La Sportiva Batura 2s.



The adjustment system actually works and the difference it makes is substantial. The best way of testing it would be to walk in them with one boot in the climbing and another in walking mode - the benefit of the adjustment system becomes immediately apparent.



The boots run relatively warm, subjectively comparable the Phantom Guides. They have proven themselves to be effectively waterproof in the conditions they were used in.



I found the lacing system marginally adequate, though clunky, particularly compared to the one used on the Phantom Guides.



Finally, the very innovation which makes these boots stand out among other manufacturers' offerings is what eventually proved to be its Achilles' heel. The adjustment control is a cylindrical metal plate with a hex slot, switched between walking and climbing modes by the included hex key. Therein lies the problem.



The plate appears to be cast from a soft alloy, which, even under ideal conditions, combined with the geometry of the hex slot, is very prone to stripping out. In the field the issue is exacerbated by imperfect mating surfaces. My boots can no longer be adjusted after 4 or 5 days on the ice.



The correct way of going about it would have been to use quality stainless steel or perhaps a different slot geometry for the adjustment mechanism. The former, however, would inevitably increase the weight and cost, and the latter may not lead to an improvement at all, particularly when caked in with frozen snow. As it stands, I cannot recommend this product in its current compromised incarnation.
This boot has a build-in gaiter. How can...
This boot has a build-in gaiter. How can I attach a separate gaiter for deep snow walk?

As the rope is hidden, there is no way to attach the gaiter's hook.

Any suggestion?
Best Answer
You don't need to hook into the laces. The gaiter strap that goes underneath the sole will keep the gaiter in place.
would these work ,warmth wise, to altitudes...
would these work ,warmth wise, to altitudes in the 5-7 thousand meter range
The Salewa Pro boots are a great technical ice and alpine boot for challenging cold weather climbs. It's challenging to say whether the boots will be satisfactory for ascents up to 7000 meters because it is dependent on both your location, speed of movement, and how your body functions. For example, these boots will likely keep you warm on a technical 1-2 day climb on 6000m peaks in South America, but would likely leave you with frozen feet on early season climbs in the Alaska Range at even lower elevations. Generally speaking, these boots will keep you warm on ascents less than 48 hours (hard to warm up w/o a removable liner on multi-day ascents) on peaks around 6000 meters, but if you're planning on moving slowly on the ascent, climbing at higher altitudes in the Himalaya, or generally run cold, I'd recommend a double boot, something like the La Sportiva Spantik.
I have taken these up to 18,500 ft on Orizaba. Didn't get cold.
are boots with built in gaiters, such as...
are boots with built in gaiters, such as this or the kayland m11 designed to have pans tucked in to the gaiters or are they extra protection in addition to normal gaiters?
All-in-one boots like these are meant to be worn over your pant cuffs. They feel more like a wet suit cuff than a traditional gaiter.
The manufacturer tells me they have Regular,...
The manufacturer tells me they have Regular, Medium and Wide fits. What are the fits sold by backcountry.com?
Best Answer
Actually, I got my answer. The Insulated Fit is the WIDE version while the Performance Fit is the NORMAL version.
I found that mentioned on the manufacturer's page but from the sound of it... the fit is actually identical. Insulation Fit on the wide last = Performance Fit on the medium last. I haven't not tried one on to know for sure.
Insulated fit boots from Salewa are rated for a EE width. Performance fit boots are rated for a D (standard) width.
I've seen 2 versions of the locking system...
I've seen 2 versions of the locking system cam. One uses an allen key, the other appears to be a variation allen/flathead screwdriver. Are one of these a prototype? or associated with a specific production year? Which one is being sold by Backcountry?



Thanks,

Marc
Production versions have the combo allen/flathead system. This is what Backcountry has in inventory.
Great boot for ice climbing
These boots kept my feet warm during the middle of winter in Montana. The locking system from walk to climb mode is a little finicky- hard to use when ice gets in there.