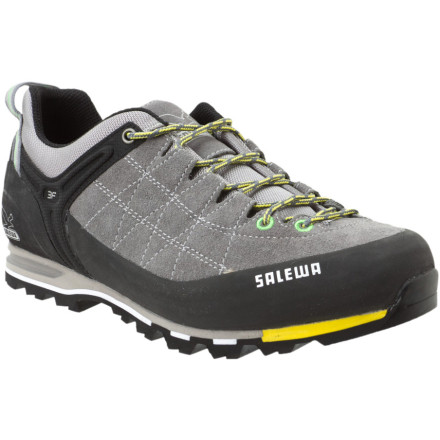 Detail Images

Videos
Some climbs and via ferrata feature approaches as challenging as the vertical, which makes the Salewa Mountain Trainer Shoe ideal for these day-long adventures. Challenge-oriented, the Mountain Trainer boasts a sticky Vibram Alpine Approach sole for superb traction, while a tough suede upper keeps you comfortable as you navigate your way to your goal.
3F fit system offers full ankle support and a snug, blister-free environment
Climbing-style lacing helps evenly distribute lacing force for equal load-sharing across the foot
Multi- Fit Footbed allows you to adjust the volume of the footbed in the shoe for a perfect fit
Specific midsole cushioning targets pressure points to minimize joint stress
360-degree rubber rand protects your foot from impact and abrasion and provides grip when climbing
The sizing runs painfully small...
Familiarity:

I've used it several times

Fit:

Runs small
I used the sizing chart, measured my feet like suggested on BC's website, and thought I had ordered the perfect size. Turns out these shoes run painfully small. After just 2 days of wearing them I had muscle aches running up into my legs above the ankles. Because I live overseas the time allowed for returns has come and gone and now I'm stuck with a pair of shoes that don't fit. I'm trying to give them a chance and hoping they will stretch or something, but I doubt anything will change. Love the style of the shoes and think I would have given full star rating if they had fit. I suggest to BC to change the sizing chart to reflect what others are saying too. These shoes definitely run painfully small.
Perfect Hiking/Backpacking/Approach Shoe
Familiarity:

I've used it several times

Fit:

Runs small
I purchased this shoe with hopes that it would serve two purposes: 1) replace my 'nice' pair of sturdy backpacking boots that I could not get fitted correctly to prevent heel blisters, and 2) use as an approach shoe for getting to the crag.

I don't think it could have worked out better. Pretty much out of the box I wore them on a 3 day backpacking/climbing trip, with an absurd 70lb load, and came out with fresh, blister free feet. I did replace the insoles with some green superfeet as the included ones compressed significantly after about 20 miles with the heavy loads. Another multiple day backpacking trip later and I'm confident I won't be purchasing another brand for some time. Lack of full boot anckle support might not work for everyone, but the underfoot stability from these shoes feels similar to my Asolo Fugitive boots they replaced. I am sized at a 10.5 E (wide) dress shoe, and I went with an 11.5 in the Mountain Trainer to accommodate hiking socks. Will buy more Salewa products in the future.
No beef in the tongue
Familiarity:

I've used it several times

Fit:

True to size
I have very sensitive and hard to fit feet. The shoe felt good right out of the box but very quickly I realized something is up with the tongue (or perhaps my foot). When the shoes were comfortable, the heel would slip. When the laces were tied tight enough to keep my heel down, the tongue dug into my feet and caused them to fall asleep. The reviewer below me hit it right on the head. I tried 2 different types of laces (stock, flat skater type) and 3 different foot beds (stock, Sole, Superfeet) with the same results. The shoes are built bomber tough and I love the design but unfortunately the fit is killing me.
Nice product, loose fit
Familiarity:

I returned this product before using it

Fit:

True to size
I liked everything about these shoes, they just didn't fit right. Not that they were too big or too small. They fit my wide-ish toebox just right. However, my heel wasn't very secure in the shoe. Just walking around the house it felt like I was going to pull my foot out of the shoe whenever I got up on my toe. Even with double socks and laced up so tight it was uncomfortable I couldn't shake the feeling my foot was barely in the thing. It could do with a beefier tongue, another eye, higher padding below the ankle, or maybe all three. Too bad because, besides that, they are the perfect low top shoe for rock scrambling, etc.
Unanswered Question
Hi, are these shoes any wider than the...
Hi, are these shoes any wider than the Salewa Wildfire? Additionally, how would they compare/contrast to the Wildfire with respect to high-mileage hiking and backpacking? Thanks.
Hey Guys! Looking for some recommendations......
Hey Guys!

Looking for some recommendations... I'm currently using my Chacos and Asolo Fugitives for most of my outdoor needs, but I'm looking for something to fill the gap in between. Whatever I choose should be well suited for longer day hikes (8-15 miles, both steep CO Rockies grade and sustained flat), and for technical crag approaches under moderate gear load. Am I trying to get too much out of 1 shoe?



Without having tried anything on yet, I'm looking at the Scarpa Crux and the Salewa Mountain Trainer. I know fit will probably be the best determiner for this use, but I wanted to get some input from the community to see if these shoes could handle long hikes, or if that would be ill-advised.



Thanks!
Best Answer
Personally I love the La Sportiva Vertical K for all of these purposes. Ive used them on long hikes and long approaches with a heavy climbing pack and been totally fine. Sure my feet are not that comfortable with a super heavy pack and a 20 mile hike. For how light they are, and how much grip they have I am sold on that boot. These look awesome and I am sure they are just heavy for me to carry all day in a pack if I plan to walk off a climb or something like that.
They don't make larger sizes..
Familiarity:

I returned this product before using it

Fit:

Runs small
I really wanted to like Salewa, I've tried several shoes and boots but none of them ever fit. The largest size it seems they import into the US is a 12. I usually wear 11.5-12 but these 12's by Salewa were always way too small with both my toes rubbing right against the front. Both Scarpa and La Sportiva fit me with 11.5's. So until Salewa starts importing larger sizes, or they actually make true sizes, I'm out of luck.
Where are these shoes made?
Where are these shoes made?
Hello adeptus_culinarious,



Thanks for your question.



These shoes are manufactured in Vietnam.



I hope this helps
awesome shoe
Familiarity:

I've put it through the wringer

Fit:

True to size
I am a nurse and wear them every day at work and for any time I am not wearing ski boots. Comfortable, well made, tough. good looking.

They run true to size and fit wide feet. I have not climbed or hiked in them but assume they will scramble ok.
Mountain Trainer
Gender:

Male

Familiarity:

I've used it several times

Fit:

Runs large
Purchased these to replace my Scarpa Crux, which I love, but wanted to try something different. Key points:

1) These have a stiffer sole than the Crux which helps prevent my feet from getting soar on longer rockier hikes.

2) The sole, in the heal, is more narrow than the Crux. I thought this may result in rolling my ankle more, but that hasn't proven to be the case, yet.

3) My feet seem to sit higher out of the shoe than the Crux, almost such that I feel like I have to lace them tighter than normal to prevent my heal from slipping. I did remove the extra pad from the insole, which helped. It just takes some getting used to. I think the collar of the shoe is just a bit lower or the laces don't come up as high. Overall I haven't really noted any problems with this, but I would like another loop hole or something to allow me, at least the feeling, of my foot being a bit more locked into the shoe. However, so far, no performance issues with this, just messes with my head so I lace them a bit tighter.

4) They look great

5) They are very comfortable,

6) Run a bit big. I'm usually a 10.5 and had to go with a 10. This may relate to #3 above.

7) Overall, a great choice for longer hikes/approaches. They can't 100% replace my Crux but when used together for the specific day, you can tackle pretty much anything.

8) Update about 1 year later. They are a bit hot for my feet after using them more over the summer. I still haven't gotten over the weird fit mentioned above, which means that i now tend to pick my Crux over this pair...


Great Approach Shoe for Wide Feet, but..
Familiarity:

I've put it through the wringer

Fit:

True to size
These shoes fit great, and initially they performed great, but after one season of regular use they absolutely fell apart. On both shoes they have started tearing just above where the leather upper meets the rubber part of the shoe. When I first noticed this I assumed that I had simply torn them hiking through a boulder field or crawling through caves, but they are torn in atleast 3 places on both shoes along the same seam.

The soles are still in great shape (usually the first thing to go on approach shoes) but the build quality on these is simply unacceptable. Time to start shopping for a replacement for next summer.
Holds up well
Familiarity:

I've used it several times

Fit:

True to size
Shoe seems to hold up well, but it did give me blisters on multiple occasions as I tried to break them in/get my feet to behave. Very little wear on sole for number of miles I put on them. Tends to feel pretty warm in the heat.
Salewa Mountain Trainer Shoe - Men's
Great fit for wide feet.
Gender:

Male

Familiarity:

I've used it several times
I looked for quite some time at different approach shoes, but most have such a narrow fit they wouldn't work for a wide footed dude like me. Because of Backcountry's easy return policy I went against my usual practice and ordered these without even seeing them. I was pleased as soon as I put them on. The Salewa no blister guarantee is legit. The put lots of effort into making the interior free of hotspots. Negligible time to break these pups in and now they feel great, I love the stiff sole on scree and they are plenty sticky. Pull the trig on these and you won't be sorry.
Like Tatra, I agree that these things develop a peculiar odor, worse than any other shoe/boot I own, when combined with sweaty feet. This isn't a positive attribute for a shoe. Beyond that, I'm a big fan. The hard midsole means that this shoe can be worn for long approaches on scree and talus -- I just spent what seemed like 24 hrs straight walking on talus -- with no problems. These fit right between a soft day hiker and a full on mountaineering boot, and did better on rocky terrain than I had any reason to expect. Despite the stiff sole, I found them comfortable on the flat too. (I used the stock footbeds, and have no complaints.)

The Mountain Trainer is labelled made in Vietnam
Heavy Tatra off-trail scrambles up to II or III Tatra scale.
OK. I think I might say I've tested them real hard. Another complaint - well, as you know they are membrane free, so they are supposed to dry quickly. However, it took like a whole 24+ h for them to get dry. Another very annoying thing is, is that after getting totally soaked after major thunderstorms and heavy rains&hail one day, they began to smell, and I mean really unpleasant smell, like a vinegar or something real sour - my guess is that its that sticky substance that you can see and feel under the removable insoles - on this hard, white "underinsole" thingy, toward the toes and heel of the white. It's totally not a question of my feet, as I have no problems in other shoes plus the smell only appeared after they got soaked, there was no significant scent after a regular climbing/scrambling day. Another thing - the insoles (top, thicker ones, with the yellow SALEWA logo on them) tend to dye the socks. As to the very usage itself, they seem pretty much OK, they got those few flaws I've mentioned, tho. I've found myself cursing after setting my foot wrong a few times (so it felt like I was gonna twist my ankle) but I guess, it also happened in my previous high-upper boots. Despite the stiffness, I haven't got any major blisters (during my scrambles in the recent few years I used to come back home with totally ripped off heels with raw flesh showing and stuff, same for the little, outter toes), although there was this minor little toe graze - but I think it wouldn't have had happened, should there be none of those heavy rainstorms I've mentioned. That's it. After all, I think I can recommend them, even though it my first season with them.
Shoe snob here. These work for me
As stated in Tatra's review, the shoes do seem to have a narrow and long foot box. I placed some newly purchased insoles over the insoles that came out of the shoes to line them up and trim them. When I cut the insoles I left a bit of overlap so that I did not cut them too short. Sure enough with the extra length, I still cut them too short. Luckily I was able to make it work. These shoes do have some issues in the toe box area. I have a narrow foot. The bottom of the laces grommets seemed to be pinching too closely to the soles, leaving me with my toes feeling compressed. With a little tinkering, I was able to make the lace system work for me. The suede should give a little over time. I can see where Tatra says you might roll your ankle because the foot does rest immediately over the sole. The sole could be a bit wider to accommodate better under foot coverage. When I stepped near a rock and the rock pushed against the shoe, there was no great reassurance that there was enough padding to cushion the impact. These are not good shoes for feet with wide feet or who do not like a little snug in the toes.

What I do like about these shoes is that with the rubber surrounding the soles is going to hold up to all those nasty talus fields I need to cross to get to the top of the mountain. I like that around camp I can keep the shoes loose, almost untied, and still maintain comfort while wearing them. I like that the shoes have a connected tongue. The shoes are kinda like socks, if you will. They are easy to slip on and can be worn with variable snugness thanks to the awesome lacing system.

I wore these without the factory insoles and only with some grey Sole insoles, and felt everything I stepped on. Maybe the Sole insoles are too thin. But when I put the factory insoles back in, I was so much more comfortable. These are great shoes for mountain walking....not good for mountain running.
Can I run on the mountain with these...
Can I run on the mountain with these shoes
They have very thick, stiff soles, not very light or sensitive. I don't know about running, but these are great for climbing up a mountain.
Best Hiking Shoes I Have Ever Worn
I am incredibly impressed by these shoes. The lacing system is really well designed because I can adjust the lacing in various areas of the shoe. The sole has great durability and traction on trail or rock. And the full rubber rand makes durability and rock scrambling easy. They also have great cushion, making them perfect for long days on the trail. Well done Salewa! I cant believe this brand isnt more well known. My prediction is that they will be soon . . .