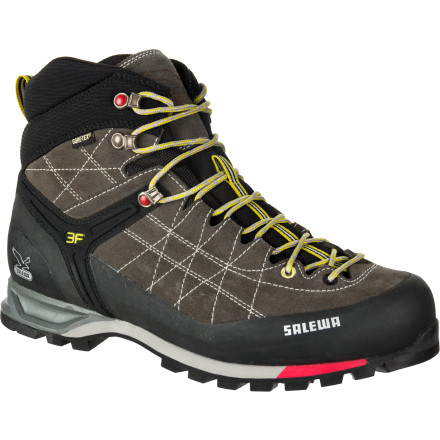 Detail Images

Videos

Community Images
Navigate talus fields like a pro and devour the mileage of your next adventure with the Salewa Mountain Trainer GTX Mid Boot. Designed for support, this rugged distance boot utilizes stiff nylon, a fiberglass shank, and proprietary 3F Fit System for a precision fit and efficient power transfer. This helps reduce fatigue and minimize risk of injury, while a Gore-Tex membrane ensures waterproof protection and breathability.
Durable Vibram Mulaz sole gains traction on a wide variety of surfaces
Abrasion-resistant suede upper enhances comfort and fit while adding longevity
Salewa 'Y' distributes lacing force across entire foot for more even support
Multiple Fit Footbed technology offers volume customization per individual foot size and width
Unanswered Question
Is this suitable for people getting into alpining? So crampons fit well and keeps the feet warm?
Thought they would last longer
Familiarity:

I've put it through the wringer

Fit:

True to size
I bought a pair of these boots to serve as my main, go-to workhorse for hiking, backpacking, scrambling, and single-day alpine assaults in the Cascades. After several blisters, my feet have come to love them. I am a little disappointed with the sole's wear though, I seem to be nearly at the end of their usable life for snow ascents after ~450 miles this past year. Most of the terrain I cover is rocky, slippery roots, and steep. The longest day I have put in is ~20 miles w/ 9500' vert (up, 8700 down) - I wished for a bit more breathability, but nothing an extra pair of socks and a half hour in the sun can't handle. They're also pretty great for snowshoeing (granted, my feet run really warm).

I will likely replace with a pair of Rapace for a bit more stiffness, but Salewa has proven themselves.

Update 7/7/15 -
I have put an additional 300mi on these without any incident, my original appraisal of the treadwear seems to be incorrect.
Unanswered Question
How to the Rapace stack up against these? I've tried these and they fit like a glove (45 with thick hiking socks). Although, I was wondering if it's worth the extra few bucks for crampon compatability? Are the two pairs much different from each other, otherwise? My main concern is the fit.



Also, I should mention I will be using them for general 3 season hiking and an upcoming trek in Nepal (potentially up to 23 days long)



Cheers!
Great boot for NE
Familiarity:

I've put it through the wringer

Fit:

True to size
Ive had these boots for a couple years now and theyre still holding up great. Granted i mostly use them in winter, but that can be very hard on some rubbers. I've only had two problems with these, one being that a couple of the lace hooks bent out, the other being a couple small blisters after walking 12 miles up and down switch backs with wet feet from falling in a stream while sight fishing lake trout. For real though, i didn't even feel these blisters because the boot fits so well.
how good are these for narrow feet? how would compare these to the asolo fugitive, and would either be suitable for crampon use, yet not too stiff to have a more general use?
I have narrow feet and have had these for a year now and love the way they fit. I use them for light hiking all year and on job sites, I am a Landscape Architect. I had a pair of Asolo TPS520 before purchasing these. The MTN Trainers are a more snug fit. The soles stay stiff, but not too stiff to be uncomfortable in them for 12+ hrs.
I want to get a boot for approximately 12 mile days in the winters of Montana on a Prairie Reserve... Has this boot kept your foot warm in cold temperatures (if so how cold)?
Excellent boots for climbing CO 14ers
Familiarity:

I've put it through the wringer

Fit:

True to size
I've been using these boots for ticking off the 58 14000+ ft peaks in Colorado. They are comfortable, yet light for some of the longer approach hikes, but still have great traction on 4th class terrain. Pair them with Microspikes for great traction when hard snow is present. I have narrow, low volume feet, and these fit very well with Superfeet insoles. No blisters so far and I have hiked about 100 miles in them.
Solid boots
Familiarity:

I've used it several times

Fit:

True to size
I got these boots to use for rock scrambles when I don't really need full mountaineering boots since using those on 15+ mile days was doing a number on my feet. I wear a 10.5 in Scarpas and got a 10.5 in these and they fit just fine. The tread pattern is essentially the same and they gripped rock just fine. They were comfortable, for me, for all day use. If I were going to be kicking steps in hard snow I would probably stick with a fully stiff mountaineering boot.



4 stars because I wish they made a model without goretex. I originally tried the goretex-less low-top version of this but my foot wasn't secure in it. Surface waterproofing of leather and the rubber rand are adequate for my intended uses.
Solid boot in varied conditions.
Familiarity:

I've used it several times

Fit:

True to size
Great boot overall. I am really picky when it comes to boots and always afraid to try something I haven't logged a lot of miles on comfortably. These boots Impressed. Solid performance. Got them into talus fields and snow at altitude and lived up to performance. Where they shine for me is on the decent. No foot movement in the boot. No sore toes or heal movement. Nice fit overall. Even with the great fit and solid performance, they still are hard on your feet. no blisters but your feet FEEL like they have been a boot all day.
Great multipurpose boot!
Gender:

Male

Familiarity:

I've put it through the wringer

Fit:

True to size
I have primarily used this boot for winter hiking on the Wasatch, but I will use it for much more. I love the foot bed on this boot, it leaves the foot comfortable and is set so that your foot is not jammed into the boot. The micro adjustment in the laces makes the boot conform to your individual foot well. I will use this for my summer hiking, rock scrambling, and on longer backpacking trips.
IS THIS BOOT GOOD FOR WALKING ON HARD...
IS THIS BOOT GOOD FOR WALKING ON HARD SURFACE AT WORK .ie, concrete?


These boots would be perfect for walking on hard surfaces. The Multi Fit Footbed gives you the long time comfort that you'll need for walking all day on the job.
Rad boots
Familiarity:

I've used it several times

Fit:

True to size
i worn these daily ( sadly, only in the valley ) for about a month. they're really cool.



the design, materials and construction appear super solid. not too many features, not too few. grippy, rugged sole. easy to manipulate the lacing to suit the need, i.e. casual or performance. not insulated, so not warm in cold conditions, unless i'm active. lightweight, but sturdy.



i'm expecting these to perform well across a variety of conditions for a long time.
I tried a pair of Alp Trainers, but they...
I tried a pair of Alp Trainers, but they were too narrow.. Really wanted to like them, but it just wouldn't work.. Are there any wider?
These are a tiny bit wider, but not much at all. Salewa has a very "euro" fit to them. I consider my feet to be quite narrow and the alps are one of the best fitting boots I have ever tried on while the Mtn Trainer is a little loose, especially in the forefoot.
great stiff boot
Familiarity:

I've used it several times

Fit:

Runs small
it seems like they run about 1 size than the Fire Vents, but they fit well. I had some blisters on the sides of my heels, but the rubbing seemed to be due to lacing errors (ie, too tight and pulling the heel towards the back of the boot). If you take the time to get the lacing right, they area great boot.



The waterproofing works well. Breathability is fair.
I recently purchased the Salewa Mountain Trainer GTX for a trip I am taking with our Boy Scouts to the Philmont Scout Ranch in New Mexico. I had read the reviews and was looking for a very durable all around boot for Backpacking. We will be carrying approximately 50lbs for ten days as we hike through the mountains. I wore these right out of the box on a 10 mile training hike and had very little issues at all. I only have approximately 30 miles on them so far but they seem to get better each time I put them on. I will be sure to give an update after we return from our trek in early July.
is this boot designed for crampon use
is this boot designed for crampon use


It's not intended for that, but you could use some strap-on crampons. The ones that go on like bindings won't work with these boots though.
Jefp try the salewa rapace. They look almost identical to these, and are designed to accommodate step in crampons. I've read just about every review for them online all positive. Hope this helps
Salewa Mountain Trainer GTX Mid Boot
why choose this (mtn trainer) vs the Alp...
why choose this (mtn trainer) vs the Alp Trainer? What are the differences, benefits, drawbacks? thanks in advance
Best Answer
I have used both. My original experience was with the Mtn Trainer. I really liked how they felt on my feet, but after wearing them for several hours, I started getting excruciating heel pain. Not sure what it was related to. Several weeks later I wore them again and had the same problem. I moved over to the Alp Trainer and haven't had any problems.



That aside, here are the differences between each. In my opinion, the MTN trainer felt a little more like a traditional hiking boot. It had good support and a good sole. In addition, it appeared to be a little wider than the Alp Trainer. I would classify the Alp Trainer as more of an ascent shoe. While it can certainly be used for hiking, the sole and narrowness of the shoe make it suitable for rock hoping and bouldering a little better. The Alp Trainer does tend to be a little narrower so if your feet are wide this might not be the best fit.



One other major difference right now is that last year's color of the Alp Trainer are $100 cheaper than the MTN trainer on Backcountry
Thanks for the response. I have the Alp Trainers for a trip to the Rockies and they are way too narrow. I usually wear a 44, or 10.5, but got the size 11 (44.5) in the Alp Trainers, and they are still too narrow. Will try out the Mountain Trainers, if you are correct about foot volume being greater in these, then they will be perfect.