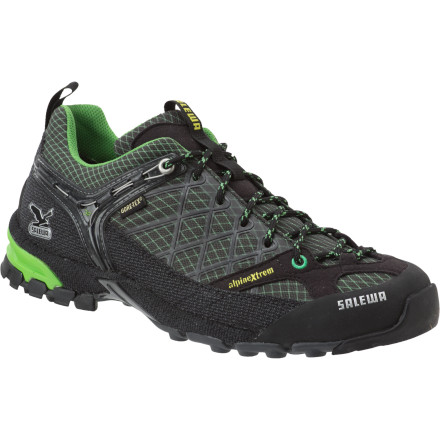 Detail Images

Videos

Community Images
The Salewa Men's Firetail GTX Hiking Shoe represents an evolutionary step forward, the missing link between a technical approach shoe and a lightweight trail runner. Specially-designed Vibram outsoles, climbing lacing, protective rands, and a customizable fit enable the state-of-the-art Firetail to handle approaches and descents on the most technical trails with ease and, thanks to the Gore-Tex insert, in any weather.
Gore-Tex insert keeps your feet bone-dry on rainy days in the backcountry
3F System distributes the lacing power over the whole foot for unmatched heel retention, so you enjoy a friction-free, blister-free precision fit as well as excellent ankle support
EVA midsole and PU Shock Absorber cushion your foot on descents, and the Multi- Fit Footbed allows you to adjust the volume of the footbed in the shoe for a perfect fit
All-around aramidic fiber and rubber rand protects the shoe from impact and abrasion and provides grip when you climb
Climbing-style lacing extends further towards the front to allow you to dial in your fit
Proprietary Salewa Vibram Approach outsole provides maximum grip and edging on rocks and helps you put on the brakes on steep descents
Armored mesh protects the shoe against abrasion while enhancing breathability on hot summer hikes
Great until they weren't
Gender:

Male

Familiarity:

I've put it through the wringer

Fit:

True to size
These shoe were awesome until they weren't. Let me say that I did wear these shoes basically everyday from the beginning of March to the end of September. With that begin said, I expected more. The rubber on the toe caps began to delaminate thus rendering the shoe not waterproof, and big chunks of the sole began to come off see the attached picture. For $130 these shoes did not last the way I expected them to.
Solid shoe
Familiarity:

I've used it several times

Fit:

Runs small
I picked these shoes up to use as a hiking shoe on light to moderate trails.



Fit: I found I had to size up 1/2 to get the toe room I like. The toe box tapers more than some and worked better once I sized up.



Lacing: Very Flexible allowing you to cinch up all the way to your toes or loosen up in specific areas to fit your feet.



Durability: too soon to tell, but it looks promising



Comfort: These are supportive, comfortable shoes. They didn't require break in(as advertised) and the sole has the right balance of flex/stiffness.



Overall these are one of the best shoes I've tried for light hiking. I would like a wider toe box, but that is a personal fit issue. If your feet match up with these shoes, you'll have a winner.
Great hiking shoe.
Familiarity:

I've put it through the wringer

Fit:

True to size
First time out of box I wore this on a 13 mile day hike. Has great traction and support. The footbed is on the shallow side, not as deep as some other shoes.
So-So, wet feet after about a year.
Familiarity:

I've used it several times

Fit:

True to size
Used them as an every day shoe for a little over a year. The rubber began to separate around the front after about 7 months. By 12 months the shoes leaked like a sieve and my feet get wet in as little as 2 inches of snow walking short distances (parking lot to office). So much for the gore-tex liner... They were not subjected to any real hiking or extreme conditions. Kinda sad for such nice looking shoe. I'm honestly afraid to buy another pair from Salewa to get only one year of wear. My last pair of Gore-TEX kicks lasted almost 5 years before they started to leak.
So how many miles does this shoe have in...
So how many miles does this shoe have in it? If anyone has worn a pair out doing a lot of hiking I would like to know about how long this shoe would last me.


Best Answer
They're okay. Mine have about 400 miles on them and they're starting to look a little worn, but don't really feel like they're breaking down. I'd guess they're about halfway through with their usable hiking life. The wildfire appears to be a new version of this shoe. I"ve only fondled it, but it looks like it has a better fabric rand (which wears out quickly if you're doing any semi tech climbs on the old version) and just looks kind of ugly after some hard use but doesn't affect performance. It also has a slightly different sole pattern that looks better to me, but i only hand f***ed them. That said, they performed like champs hiking in the chamonix valley and have done well up and down the east coast in the white mtns, adirondacks, and just in the local nj parks.
Will this shoe fit me. What is the width....
Will this shoe fit me. What is the width. I wear a 12 1/2 A dress shoe. Is this a narrow width shoe?
We only carry standard "D" width shoes unless otherwise specified. As for if this runs narrow or not, I can't say but this is a 'standard' width shoe.
Salewa Firetail GTX Hiking Shoe - Men's
I like this shoes, because it combines great rigidity approximation shoes ,with comfort trekking shoes
How should I size these? True everyday...
How should I size these? True everyday size, or size up a 1/2 like I would a running shoe?
If your still looking for an answer, me and my friend just bought a pair (one of the Firetails and one of the Alp trainer). We both ordered size ten and they were both at least a half size too big. From that, my advice would be to buy a half size smaller. Good Luck!
Excellent Shoe!!!! Their 100% Blister Guarantee is for real.
Both my wife and I purchased the Salewa Firetail GTX
and didn't wear them until the day of our hike to see if the 100% Blister guarantee from Salewa was true or not. It is true. Neither my wife or I got blisters on our feet and our friend that joined us had a pair of other( I won't say which one) hiking shoes that she had broken in the past year and she ended up with blisters on her feet.

They were great on rock scrambles and my feet felt comfortable thru the whole hike. I highly recommend them.
This shoe is great. It had everything I wanted, it fit well untill I actually started walking around. For me, it was too small in the toe box and was rubbing my little toe raw. This is with a pair of smartwool socks on. Maybe it's more of the approach/climbing type toe, or maybe it's my feet. They didn't work for me, but all other things considered this is a great shoe.
I have a pair of alp trainer GTX's and they are a little skinnier in the toe box. The firetail has a wider toe box is lighter and more comfortable for hiking. I have over two hundred miles on them now with no complaints . They have excellent traction and the sole is a little more flexible then the alp trainer but no sore feet after hiking on sharp rocks. Pawel
This is my second pair of Salewa's Firetail GTX.
approach shoe. They fit great, are very comfortable
on long hikes and don't look like clunky hiking shoes.
My first pair held up well and am very happy with
these.
Nice for light hiking and scrambling
These are my go to for light hiking and scrambling. They are nice and light and I love the toe rand - do a good job protecting my toes.

I bought these before heading out west for a trip to Cali (central coast) and they did great on the Channel Islands hiking dirt, mud, clay and exposed rock. I have also brought these out to the Front Range in Colorado for a 14er and they did equally well scrambling.

These shoes also get some playing time during summer Phish tour when I need some solid ankle support.

I would recommend these if you have a slightly narrow foot (esp. in the toe box area). These broke in very quickly and never once had a blister. I usually wear these with some SmartWool running socks and they perform great.

I have had these out on a couple out and back overnights in NY and I cna carry a 25 pound load comfortably in these.
I recently purchased these as I searched for the perfect light hiking shoe. I've used a variety of models, but probably my favorite has been the the Salomon Pro 3D series - yes its technically a trail runner, but I used it as an everyday/outdoor shoe. Like everyone else, I liked the Salomons but felt they left something to be desired in the durability camp and I had a love/hate relationship with their lacing system - awesome for everyday use, but lacked the fine tuning for hiking.

I've used these for two semi major outings with medium exposure, about 15 miles, and about 5000 vertical feet thus far and a couple shorter/local hikes out with the dog in the woods so I feel like Ive got a pretty good feel for the shoes, but can't comment too much on durability.

I've got a narrow heel, high arch, medium width toe box type foot and put green superfeet in these shoes. I really dig the climbing lacing - I can loosen up the toes to give me a comfortable fit. I've found that I really need to tighten down in the mid foot to keep my foot more stable, otherwise I have a slight tendency to roll my ankles. When tight, I have no issue supporting my full day pack which typically includes Rain Gear, 4L H20, a DSLR, Food, First Aid/Essentials.

Comfort wise, I couldn't be happier with these. No blisters to speak of, my feet are never really sore at the end of the day, the padding is a bit less than your typical trail runner - more in line with most hiking shoes which is fine with me. They also have a stiffer sole than your typical trial runner - It still flexes fine, but provides a touch more support and protection. When standing on the sharp boulders in the North Presidential Range, I could feel the rocks digging into the balls of my feet a touch, but it didn't hurt. One thing that stands out about these is how they provide more of a hiking shoe base, but have the tight and reactive fit of a trail runner which is great when I'm jumping from rock to rock on the way down the mountain. Also, I have not had much of an issue with temperature etc. with the gore tex while wearing lightweight wool socks with max temps in the mid 80s and humid

I'm kind of torn on the soles still - along with the durability question (I can see where the rands could become an issue), they're why these get 4 vs. 5 stars. They're great when climbing on dry rock providing superb traction. Its nice having rands if you decide to hike up a little cliff during your hike, but the second some liquid gets on there and there's a little pitch, watch out. A couple times on my ass and all the confidence is out the window. Granted, no shoes perform well in these conditions, but these are quite poor on wet, slick surfaces.

All in all this is a very solid hiking shoe that can be used on approaches as well if conditions are dry. I've had not issues with blisters, etc. I'm still not 100% sold on the durability of these and the soles leave something to desire when the rocks get a little slick.
Be aware these shoes are made for narrow feet. Mine are not particularly wide, but I had to give them away to a friend with really narrow feet and they fit him nice. I couldn't even walk 10 minutes without hurting my feet.
These are great shoes if you won't be using them for climbing or technical approaches.
After just two days of hiking/scrambling/easy 5th classs at J-Tree the seams between the shoe and outer protective material began to come apart on both sides of the shoe. After 4 days the seams were out all the way from the rubber on the toe to the plastic thingy on the heel (possibly compromising the gore-tex?). If they would replace the protective fabric with rubber they'd be good to go.
They are comfortable and light weight and I love that they are gore-tex, was looking forward to using them in the mountains but it wasn't meant to be.
I kill shoes, plain and simple. My disdain for boots often leads me to trail and hiking shoes for work, of which I have found none that can last for more the two or three months, until these Salewas. I work outside in varying conditions and in the warm months, these have become my go-tos. They are very durable and can withstand a beating. I especially like the reinforced toe box, on some shoes (northface, Oboz, Patagoina) this is a weak point but on these I have had no problems. I have had these almost a year and although I don't wear them in the winter I put them through hell for about 7 months and they held up well. I will buy a fresh pair this spring but will keep my old ones for muddin' ect.
These shoes are comfortable, and are good for approaches, but they have some durability issues.
The rubber rand on the outside edge does not extend far enough. The shoes have a fabric rand that peels away from the shoe.
This rand began to fall apart on my first hike, and after 2 trips, it was peeling back badly.
The inside rand extends further, and protects the front of the shoe. They need to re-design it and make the outside rand also extend back further. The fabric rand just isn't durable enough. A couple miles over a talus field, and it's pretty much wrecked.