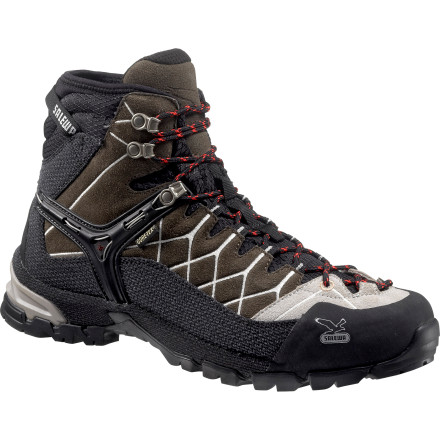 Videos

Community Images
Description
Go anywhere in one pair of boots.
You don't like limits, and you don't want to sit down to change your shoes every time the terrain changes. The Salewa Men's Alp Trainer Mid GTX Hiking Boots combine the lightweight comfort of hikers with the technical features of aggressive approach shoes. Burn through the miles on the flats or scramble to the base of a vertical face. Either way, your Alp Trainers are ready to move.
Gore-Tex membrane keeps water out and lets your feet breathe so your feet stay dry and blister-free
Multi-Fit Footbed technology gives you a perfect fit and accounts for the length, width, and the height of your feet
Salewa's 3F system works with the natural bio-mechanics of your feet to allow maximum range of movement and complete support
KEVLAR® rands give you durable protection from abrasive rocks and increase your grip when your hike starts to look more like a climb
Extended lacing runs through the toe boxes to give you a customized fit
Anatomically positioned steel wire transfers the laces' support around your entire feet and keeps your heels from slipping
Vibram Hike Approach soles gives your feet great traction even on slippery surfaces
Share your thoughts
What do you think of the
Salewa
Alp Trainer Mid GTX Hiking Boot - Men's
? Share a...
Great boots, they run accurate on length but the toes are cramped, would order either 1/2 size larger, or go with the wider size to allow room for your toes. The proper size is extremely comfortable and the break in time, I would definitely recommend these boots for anyone that want comfort while hiking in rough terrain and in the trees, which is where I spend a large chunk of the day.
Ate my heels
Familiarity:

I've used it several times

Fit:

True to size
I really wanted to love these boots, but every single time I used them I developed massive blisters on the backs of my heels. I put close to 200 miles on them before I decided to give up on them and try something different. I can see these being fantastic boots if your foot fits well in the heel cup. They are light, the sole has a nice low heel drop, and it has good grip on all sorts of surfaces. For me, however, no lacing/insole/sock configuration was able to keep my heels getting chewed to pieces by these boots. The only thing I found that worked was to duct tape a thick piece of gauze onto my heel before putting on my socks and boots, but I don't feel like that is something I should need to do to have my gear work the way I want it to. I now wear a pair of Asolo boots that work much better for my feet.
Good boots! But dumb location for velcro
Gender:

Male

Familiarity:

I've put it through the wringer

Fit:

True to size
Updated - I like these boots a lot after more use: They're comfortable on slow and fast hikes; provide great traction and stability on loose, rocky hills; the locking full foot lacing system is good, enabling one to loosen the foot and still maintain tightness around the ankle, or vice versa, depending on terrain. Yup, likely one of the best pair of boots I've owned for a long time. However, a star is removed for whoever thought of placing Velcro between the footbeds, right beneath the heel, causing heels to get hot after only a few hours, making for some wonderful blisters. Why wouldn't it? Velcro? Seriously? Never once have I had blisters beneath my heel in 40 years of hiking; using Whites for firefighting, Danners in the military, and Merrells for running/hiking in the hills. Other than that, though, the boots are great. So do yourself a favor; buy them. But either carefully remove the Velcro or replace the footbeds.

Now trying to get the missus to buy a pair. And believe me, I wouldn't do that if I thought they weren't any good. My nuts would be toasted.
I just received my new boots today, I must say, they are extremely comfortable and a perfect fit. Most of the reviews say that they run a little bit small, I found that they fit perfectly! The 1st time I laced them they felt overwhelmingly HOT, for approximately 15 minutes, then they were almost like having a pair of very comfortable slippers on. We'll give periodical reviews as I trek through the future journeys.
Break in to break out
Familiarity:

I've put it through the wringer

Fit:

True to size
One year down. Figure it's review time. I took these out of the box and went hiking in big cottonwood canyon up to desolation lake. I felt the inisde of my heels getting hot half way there and re laced, they heated up again so I kept going. I had some baby feet after winter so I dealt with it. I got to the lake. Unlaced and discovered I was the latest stigmata victim. Blood was flowing and they were destroyed. Good times. I switched the insoles to super feet and have had a few hot spots since but these boots have grown on me...maybe literally but they're some of my favorites now, maybe it's Stockholm syndrome but I'm a fan.
Super light, rough on heels
Familiarity:

I've put it through the wringer

Fit:

Runs small
I wanted so much to love these boots. They're so light. They look bomber. I hiked about 20 mi. in them in attempt to break them in. Tried multiple socks/insoles. Walked away with heel blisters every time. Climbed a tough 14er in them. The traction on smooth rock, dirt, and scree was amazing. The weight was greatly appreciated. Saved my heels by covering them with athletic tape. However, after 20-25 mi and 2 climbs the seam on the kevlar protection on the left boot is ripped. Not going to buy another pair. Great concept though. I would say they fit a bit small and are better suited to a more narrow foot. Mine's a bit wide (could have lead to the ripped seam).
Boots are great with packs under 45lbs
Familiarity:

I've used it several times

Fit:

True to size
I've now put on about 80-90 Miles on these boots, one of which was 24 miles in Big Sur to the sykes hike. They took about 10 miles to break them in enough for that hike. I had probably about 55 lbs of weight and I definitely can see how these boots can cause heel issues. With the constant elevation changes, my heels did end up with some light blisters. The hike back I didn't feel it as much. I then went on another hike in Mammoth to Crystal Crag and these boots were amazing for that. Rock scrambling up was a lot easier than I thought with these boots - the design on the grip under the toes really helped for catching my footing. My assesstment is that these boots work like a charm for the hybrid hikes with rock scrambling/climbing or 2-3 day hikes with less than 45 lbs, this is a great pair of boots for that. If I were to take more than 50 lbs and more than 3 days, I'll probably stick with sturdy boots like the Asolo. I'm going to hike the Lost Coast next year over the course of 5 days and will pack with less than 45 lbs this time - will update then.

Really appreciate Bill Porreca's advise and other gear heads that helped me through my recent purchases.
Great boot, semi-questionable durability
First and foremost: My feet are not your feet, so you can take my sizing and how long it took me to break these in with a grain of salt.

These are stiff. For the first 75-or-so miles I broke these in (walking the dogs, cutting wood, mowing the lawn, etc.) there were hot spots and blisters. So, for me, these took a fair amount of patience to break-in and feel great. Now that they're broken in, for all the non-technical climbing I do, I don't want any other boot.

The durability? After 50 miles one of the rivets ripped out of the boot. The cloth-like material on the sides of the boot near the sole are ripped to shreds after 300 miles (but I do most all of my climbing in Glacier in rotten scree and sharp rock, so that may be any boot).

It feels weird to love a boot that is already kind of coming apart, but, damn, I really, really like these boots for Class 2-5 climbing.
So I just got these in the mail. They fit...
So I just got these in the mail. They fit super snug (is this normal for these), so I'm curious to see how these broke in for people. The other boots I got were the Asolo Fugitive GTX which are nice, but aren't a hybrid like the Salewas.
Best Answer
I've not used the Asolos, The Salewas did fit nice out of the box. I have found myself tightening them up more but they're super comfortable!! They run nice and climb great.
How long did the Salewas take to break in? Seems they loosened up a bit after some wear as they seem a little too tight out of the box.
Not long at all. I went on a 10 mile hike out of the box and I re adjusted the laces a few times that hike. Feel great. Are they tight across the toebox (last) or heel to toe? I like the supportive heel and ankle but I've read that doesn't work for some people's feet. If thats not the case a half size up might work out better for you. All in all its my favorite hiking boot I've used yet, softer and lighter than most.

oh great. Toebox seems fine, snug, but I'm sure it'll open up a little bit once i start breaking them in. The length is good. I'm usually a 10.5 / 10.75 really. So 11 works perfect with the darntough socks I got. I do like the supportive heel/ankle as mine aren't the best. Thanks for your input - I'm going to stick with the Salewas and see how they perform.
Right on Richard! I hope they work out for ya!
I found that certain manufacturers footwear fits me better than others I tend to stick to them. These are my first pair of Salewas, and I'm sold. Still like my Five Tens too.. Good luck and happy trails.
Can these boots handle a 50 lb pack?
Can these boots handle a 50 lb pack?
Best Answer
Depends on how much you weigh. I am 200 lbs and I would probably get a beefier boot for a long back packing trip that I would have a 50 lb pack on. Weekend use with a 50 lb pack on I would be fine but, with longer, consecutive walking days I would want something more comfortable.
How does the weight of this shoe compare...
How does the weight of this shoe compare to the Mountain Trainer GTX Mid?
Best Answer
Hey JesseofOB,

The Mountain Trainer GTX Mid weigh in at 640 grams per boot. These Alp Trainer Mid GTX however weigh in at 590 grams per poot. So with this pair you would save yourself 50 grams of weight off each foot.

I hope this helps.
So far, so good
Familiarity:

I've used it several times
I got these about a month ago. I have about 50 miles of break-in in them so far, but nothing big (still too much snow to stop skiing). The heel problems that everyone speaks of are there, though, I can still feel it a tiny bit. I'm curious what will happen when I'm finally able to get into the high country in a month or so. These boots are really awesome, though, and I really hope the heel issues aren't for my feet.

I mostly wanted to comment about the sizing. Everyone's foot is different; whether these are too big, too small, too wide, etc., is a personal thing, not a general "one-size-fits-all" thing. With that being said, while everyone here says these run small, I actually think these run a little big (at least compared to my Scarpas). Basically, try these on (or any footwear) and see if they fit your feet instead of going by how they fit someone else's.
These Rock!!!
Gender:

Male

Familiarity:

I've used it several times

Fit:

True to size
I read some reviews about these running small after I bought them. I normally wear an 11 in all shoes and purchased an 11 in these. When I first put them on they felt like a perfect fit until I walked around the neighborhood. They felt a little snug after wearing/walking in them for awhile. I took the yellow insole out and now they are the most comfortable hiking boot I have ever worn. Have about 30+ miles of strenuous hiking on them so far and seem to get better and better as I go along.... Feet stayed completely dry through many mud holes and small stream crossings.
Seem very sturdy
Familiarity:

I've used it once or twice and have initial impressions

Fit:

True to size
Love how well they stand up to rugged terrain. However, the dug into my heels so bad, I was out of comission for almost two weeks and they were properly fitted. I can't afford to wait and break these in if they're gonna tear my heels up.
loved them....until
Familiarity:

I've put it through the wringer

Fit:

True to size
I was very excited to get these boots until I actually used them on a short over night. the heel rubs when going up hill. so much so that even mole skin didn't help me out. Tried to tie them differently and contacted salewa to get their feedback. I used the insole how it came, with just one layer, with an aftermarket insole, with sock liners, with thick socks, with thin. When moving down hill, i feel like I am punishing the ground beneath me but any incline and the cable digs in the heel. I haven't given up, still trying to break my foot in, I may just cut the upper cable or just keep them for car camping.
Anyone know how these fit compared to the...
Anyone know how these fit compared to the wildfire gtx?
The Alp Trainer Mid is going to have a slightly more rigid feel than the Wildfire and is obviously a mid rather than a low hiker. Outside of those considerations, these two shoes will fit about as close as a low and mid hiker can. If you know your size in the Wildfire, I would carry that over to the Salewa AlpTrainer.
Best shoes ever!
Familiarity:

I've used it several times

Fit:

Runs small
These truly are a go anywhere shoe. Comfortable straight out of the box. Use my shoes for mid to heavy hiking.
HEY GEAR HEADS, What's the weight on these...
HEY GEAR HEADS, What's the weight on these bad boys?
Best Answer
Hey Carson,

These should weigh about 1180 grams a pair.
Buy them 1/2 size large
Familiarity:

I've used it several times

Fit:

Runs small
I bought a pair of 11.5's, which is what I generally wear in most every shoe. They were too short and exhibited all of the negative traits you will find in the reviews below: digging into the ankles, heel cup issues, etc. There were enough positive reviews out there to warrant an exchange for a 12, so that it what I did. I am here to say that I am glad I did. The 12 is just a *touch* long, but the lacing system with the webbing halfway up the tongue allows you to tighten the lower lacing while keeping the upper lacing loose(r), and vice-versa. So with a slightly tighter lower lacing technique, I set to "breaking them in"...which is really not necessary as they are just suede over Goretex. I wore them around for a couple days and walked around the neighborhood in the evenings. I was confident enough after three days of wearing them around the neighborhood to go ahead an use them for my hike on Sunday.

My friends were skeptical, but I felt good about it. And here's the deal - they are *extremely* comfortable on flat trail and descents, but I do have to say that the heel cup did tend to create some hotspots on my lower heel. With that said, I did 13.5 miles with them, and the hotspots did not turn into blisters. So I imagine that I wil develop some callouses and it won't e an issue much longer.

To sum up, buy a 1/2 size large, as they run small and are the Alpine fit. They don't really need much of a breaking in period, but be wary that you will feel the heel cup. Four stars.