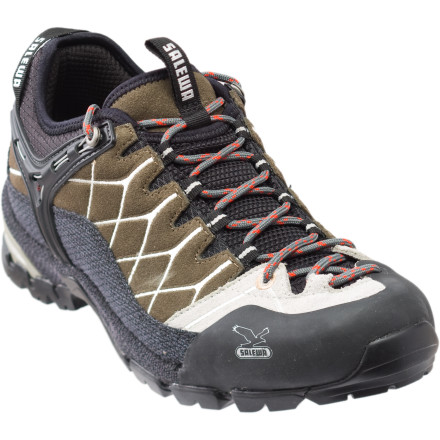 Detail Images

Videos
The Salewa Men's Alp Trainer Hiking Shoe combines the technical features usually found in approach footwear with the light weight and support of a hiking shoe to create a unique hybrid shoe. So whether you're walking, hiking, scrambling, or bushwhacking, the Alp Trainer help you get to your destination in comfort.
3F heel system uses a steel cord to transfer lace support around your feet, giving you exceptional support and fit without hampering movement
EVA midsole and PU shock absorber cushion your foot on descents, and the Multi-Fit Footbed allows you to adjust the volume of the footbed in the shoe for a perfect fit
KEVLAR® rands give you durable protection from abrasive rocks and increase your grip when your hike starts to look more like a climb
Extended climbing lacing towards the front allows you to dial in your fit
Vibram Hike Approach soles gives your feet great traction even on slippery surfaces
Solid sole, needs some break-in
This shoe is pretty stiff and definitely needs some break-in time. The good news is they feel better every time I wear them. I am a 9.5 and ordered the 9.5. As stated by others, the shoe runs a little narrow which fits my foot just fine in width. I do feel as though the shoe may be a little long. I notice some play front to back when descending.



The only discomfort I felt the first few times out was along my ankle bones. I almost wish the shoe was cut a little lower. the material there seems to be getting softer and less annoying as the shoe wears in.



Overall, this shoe has a nice solid stiff feel - especially the sole. It provides good support. Not a lightweight trail runner type shoe... more like a low version of a hiking boot.



So far I really like this shoe and would consider the high top goretex version as a backpacking boot if my Sundowners ever die.



me 9.5. I wear 9.5 or sometimes 10 street. This shoe runs narrow and long in my opinion.
Good Stuff
Familiarity:

I've put it through the wringer
I bought these not so much as an approach shoe, but more for the protection they provide against debris and whatnot (my job requires me to hike off-trail through snake-infested patches of cactus). I have to say it does that very well. The only problems I had in that regard were the seeds and burrs that get caught in the shoelaces, which would happen on anything.

It is a narrow shoe, which fits me well. Most of the Merrels and other brands I tried on had wide, spongy footbeds that I couldn't stand, but these things are solid. The toe box is a little cramped, but that's a climbing based shoe for ya.

This thing scrambles like a dream, and the sole is solid enough to do some minor edging and so on.

My only problem with this shoe has been the arch. It's pretty low, so anyone looking for arch support would have to get some kind of insert. Again, it's a climbing/hiking shoe, so you get a little of both and the best of neither. For the quality, you can't beat the price.

The sole is super soft rubber for grip, so it wears down pretty quickly on hard surfaces -- don't waste your tread walking around town. On dirt, it'll last forever.
Tight toes, great cushion.
Familiarity:

I've used it once or twice and have initial impressions

Fit:

Runs large
This shoe feels like it will last a while here in the central Sierras. The toe box causes a little rubbing on the pinky toes of my short, wide feet, which I'm hoping will disappear with wear --as in the rubbing, not my pinky toes.

But I couldn't pass up the great deal on these. I also like the guard across the tongue, blocking out any small debris.
Love them
Familiarity:

I've put it through the wringer
The first pair was 1/2 size too small and after only 8 miles I had two bad blisters per foot. Returned them for 1/2 size larger and I really like these shoes. The support in the toe is really good, especially going downhill. The soles give really good support while going over rocks.
Was really excited about these shoes, low top non-goretex. I thought they were going to be just what I as looking for: 1) stiff enough to be supportive on harsh trails and cross country, with some 3rd and 4th class thrown in 2) able to handle a heavy pack 3) able to bag peaks after hiking in with said pack, etc. They came so close, but no cigar.



I have given these shoes more than a fighting chance, theyve been on 25 mile days in the palisades, long days of 3rd class in the sawtooths, used as approach shoes for cragging



Fit was off, very long and narrow, I sized down a full size, as if the US sizes were UK sizes. The stiffness of the shoe made break in necessary, and upon breaking in, it became apparent that the fit was hopeless, and the wear from merely breaking them in was substantial. The kevlar is pointless, the first thing to wear out on the outside of the shoe, the rubber is good except when on wet surfaces, it gets more slippery than you'd expect. I haven't gotten blisters in over a decade and these shoes have made moleskin a necessary piece of gear for any hike over 2 miles. I get pretty substantial foot pain in the forefoot after moderate distance, with or without a pack. I attribute most of my issues to the odd fit/shape of the last being masked by the stiffness, requiring you to commit, break them in, and then find out just how they fit and feel. Otherwise, the craftsmanship is great, beyond the poor choice of kevlar for the rands and the stitching letting go almost immediately. Rest of the shoe is bomber. If this shoe were available in multiple widths, things would be quite better. Not done with salewa, though. I will be trying the new wildfire, hoping for better durability and fit.
Salewa Alp Trainer Hiking Shoe - Men's
My first hiking shoe in a long time. hard to not get all caught up in the micro-purpose design of so many shoes these day: Runner, approach, hiker, etc. Was just looking to replace an old worn out pair with a solid "all around" shoe without trying to perfectly solve a specific niche. Based upon some of the comments here I will agree: a.) they fit true to size for length (I'm a 10.5) b.) they are *slightly* narrower than a typical D-width shoe fit, mostly near the toes c.) they are very well-made d.) they are not super lightweight e.) Vibram soles are nice and substantial and stiff-ish.



Just wanted to add my impressions to this excellent resource of reasonably accurate customer comments.
Just got these in the mail for an upcoming backpacking trip to the Sierras. They fit true to size in the 11 (I have a low-medium volume foot). I actually played with the multi-fit insole and found it a valuable tool in changing the function of the shoe; I also found the to-the-toe lacing a brilliant addition to the design. Several online reviews challenged the benefit of the Y-wire system on a low cut shoe (as the ankle already has freedom of movement) but I found it made a subtle change to the way the shoe felt....though that is obviously highly subjective. Time will tell. Just know the velcro that attaches the two insoles together is stronger than the insole material itself and therefor rips easily. I will be contacting Backcounty to see if they can send me a replacement insole (I really don't want to return the entire shoe just for this issue).



My foot runs hot so I chose the non-GTX version. Boy am I happy I did. The shoe provides a close fit and the material is burly enough that I would not want any additional liner to reduce breathability or add insulation. I have also always found goretex to be useless in low cut shoes as any moisture will be easily absorbed by the sock line or simply overflow the top.



Looking forward to putting the shoe to the test on a 5 day backpacking trip with several class 4 summits along the way. I think the shoe will perform well with a pack, as I am use to trekking in light hiking shoes and these feel like they have the support of a burlier boot with the mobility I love in a low cut shoe.
...growing on me...
Gender:

Male

Familiarity:

I've used it once or twice and have initial impressions
Size: I ordered my average number (10 US-43 Eu) and they fit perfectly in lenght, although is a 10.B so they are narrow... still confortable enough (for me).

Manufacturing: materials are awesome, other brands have dreams of this stuff. However, some seam are dubbed or too close together (just on the big toe's upper notch) and it hurts; I may resolve the problem with a cobbler anvil or I will wear them every day until they break in (the shoe, not my toes...).

Inner sole system: good especially if you find them too narrow you can remova a layer.

Lacing: awesome, like free climbing shoes.

Sole: feels like hiking boots

Weight: they feel a bit heavy.

Look: very good looking shoes.

Overall: great product for the money, need to be broken in, and make sure you don't have a super-wide foot. I was expecting a bit more from a pair of Italian shoes...
I bought these a week ago and love them so far. They are comfy and fit well. I ordered the same size as la sportiva and Solomon. They seem like they will hold up for a long time. Only time will tell. I almost want to order a second pair.
I measure a 9.5 E (US) shoe size. I'm...
I measure a 9.5 E (US) shoe size. I'm wondering if these boots would allow for that kind of volume? Would I need to upsize to a 10/10.5? or would the width just be a killer irrespective?
To answer my own question: The boots are quite accommodating for high volume feet. I tried going with a larger size to start and found I had heel slide, but after about a week in a 9.5 (my street size) i found that the fit was spot on. Until they were broke in I had a little toe bang on descents, but, again, once they broke in, that was gone. If I could change one thing about these boots: Zoned lacing. Otherwise, so far so great!



Edit: After a few months and a few hikes, i'm impressed all to heck with these. I took them wading on my last trip (waist deep) and they drained and dried rather quickly. Once I broke them in, there's been no blister issues or foot fatigue(rare given how wide my feet are). Really a solid buy in my opinion.
I love my new Salewa shoes, they fit great and have laces far enough down to the toes for acheiving a proper fit. I ended up going one full size down for a proper fit; I normally wear a USA 9.5, but in the Salewa these were way too long, ordered a 9, but these were still a tad long, then I got the 8.5 and they fit perfect. I also opted for the non-GTX shoe, as my feet sweat alot and I would rather have better breathablitiy than wet socks. I have also come to find that there is no such thing as "water proof", if its raining hard enough, you will get wet, and will have to deal with it. BTW - I removed the "dumb" double insole and replaced with a "superfeet' insole that has the arch support that I need - just my two cents.
Unanswered Question
I have size 13 narrow, low volume, high...
I have size 13 narrow, low volume, high arch foot. Is this a good shoe for me?
Sticky.
Familiarity:

I've used it several times
I bought these from BC for use as a approach/hiking shoe. Fit, for me, is a touch narrow in the toe box, but still comfortable.

I used the Alp Trainer on a 5.4-5.5 Alpine climb in the Tetons this last weekend and I was pleasantly surprised with how well they 'stick' to the rock.

I haven't a bunch of miles on these yet(perhaps 20 total?) but they seem like they will hold up very well.

Only reason I give it 4 stars is because of the fit for me(subjective,I realize).
I am a 12 reg in merrells and keens. I...
I am a 12 reg in merrells and keens. I have recently been disappointed in the quality of construction in both brands, should I stick with the 12 and am I going to be happier with the construction of these. Keeping in mind that I use them from work and am on my feet 12 hrs 7 days a week.
i would go with 1/2 size larger. i wear a 9 1/2 and my toes were pushing on the end.i ended up going with a 10. fits perfect.
I've had these shoes for a few weeks now and i think there great however i should have got a full size bigger. i typically wear a 10.5 wide. Im afraid when i put some miles on them my feet will swell and there is not much room for that.
Great looking shoe. The yellow is not as vivid as in pictures "+". Very solid construction, rugged materials. Does require break in. Order a half size larger than Merrells. Thanks to customer service i chose these. Will purchase Salewas again.
Are these shoes water proof?
Are these shoes water proof?
According to the Salewa website, Yes they are.
Best Answer
Chris, Salewa rep here. These shoes are not waterproof, but the same model is available in a Gore-Tex version that is waterproof (http://www.backcountry.com/salewa-alp-trainer-gtx-hiking-boot-mens).
Chris, if you haven't gotten them yet, GTX in a shoe this low-cut is not worthwhile. You're better off with non-GTX here so that when your shoes get soaked (which is certain to happen with a low-rise option), they'll dry out much faster thanks to higher breathability. You'll also be preemptively addressing hot spots and blisters as your feet with stay cooler with the added ventilation (something GTX does help). Believe me, after tramping many 20+ mile days with wet feet on the AT, I've very familiar with the pros/cons of GTX.