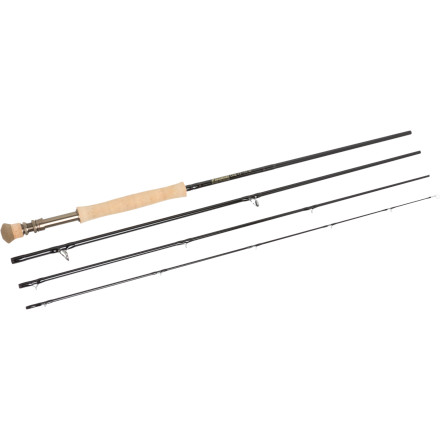 Colors

Detail Images

Videos

Community Images
Description
An intuitive extension of the fly fisher's arm.
With its ability to deliver minute bits of information from the line to your hand through all stages of a cast, the Sage One 4-Piece Fly Rod is set to blow both seasoned and aspiring casters away. As a result, this all-water rod provides ultimate control over your casting and presentation so you can make micro corrections mid-cast and land your fly with precision.
Konnetic technology construction creates a responsive blank with superb torsional stability and minimal vibration for casts that track effortlessly and accurately
Fast action allows for highly accurate casting
Custom cork handle matches the exact taper of the One rod and provides a snug fit for even greater sensitivity and feel
Improved aerodynamics and lighter weight ferrules contribute to a livelier blank
Black primary thread wraps with bronze trim wraps, Fuji ceramic stripper guides, and hard-chromed snake guides round out the high-quality components
Round tip eye never pinches or binds the line, allows the caster to make mends, and casts in any direction with full control
3-6 Weight rods feature a walnut wood insert and golden bronze colored aluminum anodized reel seat with a snub nose and half-wells grip
Half-wells handle gives you more leverage, are ideal for those who like support of their thumb, and allows you to cast longer and fight larger fish
6-10 Weight rods feature a bronze colored aluminum anodized reel seat and a full-wells handle with fighting butt
Full-wells handle provides hand support at the rear and front of the rod, gives you more leverage, and allows you to cast longer and fight larger fish
Black rod tube features a raised logo medallion, black cloth sleeve with black silkscreen, and is handmade in Bainbridge, WA
Share your thoughts
What do you think of the
Sage
ONE Fly Rod - 4 Piece
? Share a...
Great fast action rod
Familiarity:

I've put it through the wringer
I've fished this rod in a 9 ft. 4, 5, 6, and 7 weight. It's a great all-around rod, but a little fast for my taste/casting style for the lighter rods, so I mostly fish the 6 and 7 as streamer rods. Pairs well with the Rio Grand line.
Casting, Response, Closing
Familiarity:

I've put it through the wringer
The One is a fantastic rod and its best attributes include superior casting, strike response, and closing the fight on well educated trout. As a trout angler, i've tied up with some Gunnison River brutes and have been able to seal the deal. First, casting range is incredible and accurate. The rod is fast, very fast and the only sacrifice is you will make is in stiffness. I do most of my dirty work nymphing and drifting the bottoms of deep holes and the "feelers" of the rod are average. However, the casting and mending ability of the rod compensates nicely for this. The high stick works great with the 5wt. compared to the 6 wt. having used both. I do prefer the 6 wt. The 5 wt. was underpowered for angry trout on lighter tippets and I would likely loose fish on long and aggressive ariel jumps and had trouble turning the larger 15"+ fish. Acquiring a 6 wt. solved this problem for me and reduced the battle by half the time and tamed the wild jumping. Second the reaction to subtle takes is quick and responsive. This is solely on the angler's ability to identify a strike in my opinion. Lastly closing the fight is fantastic with the 6 wt. Despite the stiffness, the rod really has a lot of flex when the line is tight. Casting dries is not something to overlook on the rod with the casting and mending abilities of the rod. Streamer fishing is also quite pleasant and the rod handles hard takes very well. Overall, I highly recommend. Picture is a solid rainbow out of the Gunnison River in Black Canyon National Park Colorado.
ONE Worthy Investment
Familiarity:

I've put it through the wringer
This Sage ONE Fly Rod is quite simply the best fly rod I've ever used/owned - why - its the combination of the light weight; casting accuracy; feel; and build quality that makes it stand out from the rest. I have the 10' 8 WT paired with SA Sharkwave GPX 8 WT line and a Sage 4680 Reel. This setup makes a whole day casting heavily weighted nymphs at Steelhead in the Tongariro River here in New Zealand a breeze. The rod has the power to pick-up and belt out long casts with minimal effort, yet still has the finesse and feel during a fight to allow control on small nymph hooks. And when you do call it a day, and pack the ONE rod away - even the rod tube is a finely crafted piece of equipment.
Yes this is an expensive fly rod - but it's worth every cent.
Not enough stars
Familiarity:

I've put it through the wringer
This is by far the best rod i've ever casted/ owned. The Konnetic technology Sage used on this allows less "chatter" throughout the rod. If you can cast well, this rod will put your fly where you want it to be 11 times out of ten. I have the 6 weight and use it for just about everything: streamers, nymphs and dries. I was extremely surprised at how well it handled #22 midges. If you need to by one rod, make it this.
Lives up to its legend.
Familiarity:

I've used it several times
My husband and I got this rod, because it was touted as being very accurate. The few times I've used it, it seems to be helpful. I don't have a lot of experience, so it's a little hard to tell with me. But, he has quite a bit and has been very happy with it's accuracy. He says it has decreased lateral wandering, which is the reason for its lateral accuracy. We've used it with dry flies and nymphs using the 4 weight 9 ft for decent sized trout.
6 Stars?
Familiarity:

I've put it through the wringer
I absolutely love this rod. I've used tons of other top end rods and always choose this. Why? It's stiff but has an amazing uniformed flex throughout, it's extremely sensitive on the set, and it feels perfect in hand. Next level rod you'll never want to put down once you get one!
Makes the fight more than fun!
Familiarity:

I've used it several times
I have this rod in a 4 weight and I love it for mid to smaller size rivers and streams. The rod throws line very well for a 4 weight and can handle some smaller streamers just fine. This rod excels at throwing dry flies. The presentation is awesome, soft and precise. If you are looking for a 4 weight 4 piece rod for dries and nymphs then this is an awesome option.
what is the best rod weight for salmon-...
what is the best rod weight for salmon- steelhead fishing
Best Answer
Hey Vlad,

That's a great question, but sadly there is a little more information that's needed. What size salmon/steelhead will you be catching and how big is the river that you'll be fishing in? Here in NY, a 6-7wt will work for most Lake Erie steelhead, but the steelhead in Lake Ontario are a lot bigger and an 8-9 weight would be much better.

With all that being said, an 8 or 9 weight should work for most situations with large king salmon needing up to a 10wt. I use an 8wt for most of my steelhead fishing and as long as you don't mind playing the fish a while, you can land just about anything.

Tight Lines!
I use a Sage approach 9' 8wt with a Hardy Ultralite 7000dd reel and Sage z-axis 9' 9wt with a Hardy angel 2 7/8wt reel. Both work great for Atlantic salmon.
Great Rod!
Familiarity:

I've put it through the wringer
This stick is one of the better rods on the market. It is right up there with Winston and Scott rods. I have the 4wt and it casts beautifully. I mainly use this stick for rivers similar to the Weber and Provo rivers. The rod is strong enough to through a descent size streamer, yet has enough flex to send a light midge pattern at a slurper.
Best. Rod. Ever....
Familiarity:

I've used it several times
Love this stick. I've got a 5wt 9'-6" (went with an extra 6" for nymphing). Casts like a dream - I can shoot line on this rod with a normal cast the same distance I had to haul or double haul others. Awesome feel, fishing drys and nymphs. Certainly spendy, but worth every penny IMO. I'm a decent caster, but this makes casting easier (as long as you keep your cast on plane). Put your extra $ in a rod, not the reel.

the only real complaint I have is the rod tube is a little small and I feel like I'm going to break off an eyelit when I try and squeeze it in.
lots of speed and feel too
Familiarity:

I've put it through the wringer
I've thrown this rod in both the 490 and the 590. I love both.
I'd say either of these weight rods can be used as a go to, multipurpose rod. It just depends on the size of the river you fish as to which you need. The 490 is going to throw lighter tippets and drys a bit easier, and the 590 can handle bigger bounce rigs and streamers a bit more easily. Honestly if you can afford both I'd suggest it. If you try different fishing strategies, and fish different rivers instead of just doing the same thing at the same place all the time you'll find a use for both.
At the same time either can be your go to all purpose rod. I've used the 490 on big rivers, and the 590 on small.
The best thing about this rod series is the feel you get along with the speed. I read a lot of reviews and comments about this rod and of the ones that weren't fans of it, the most common complaint was it felt like a baseball bat. I disagree completely. These rods have a great feel and give you an almost telepathic sense of where your line is and where its going through the entire cast. That I think is its best attribute. I get less snags in tight quarters as a result of this, and that's just the ancillary benefit. The other benefit is my casts land where I want them to, and we all know this can result in more fish being caught... I stress the "can" here.
All in all I think this is a fantastic fly rod. One that I'll definitely keep for a long long time. I'll hopefully pass it on to my kids some day.
but what is the number of the line (5 or...
but what is the number of the line (5 or 6 or...4) not indicated!

Sage One 9'' # 5 (4 pieces) please confirm the good price of 749$
Best Answer
Hi there desthieux,

The line weights (aka number of the line) and lengths are indicated in the drop down labeled "Select options", the priced vary from $765 to $790.
The one and only....
Gender:

Male

Familiarity:

I've put it through the wringer
Great rod!!! It is light wieght with ou compromising performance. It shoots line great through the guide. It is do all rod. I bought a 6 weight for streamer fishing. It handles throwing the full sink line with the heavy streamers but also throws a dry and a nymph rig like a dream as well. Really cant go wrong with this rod. BUY BACKCOUNTRY!!!!!!!!!!!!!
Love at first cast
Gender:

Male

Familiarity:

I've used it once or twice and have initial impressions
After only one night out with the rod I can already tell the difference in my cast .
I returned my Hardy Zenith 10' 4wt for the One 4100. The Hardy felt just slightly too whippy/slow for me. While I like the One better, it's still feels just a hair fast. I have been surprised that it fishes so nicely and doesn't seem to overpower little fish. I think it'll just take some getting used to. Overall I'm pleased. I think it's a better all around rod in the 10' 4wt than the Hardy. I felt like the Hardy was designed with something more specific in mind as it felt much slower than its 9' counterparts.
I got my Sage ONE from here and it has become my best rod yet.