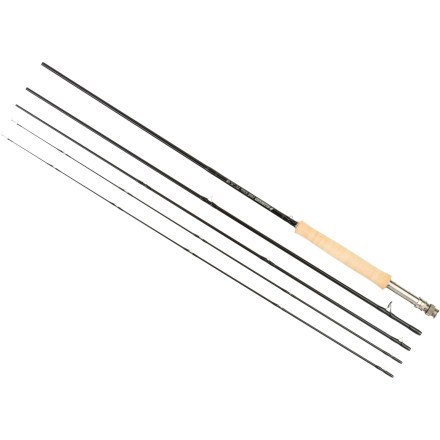 Community Images
Like its predecessor the One, the Sage One Elite 4-Piece Fly Rod works as an intuitive extension of your arm, thanks to its ability to deliver minute bits of information from the line to your hand through all stages of a cast. The One is already an outstanding fly fishing rod that makes both seasoned and aspiring casters giddy, but the designers at Sage stepped it up a notch with the One elite's titanium reel seat and stripper guide components that add durability and supply a balanced weight distribution for a smooth casting stroke. And an extra spare tip gives you peace-of-mind when you accidentally lose your tip walking through tall reeds to get to your secret spot on the river.
Konnetic technology creates a responsive blank with superb torsional stability and minimal vibration for casts that track effortlessly and accurately
Fast action allows for highly accurate casting
Improved aerodynamics and lighter weight ferrules contribute to a livelier blank
Black ice shaft color, black primary thread wraps with gray titanium trim wraps, titanium reel seat with laser-etched logoed end cap, titanium winding check, titanium stripper guides with ceramic insert, and black hook keeper round out the high-quality components
Round tip eye never pinches or binds the line, allows the caster to make mends, and casts in any direction with full control
Extra spare tip gives added peace of mind on your next far-off adventure
Custom cork handle matches the exact taper of the One rod and provides a snug fit for even greater sensitivity and feel
Snub-nosed, half-wells handle gives you more leverage, is ideal for those who like support of their thumb, and allows you to cast longer and fight larger fish
Black rod tube features a raised logo medallion, black cloth sleeve with black silkscreen, and is handmade in Bainbridge, WA
What do you think about this product?
Have questions about this product?
Bending it at the Grey Reef