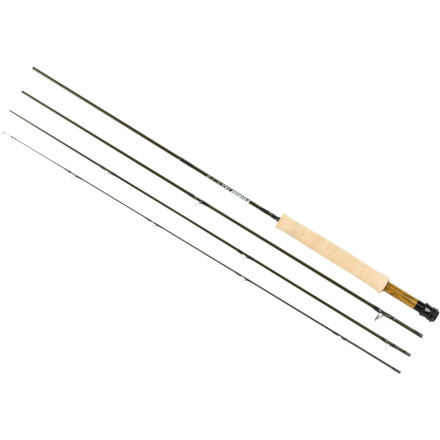 Colors

Detail Images

Videos
Description
An advanced slow-action fly rod that honors your slower, more deliberate casting style.
A game-changer in slow-action dry fly fishing, the Sage Circa 4-Piece Fly Rod delivers crisp and precise loading and unloading for a smooth, slower tempo, unmatched accuracy, and delicate presentations. Designed with Konnetic technology, the Circa helps you improve as an angler so you can put a fly on the water the right way, right where you want it to fool wary fish and have a good time doing so.
Slow-action fly rod has a radically narrow taper throughout the length of the rod, which results in consistently slow yet responsive action from butt to tip
Konnetic construction compacts and aligns more carbon fibers into a smaller diameter blank which provides smooth, graceful casts that are crisp and purposeful
Enhanced sensitivity, due to Konnetic technology, gives you the precision and control needed for delicate presentations
Low-profile ferrules, thanks to the inherent strength of Konnetic technology, allow Sage to reduce the weight of the all-graphite ferrule connections by nearly 70%, while improved aerodynamics plus lighter weight contribute to lighter blanks
Custom cork handle features a snub-nose, half-wells grip that matches the exact taper of the Circa rod, providing a snug fit that helps communicate casting feedback for utmost accuracy
Vera wood insert with black aluminum reel seat and winding check pattern create an ideal combination
Round tip eye never pinches or binds the line, which allows you to make mends and cast in any direction with full control
Green tea color is accented by olive primary thread wraps with slate-colored trim wraps for an elegant and inviting finish
Slim-profile rod tube and a unique rod bag protect your rod when not in use
Only used it for one season so far...
Gender:

Male

Familiarity:

I've used it several times
and this thing is AWESOME. Look - before you buy it, you gotta know its a specialty tool. While it will sling small light streamers and do really light nymphing, this rod was designed for delicate dry fly work. I have this in 3wt 8'9" and its perfect. It was pretty much the only rod I used all summer(including the few times I used it to swing some smaller streamers and with hopper/dropper combos) and it performed admirably, albeit lacking a bit with streamers and the hopper droppers but thats to be expected. Slow isn't for everyone, but I do quite enjoy it. It pairs well with Rio Gold line.
slow action rod made with modern materials.
So good
Familiarity:

I've put it through the wringer
This is by far my favorite rod to use on anything besides big rivers. With a Click reel in a 489 its the perfect combo for dry's, swinging softies, or even some light nymphing.

A tip from Sage is to up line this one and you can actually use it as a fast action rod. I kinda believe it too. When you really start powering this thing out you can get it to cast a good ways and the action sort of speeds up as you do... Hard to explain, but its nice to fish. Definitely recommend this rod. Its great.
SLowwwww.......
Familiarity:

I've used it several times
A slow rod that's perfect for dries! Match it perfectly with a Sage Click and the balance and feel is phenomenal!
I had no idea how nice this rod would be. I look for excuses to use it specifically. Mainly for dries, wet flies, and light nymphing.