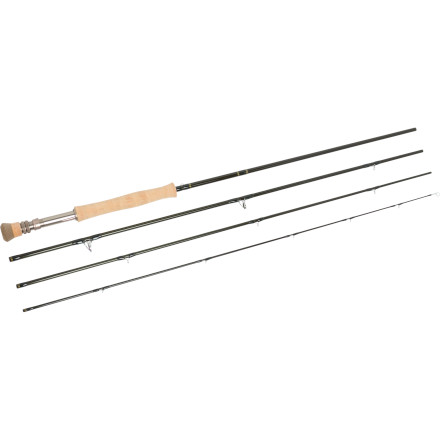 Detail Images
The Sage 99 4-Piece Fly Rod has quite a thing for nymph fishing. Its unique nine-foot, nine-inch length, medium-fast action, and proprietary taper design leaves nymph anglers, float-tube and pontoon-boat fisherman, and those who prefer multiple fly or indicator rigs eager to score some tailwater trout, steelhead, and salmon.
Medium-fast action and 9-foot, 9-inch length make it ideal for nymph fishing
Generation 5 technology (use of graphite hoop fibers instead of traditional glass hoop fibers) provides a lighter, more responsive rod
Unique taper loads lower on the blank to generate open loops, which helps you avoid tangles with multiple fly and indicator rigs
Stiffer tip section handles heavy payload delivery, but retains the sensitivity needed to detect subtle takes
Handle A (4-5 weights): Snub-nosed reversed half-wells cork handle has a larger front end that provides better grip for larger hands
Handle B (6-8 weights): Full wells cork handle with fighting butt provides hand support at the rear and front of the rod, gives you more leverage, and allows you to cast longer and fight larger fish
Four-five weights have Cocobolo wood reel seat inserts and dark nickel-colored aluminum reel seat components
Six-eight weights have dark nickel-colored aluminum reel seat
Gold trim wraps and dark green primary wraps, hard alloy stripper guides, and hard-chromed snake guides round out the high-quality components
Khaki fabric rod bag with gold silk-screened logo and evergreen-colored powder coated aluminum tube with gold components and gold silk-screened logo protect the 99 during storage or transport
What do you think about this product?
Have questions about this product?
This fly rod makes throwing heavy rigs a breeze. Whether you're chucking heavy streamers or nymphing heavy rigs, this rod can handle it. It's extra length is great for extra power has well as reach. The unique taper of this rod really does throw a more open loop so double nymph rigs get tangled less. This rod really performs with roll casts and tension casts.This makes for a great guide rod if you dare putting a Sage in your client's hands.