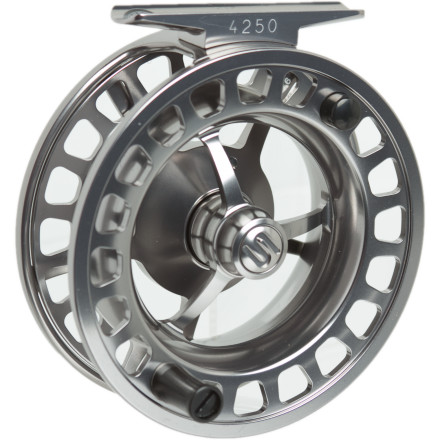 Colors

Detail Images

Videos

Community Images
Description
Just what you need to land your trophy.
The Sage 4200 Series Fly Reel features a fully-sealed, smooth SCS drag system for seasons of maintenance-free performance and a simple-to-use drag range that lets you maintain proper tension at all times. Fully machined housing is corrosion-resistant and ultra-strong to stand up to years of heavy use.
Three adjustable configurations provide the full range of drag needed for all fishing situations
SCS micro cassette drag design allows more line feel, the ability to make more casts without fatigue, and creates silky smooth resistance while efficiently dissipating heat
SCS system is also impervious to water, sand, and grit, and requires no maintenance beyond simple rinsing
Fully-sealed anodized aluminum drag housing features durable stainless steel and carbon drag materials
Innovative quick-change spool mechanism lets you swap out lines in seconds (additional spools sold separately)
Single rotation drag knob with numbered settings let you adjust the tension setting to your precise desired level with ease
Ballistic cloth and neoprene reel case protect the reel during transport
Easy conversion from left to right hand retrieve
Sage's 4500, 4500CF and past 2500 series spools are all interchangeable
Winner of Best New Reel at the 2010 IFTD
If you're buying a reel or spool and fly line, we'll be happy to rig it up for you, please give us a call at (855)-712-0513 for details
This reel is a beaut. Stellar quality. Very durable. Light weight. Easy to take apart and put together. Adjusting the drag is easy as well (very helpful when trudging through trees). I honestly don't have any complaints about this reel. It also comes with its own reel case, which is super duper handy super-duper handy for clean storage.
This reel is awesome. Like the other reviewers said, it is super smooth, durable, and light.
Is the best real I've ever owned. It's very smooth and easy to adjust on the fly.
changing the retrieve on a Sage 4200
Sage 4250 on a TFO BVK 9' 5wt
I have this reel on a Sage One 9ft/4wt and its a great go to set up. The smoothness of the reel and large arbor make it perfectly weighted and a great fighter for the smallest, or biggest fish you can convince to eat your fly.

This is one I'll keep for a lifetime.
Why didn't I buy this sooner?!
Love this reel. Using it with a Sage One 9ft/5wt and it's fantastic. The large arbor is a no-brainer. Simple and smooth drag settings for a wide variety of fish. Enclosed system ensures you won't run into issues with the elements. The bead blast bronze color is awesome.
Light, smooth, and durable
Tried this reel a couple weeks ago on a Sage One 4 wt w/ a RIO Gold on it. Could not have asked for a better set up for our Green Drake hatch here in Utah. This reel is light, smooth, and durable. The drag adjustments are perfect for fighting the fish of your life or a small stream brookie. The enclosed drag system is very smooth and stays smooth since dirt and grim can't get in there.
Sage 4250 Series Fly Reel
The Sage 4200 Series Fly Reel is amazing! Im one that takes care of all of my gear, but my buddy has the same reel as me, and does not take such good care of his stuff.. Anyways, the reel is durable! Smooth drag and a great feel makes the 4200 a very popular reel in the rivers around my house in Heber City, Utah. Mine is a 5 weight, paired with a 9 foot Sage Vantage rod, The very best, while not breaking the bank! Love my reel and I recommend it to anyone who is in the market! You'll be hooked on sage.