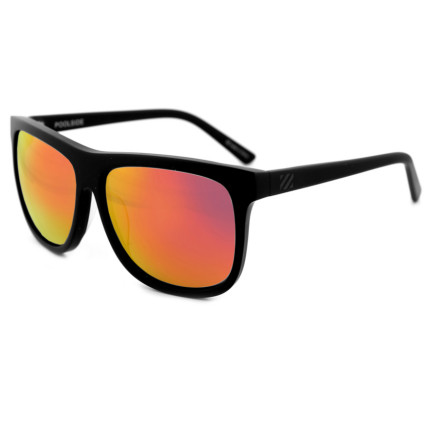 Detail Images

Community Images
When you're hurtin' bad from last night's antics and you need a break, pop on the Sabre Poolside Sunglasses and pass out in your favorite deck chair. Protect your bloodshot eyes with the Poolside's 100% UV-blocking lenses, and bask in the vintage '80s style.
Love Them
Familiarity:

I've put it through the wringer
I've had them for over a year now. They've been through a lot
They look great while staying causal. The color mirror lens is the best lens i have had.
Simple frame. They are so mean. I got the Matt blk and the lense are a very suddle blue. Sweat shades
did anyone buy the matt black or tortoise...
did anyone buy the matt black or tortoise and can tell me how dark the lenses are?
The Matt blk has a very nice blue lense. People will not see your eyes when you wear these. The lense have a shinny gloss over them.
Sabre is keeping the ladies POOLSIDE
Just got the poolside in clear with the yellow mirror lens. I used to rock VZ, not anymore gotta cop the saber's. Ladies love these things - and now they love me. HA!
I own the white mirrored lens pair, and I love them to death. Only issue with them is I guess sun exposure and the oils on my face slightly discoloured them. Especially on my nose.
I really wanted the black mirrored pair and I got them. LOVE LOVE LOVE
Sabre sunglasses for life.
these are amazing. big, bold and smooth. i gave these to my man, he uses them for his daily commute via bike. they are dark and have great coverage. BUY SABRE!
I'm seriously considering buying another pair. I have the white one with the mirrored lens (not sold on here anymore). They are completely kick ass. I cannot describe them enough. I rock these every chance I get. They are such a staple piece. Sabre has definitely come out on top of my sunglasses radar.
These are sick, my new favs!
Great looking, comfortable, and they've got that classic styling that I love. Looking forward to buying some of these goggles.
these are a pair of AWESOME shades!!!
very slick look and great reflective coating!!
I just can't take them off!!
These are "as real as it gets". Jay-Z noticed mine last monday at the pepsi center(thanks for the tickets, Natasha).These are my all time fav's. If you don't want attention, maybe these aren't for you. Otherwise... right here, right now.
simple sexy sunglasses. like everyone has said, these shades do have a way of making people stare at you because of your sexiness. GET THESE OR ELSE