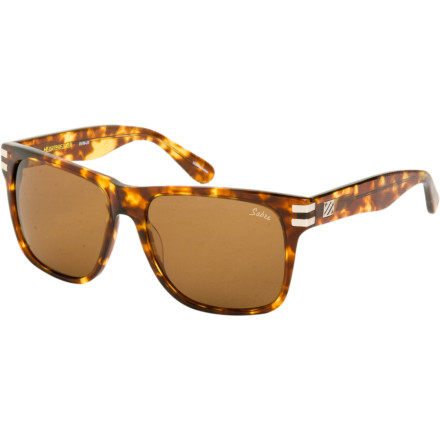 Community Images
Hear glass breaking behind you when you strut down your block? That's just the Sabre Heartbreaker Sunglasses doing their thing. Intricately detailed and polished double-wide hinges smoothly rake back into curvy textured temples that scream to be held. An almost-too-hot-to-handle handmade acetate frame holds a pair of lenses that shade your devil-wears-Sabre good looks. Send the boys packing, then slide off these lightweight, one-of-a-kind sunglasses and kiss the raised hearbreaker logo hidden above the inside of the nose-bridge—another one bites the dust.
Matte white, frosty blue mirrored lens. SO SICK!!! I love these glasses I wear em snowboarding sometimes and they look awesome! Great fit, and such a light frame I forget they're on my face sometimes! Sabre is the best.
they make the sun not as bright
these shades are sick, sort of an oversized wayfarer style sunglass that looks steezy and stays on my face. what more can you ask for?
sabre heart breaker glasses are great !!
Dogfunk.com is one of the best companies to do business with. great customer service and super fast shipping. the Sabre heart breaker camel tortoise glasses i got are so rad !!!! people love them and ask me about them all the time.
Black Tortoise is so tight
I just snagged a pair of the black tortoise Heartbreakers and they are amazing. They are a really rad unique color and pattern. Super down.
If you can find a sexier pair of shades on this green earth, I'll give you my soul. If you find some in the next 8 minutes, I'll throw in a box of poptarts!

•HUGE frame (looks freaking beastly)
•Super clear lenses (as you should get for $90-$100)
•Does the job (blocking sun)
•Doesn't come with a case but at least they give you SOMETHING to carry it around in.. a little cloth bag.

Overall really sturdy, gorgeous glasses. You should probably own some.
calculated alignment of planet ill, and the steez moon
...but instead of getting something lame like a lunar eclipse, you magically find in one hand a pair of Heartbreakers, and in the other - an oyster with two tickets to that thing you love. But wait - the tickets are now PBR tokens!

I'm on a horse.

* bigger than Wayfarers, Frogskins, and even the massive Hollyweirds. an instant classic
* while the lens height teeters into timmy tallboy territory, the actual frames aren't for super wide temples
* little "broken heart" icon over bridge seals the deal
Write your question here...Would anyone...
Write your question here...Would anyone know the dimensions of the shades?
, ☃bcs_badge_alumni_label☃
Best Answer
Dimensions:
Lens: 49mm high x 57mm wide
Bridge: 15.5mm
Frame Width: 146.5mm
These shades look insane! sabre is killing it.
Love is makebelieve!!! The heartbreakers are for everyone who has known love, and for those who equate it to chocolate. Maybe they are just an addition to your swag-o-meter.