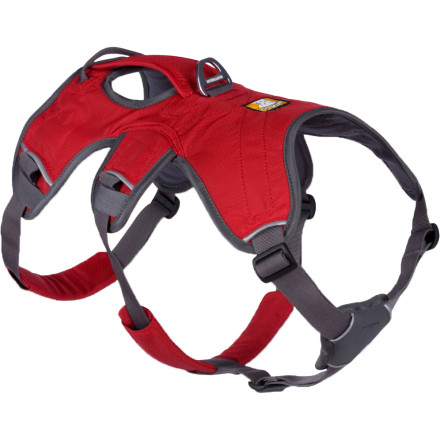 Colors

Detail Images

Community Images
Description
Perfect for frequent dog hikers and helping to get your four-legged friend back on the trail.
Nothing beats an all-day hike with the greatest friend you've ever had, but when the going gets rough, the Ruffwear Web Master Dog Harness helps you guide your nature-loving pup over the worst of it. During scrambles and extra-rocky sections of trail, this comfortable harness doesn't choke your leashed buddy, and you can use its top handle to help you safely guide those four paws over the obstacle.
Five-point harness comes in a variety of sizes (depending on inventory) and is completely adjustable to fit your canine
Strong nylon webbing provides durability and reliability in sketchy situations
Padded, fleece-lined chest and belly straps keep the harness comfortable while out in the mountains all day
Buckles enable easy on-off at the trailhead
Center leash loop keeps your dog close without choking or cutting off circulation
Assistance handle on top lets you guide them over obstacles or help during dog rehabilitation
Bright colors and 3M Scotchlite reflective trim enhance visibility to drivers, hunters, and other hikers
Unanswered Question
could this be used for skijorning??
Was sceptical
Familiarity:

I've used it once or twice and have initial impressions
Money was tight but I needed to be able to help my dog get around. It came fast and was more than I expected. Money well spent
Do you think this would be a good harness for a back leg Amputee dog? l have a spaniel/lab mix who is undergoing surgery today and the vet encouraged us to help her lose weight afterwards with diet food and exercise. l just want to be able to help her in and out of the car easily while she still learns her balance.
Best Answer
This would greatly help get her in and out of the car and any other place. I can easily pick up my Rhodesian Ridgeback comfortably and safely and he weighs 100 pounds!
The content listed for this product nails it. Comfortable and a must for anyone looking to take their dog into sketchy adventures. I was in a slot section of a canyon and had to hike down a ladder, being able to hold the dog from the assistance handle on top as we descended the ladder was perfect. We could have also lowered the dog with a rope but using the handle was much more sensible.
Incredible Harness
Familiarity:

I've put it through the wringer
I have a Mini-Goldendoodle who weights 24 lbs, and the XS fits her perfectly. I love the adjustability of the Web Master, as it allows me to dial in the perfect fit when swapping layers for different climates and temperatures. The straps have never caused any chaffing or irritation. After a year of use, the harness is well broken in, but shows no signs of breaking down. The double under design with the Y shaped chest plate distributes force very well when she sees a squirrel and wants to pull.



The handle on the harness is very useful. Having a smaller dog with shorter legs, I can easily pick her up and place her on a trail when we encounter large obstacles. The center leash loop buckle seems a little heavy at first on the size XS, but I've learned to love the way it keeps the leash from wrapping.



I highly recommend this harness. It's a must have for active outdoor dogs.
Can the handle be used for securing the dog in my vehicle?
Gerald,



We wouldn't recommend it.
why not? I used it with a seat belt adapter to secure my dog.
Psychotic Escape Artist Goldendoodle
Familiarity:

I've put it through the wringer
We have a fully grown Goldendoodle who weighs around 65lb depending on the day and what she ate. Barrel chested and clever, it was hard to find a harness that fit right that she wouldn't back out of. The Ruffwear Web Master works wonderfully! I'll admit, there was a difficult period of adjusting it; the medium was too small and the large was ALMOST too big, but after many trials and errors it finally fits the Basil like it should. She's tried to back out of it a few times, but has given up seeing as the aft-most strap won't stretch over her chest. More importantly, it's comfortable on her and she doesn't just lie down like she would with less expensive harnesses that would ride into her armpits.
Mountaineering Dog
Familiarity:

I've used it several times
Zuko's dimensions:
He is a full-grown mix between a border collie and black lab, about 65 pounds. We bought size Medium and it fits perfectly!

Look:
As you can see, Zuko looks super cute in his red harness. Some people think he looks like a service dog, which works out great since Zuko has a habit of running to people for attention.

Fit:
All the straps adjust easily for perfect comfort, which means if Zuko gets a pooch belly, he'll be just fine. All I have to do is slip it over his head and leg, adjust the straps under his arms and stomach, and snap everything in place. It doesn't loosen up after a full day of use, which is great for big excursions.

Flexibility:
This moves with him easily no matter what we do, from wading in water to jumping off boulders. And because of the back handle, we can lift him through big obstacles without hurting him. I can't wait to use it when we take him repelling!

Comfort:
He hasn't shown any signs of complaining, and it's probably because the harness evens out the pressure in three different spots. Even when he tugs from excitement, it doesn't choke or hurt him.

Overall:
I'm so happy we bought this for Zuko! He loves it just as much as we do. And since Ruffwear makes such good products, this will definitely last year after year.
great harness
Familiarity:

I've put it through the wringer
Love ruffwear products! They are great
Fit for one tough cat
Familiarity:

I've used it several times
My F4 16lb Savannah cat loves to go for walks, but most harnesses can not contain him. This is the first harness that he was not able to escape within seconds!!! I have not had a harness breakout since switching to Ruffwear as it is sturdy and relies on buckles vs velcro that wears out too quickly. The product is sturdy and has many features for safety and comfort that surpass other similar devices. The tuff handle is excellent for lifting him up, and great attachment point for a leash, but what is the back loop for?

My Niko-san is more like a dog than most cats and we walk several times a day or hike, visit a beach or park as well as many stores. At home his walks are to guard, investigate who has been visiting and pee. The occasional feral cat gets reminded that they are trespassing .

It would be great if the harness was ordered to fit, then my other Savannah cat would be using a Ruffwear harness as well. Amani is a bit longer and the harness does not fit his dimensions. I also don't like the cover material over the buckles - it may keep them clean but they are so tight that it can be difficult to unhook the buckle.
Quality Harness
Familiarity:

I've put it through the wringer
I'm can't say much that hasn't already been said on here. This harness is great and exceeded all expectations. My dog goes kayaking, climbing, skiing, backpacking, and running with us; this is always on him. We have this and the backpack version, and both are great. The harness has a burly handle for lifting them over obstacles, and great attachment point for a leash. Buy one and it'll last you a long time. Highly recommended!
Great to let Fido tag along!
Familiarity:

I've put it through the wringer
I've been using this harness for about 4 years now. My 80lb lab loves it. When she sees me pull it off the shelf, she know its time for some fun. We use it for hikes, walks, and backpacking trips.



It is very easy to put on. Lift up her front leg and place it through the large loop, then pass the straps under her belly and snap them in. It has plenty of easy to use adjustments to make the fit just right for your dog. The shape of the harness and the placement of the hook helps take off pressure when she gets excited and decides to pull. Definitely better then just using a collar that causes choking, especially if you have a very excited dog. The surface material is tough and is easy to clean. Just a quick rinse gets rid of the mud. Also dries quickly after those quick dips in the river. The handle on the back is very functional and well placed. Its perfect for keeping her close. I hike mostly with her off leash and this handle comes in handy when I need her to stay right next to me when passing others. Also works great if she needs a lift onto a rock or out of the water.



Ruffwear makes great gear to let your best friend join you on your outdoor adventures. This is no exception, I've used it for many miles and will for many more!



P.S. Works great paired with the Ruffwear Knot-A-Leash!
Easy on Easy off!
Familiarity:

I've put it through the wringer
Help me keep this little Mack truck from getting away without yanking on his Neck! Only problem I ran into was I ordered the L/ XL for the girth and well this guy is a little short stack and the length of the harness was clipping right over his man hood. Luckily I was able to make adjustments to shorten it a tad from the front straps without making it super tight on the dude.