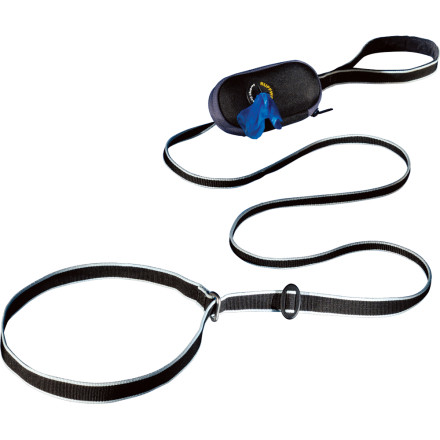 What do you think about this product?
Have questions about this product?
Hiking with Ruffwear Stow'n Go
Ruffwear's Stow'n Go worked well for our Pit Bulls on our latest hiking excursion. We used it as a collar and leash set around crowded areas and later clipped the leash directly to our dog's backpacks while hiking up rocky areas. Great item. Great price. No complaints.
Great training leash, but...
This leash does what it intends to do - it is meant as a training leash, with the collar to be worn high up on the neck of the dog, behind its ears. When the dog needs a correction, you gently tug on the leash/collar combination (like Cesar Millan) and it will briefly close down around high on the dog's neck. So if you want a more substantial leash because your dog pulls you all over the place, then this leash is not for you, because ideally the dog should not be pulling around the handler. I don't give this item 5 stars simply because the carrying case for the poop bags is a little too big for my liking, it feels bulky during the walk. Also, unless you can fit a pre-spooled set of bags so that you can effortlessly pull one bag out after another, then I am not sure how you can do that with this one if you just put them in yourself.
Specs list about 6ft with a 18in neck length so if your dog has a small neck it will be a bit longer or shorter for large neck