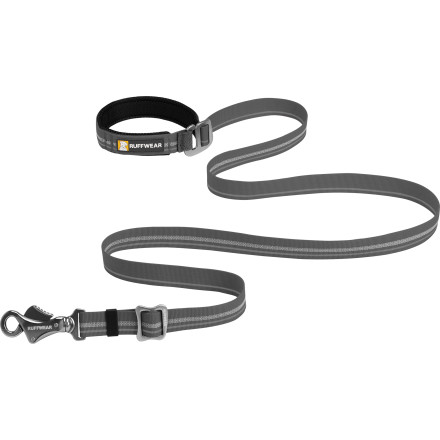 Colors

Detail Images

Community Images
Description
A solid leash with an adjustable length.
The way your lab likes to run, you'll rarely experience any slack in the Ruffwear Slackline Leash. This adjustable leash features the Talon Clip collar attachment and a padded handle to take the bite out of every yank. The handle part adjusts in length so you can wear the Slackline around your waist for runs, and the adjustable length means you can let your pup have more slack or less depending on where you are in his or her training. Integrated reflectivity lights up when car lights come up behind you.

Webbing
Adjustable leash
Ergonomic slider, one-handed adjustability
Padded handle
Integrated reflectivity
Pleased Pitty
Familiarity:

I've used it several times
This lady was pretty pleased with the gift I got her for her home coming. I had to get her something in red considering it is her signature color. She doesn't mind, one bit. In fact you can say she loves it. As far as her owner here a couple things he had to say about it...

" Love the flexibility and durability. You can tell the quality of the leash. The only issue I have with the leash is the clip doesn't open up very far which makes it difficult to clip on/release with the collar."
The PERFECT leash!
Familiarity:

I've used it several times
I purchased this leash after purchasing the Front Range harness, and I'm very happy with my investment. I will never go back to a leash that doesn't adjust, you never realize how incredibly useful that is until you try it. I chose this leash for our runs/walks/hikes and I haven't found a downside. It's very lightweight, sturdy clasp, reflective strips, padded handle, and the fact that I can adjust and hook it around my waist while we run is a no brainer. I HIGHLY recommend this leash! Summit approves :) (also pictured is the Front Range Harness in Campfire Orange)
I'm wondering about the length of this leash - how long is it when it's fully extended? I will definitely be using the waist adjustment feature for runs and I want to make sure it won't be too short for Summit! Thank you!
Alexa,



The total length is 6 feet long. Depending on waist size, this lease will probably be closer to the 3.5 foot in length (while around your waist).



Shoot me an email anytime you have questions!



Jared D.

Expert Gearhead

801.736.4336

jdowns@backcountry.com
Simply the best by the best
Familiarity:

I've put it through the wringer
I'm a huge fan of Ruffwear because everything I've owned by them has lasted every test of time. The Ruffwear Roamer is one of my favorite leashes for hiking and running but the Slackline was the perfect compliment to my collection.

The slackline adjusts to nearly any length needed. Unlike the roamer it is not a bungee leash so it allows me to control Doc when needed.

The webbing has reflective trim on it which pops when you're along roadsides and increases visibility.

The handle is padded and comfortable and the clip secures in an easy and fun way to any collar.

Doc approves as well - he jumps up and down whenever it appears (although I think he'd rather be off leash).
Perfect leash
Familiarity:

I've put it through the wringer
This is a great leash. I love that you can adjust the length of the leash. The clip is easy and intuitive to use.
A quick breakdown of the features this leash offers
A Great Leash
Familiarity:

I've put it through the wringer
Love the leash. You can easily adjust the lenghth to give your dog some extra room, or keep him/her right next to you if you are in the city. The handle loop does the same thing. The loop also has a buckle on it so you can hitch your pal to a post while you run into a store for just a minute. Loop is padded. I've even used it for a collar a few times in a pinch. I have a 80lb lab and it holds him well.



Leash also has some reflective strips in it to help you be seen at night.



I'll buy this leash again when the time comes or I get another dog.
Great Leash
Familiarity:

I've put it through the wringer
We use this leash for walks, runs, and training. It's good to easily change lengths depending on the activity. I like the cushion in the handle but I have noticed it has started to wear along with the area that goes through the buckle. It may be from her pulling and her hyperness but I would definitely recommend all of Ruffwear's products.
The most versatile leash out there!
Familiarity:

I've used it several times
Thank you to Backcountry.com and Ruffwear for hand-selecting me to review this piece of gear for the benefit of the backcountry.com community.



This is a GREAT leash. I have the Burnt Orange color and it is bright and as expected from the pictures. I use this leash for quick walks around the neighborhood or for a leash run with the dogs. The ability to attach this leash around my waist one day, then have a smaller handle the next makes it very versatile.



The leash has several great features--

*The Talon Clip is easy to use, very secure.

*Adjustable. Not only is the length of the leash adjustable from the distal portion, the handle is adjustable as well. This is an added benefit as I make frequent dog walk trips to the local hardware store and can shorten up the leash on the fly to keep the dogs close, then lengthen it back out for optimal sniffing on the way home.

*Awesome handle. The handle is padded and very comfortable. There is also a release on the handle to make it easy to put around your waist, or attach to a tree, bike rack, etc. when you need to run in to grab your coffee while on your morning walk.

*Durable but lightweight. I would feel safe with this leash even if Neko or Cash saw something they wanted to chase across the street. The leash is durable enough I could easily keep them safe without the added weight of a more burly leash.



I could not find a downside to this leash. It comes in several bright, fun colors, is durable, reflective, easy to use and adjustable. I would highly recommend it.