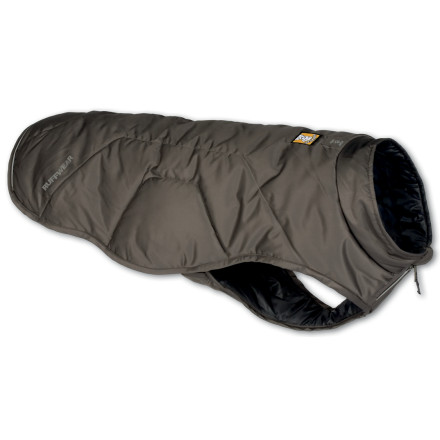 Colors

Detail Images

Community Images
Description
If dogs could speak English, they'd request the Quinzee.
Humankind's best friend deserves the best in species-specific outerwear. Suit up your four-legged companion with the Ruffwear Quinzee Insulated Dog Jacket and enjoy the outdoors together.
Synthetic Thermore insulation features 50% recycled material for an eco-friendly design that keeps your loyal friend warm
3M Scotchlite reflective trim enhances visibility and safety during early morning or late evening walks
Sheltered side-release buckles allow easy access
Integrated stuff sack packs entire jacket for easy storage
Best insulated coat ever!
Familiarity:

I've put it through the wringer
We got this coat for our pitbull 2 years ago. We live in Boulder, CO and our dog wears his Quinzee every day in winter. It's a little dirty now because we didn't wash it enough but no rips or tears in the fabric and the zippers and buckles still work perfectly. This jacket is so gosh darn warm. When we take it off our dog we can feel the heat radiating out of it. It's easy on and off, and so soft and flexible that he can wear it all day long and sleep in it if he wants to. Really great product. I am pretty picky about my dogs' things but this one is definitely a keeper. We put his Planet Dog harness over the coat so that we can still clip his leash to his chest or back and have never had any problems with rubbing or conflicting buckles or anything. He's 60 lbs and wears the size medium.
Additional Coats.
Familiarity:

I've put it through the wringer
Our dogs, although skeptical of why we are putting jackets on them, looked amazingly snug and dapper in them, and when I put my hand underneath it was toasty warm. We took these on our latest camping trip where it got down to 40 at night and these seemed to keep our dogs comfortable throughout the night in the tent. The first night we didn't have them wear the jackets and they were up and shifting around every 20 minutes. Great quality and easy to put on, plus a nice touch with the asymmetrical zipper at the neck. Love it!
Warm Dog= Fun days
Familiarity:

I've put it through the wringer
I followed the size chart and this jacket fit my dog perfectly. He's very short haired, which means on cold days when he wants to go out he doesn't have fun. This jacket lets us go on longer adventures when it's cold. It has held up well to him dodging through trees and is easily secured. The only criticism I would have is the leash loop on the back. Perhaps on the larger sizes ( for the big dogs) there could be a bit more reinforcement stitching on that loop? I have yet to really use it because I'm afraid if Toven pulls too hard it will rip his jacket. Overall this is a great jacket for the pups that need a little extra.
Happy Pup!
Familiarity:

I've put it through the wringer
Took my pup touring in the lower 20s and this was 100% needed. She was a bit shivery still towards the end from being up to her belly in snow for a couple hours and would of been in bad shape if she had not worn this. A great piece to have when your pup will be in deeper snow or idle on cold days. I bought this for skiing and for her to wear when she is hanging with me while cold weather fishing. All in all, the best thing to throw on your pup when they are going to be in deeper snow, running around in very cold weather, or when idle in a variety of temps.
My dog measurements are 14 inch neck 24 inch chest and 15 inch length. What size should I get him?
Hey there! Based on the sizing chart, an XS would likely fit your pooch.



https://www.youtube.com/watch?v=9DlfMQGt8mI
Great coat for keeping your dog toasty
Familiarity:

I've used it several times
This is a great coat. Our dog has a really thin hair coat so she wears sweaters regularly for cold days. The medium fits perfectly (72lb greyhound), easy to get on and off because there are no leg sleeves, warm, and reflective for walks. I wish ruffwear would make an "extra long" version that would fit sighthounds though. It could be another couple of inches longer. We also have a medium ruffwear fleece coat for her. The fleece version is smaller even though they are both mediums.
Awesome coat
Familiarity:

I've used it several times
This coat works wonders for my 7 month old australian cattle dog mix. He's about 35-40 lbs and the small fits him perfectly. It puts up well with wet conditions and doesn't interfere with his walking. It also doesn't have arm sleeves (you just slip the dog's head through and buckle it), which made it a lot easier for us to put it on him and take it off than anything we tried with arms.



I would recommend that you err on the small side with sizing so that it fits snug around your pup.
I'm looking for something to help my dog...
I'm looking for something to help my dog out a bit when we go backcountry skiing/winter camping. I live in canada so it gets pretty cold some nights (-20 to -40 F) He's a husky/mut so he's got a descent hair coat but not really thick like the malamutes. he also gets plenty of exercise so he's lean. he sleeps on the end of my down sleeping mat so i'm not worried about losing warmth to the ground but i wouldn't mind a good down style coat to help him stay warm when he's sleeping. any thoughts on whether this would cut it or any other warmer products anyone's seen? during the day he's running (usually pulling me) so i'm not worried about him then, just when we're sleeping. So far he's never had an issue on our trips but I'd love find a warm product to help him stay warm on the colder nights. Thanks!
Adam,

This is definitely a good product to consider for your dog. I think a down jacket would not be great if he is running and laying in mixed conditions because it will not insulate well if it gets wet. This jacket's synthetic insulation should keep him warm(er) whether running or sleeping and the jacket's shell will provide some protection from breezes and light rain.
Great for snow and cragging
Familiarity:

I've used it several times
My dog waits at the base of climbs, and if it's cold she gets chilled when not moving. Covering her with a down jacket doesn't work because she never stays completely still, so this is a great solution. It's also good in snow, and stays warm. It seems to run a little big--she wears medium in the fleece jacket and is definitely size small in this one. She's a 43 pound cattle dog mix, pretty lanky and athletic, and does not have the husky double-coat, so needs a little extra layer in cold weather and when having to wait patiently :) Anyway, we love this thing--we gave one to a friend who has REALLY thin fur, and he basically wears it all winter long and is much happier than he used to be this time of year.
Cajun, Quinzee size small jacket
I bought this for my 1.5 year old black lab in a Medium size. This worked out great for her, she barely realized it was on after a few minutes. This kept my dog warm and comfortable when I was camping. Temps got to about 15 degrees F and she was fine. This was also a great option for her for sleeping because it would move with her and would not fall off. The jacket is able to stuff into its own pocket so its very compact and easy to pack. If your looking for a nice easy to use dog jacket definitely give this one a look.
Unanswered Question
Which product is best for really cold...
Which product is best for really cold weather, this one or the K9 Overcoat? I'm trying to decide between the two.
Quincee roughwear dog jacket
Really like the product .Only complaint is the self stuffing pocket does not seal up all that well.
Got this coat for a 35 lb blue heeler mix and a Small fit him perfectly. This jacket allows Curt to hang with us for a bit longer when normally he would have burrowed into a sleeping bag. It is also the perfect thing for keeping him warm on late fall hikes and skiing. He doesn't mind having it on any more as he associates it with being warm and getting to stay out playing longer.
Got this jacket for my dog because she loves to jump in the water in the middle of winter. I thought I could use it for her after she gets out of the water for the rest of our hike so she stays warm. I ordered size large because she is a yellow lab (65 lbs). It is a bit too big for her though. Make sure to measure your dog before ordering!
I like the feel of the jacket and it seems like she won't mind wearing it. I love Ruffwear products and this is another product of theirs that seems to be well made. The one thing I worry about is if the fabric will show where burrs or sticks catch to the coat. I'll be ordering it in the correct size so once I test that I will update the review.