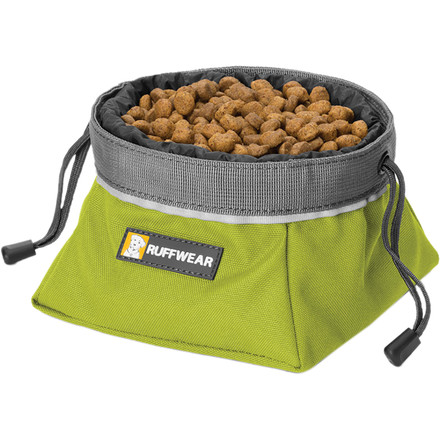 Colors

Detail Images
Description
Check, please.
Rover was never one for sit-down establishments, and he doesn't have to be when you travel with the Ruffwear Quencher Cinch Top Dog Bowl. Made from eco-friendly recycled polyester, this foldable bowl features a cinch drawcord for safe storage during transit. A waterproof nylon lining means this doggie dish can be used for water as well when you and your furry friend want to ruff it in the outdoors.
Love these.
Familiarity:

I've put it through the wringer
This bowl works incredible for my extremely active pug. He loves it so much he basically attacks on command when some other dog tries to use it. I'm working on sharing with him, but I've come to learn there really isn't much changing a 9-year-old Pug's attitude and general demeanor towards life and his decision making process.
these are great dog bowls! had to get 2 , one for water and one for food. Love how packable they are and how much they hold. The cinch drawcord is the perfect touch for these bowls.
Commmmpact!
Familiarity:

I've put it through the wringer
We've got a few of these badboys. One for each of our cars and also one for the hikin' pack. You never no when one will come in handy! Easy to clean too- with dry food anyways.




Hiking/Camping/Traveling MUST!
This is a must-have for all dog ventures when food/h20 bowls aren't readily accessible. The Large is definitely massive & both boys (80lb lab & 40lb puppy) can fit their faces in it when they want to share (and are suuper thirsty). We probably could have been just fine with a Medium, but wanted it right away & Large was the only one available. No regrets whatsoever though.




You will not be disappointed with purchasing this bowl. Light, stores easy, cinch top works well. Unfortunately I lost mine, was considering buying another but I think I am going to look for one with a removable plastic liner included. If I cannot find one that suits me in that style, I will certainly buy this again.
Super compactable for traveling. Got the Medium and it is PLENTY large for our 55lb and growing lab puppy ... should fit him even when full grown. Holds a little over 4 cups of food or water.
My buddy never goes thirsty while we're on playing with this bowl. Packs flat, light, wide rim for drinking and 100% waterproof. I have a large lab... perfect for camping and hiking trips for both food and water.
Fits good in my Lab's Approach pack. Holds a ton of food. Packs down great when needed.Good for overnighter's or 3 or 4 day trips.
I bought this to take hiking with my German Short Haired Pointer. She loves it. It functions well, with a few minor flaws. We use it primarily for water, and I have found that the walls are too high and a little bit too flimsy. The bowl is a little too wide, so you have to pour in more water than you normally would so the dog can get to it. I almost returned it, but gave it a second shot while camping and decided I really like it. I would reccomend a size smaller if you can find it for day hikes. This size is great for camping or multiple days.
What would Hank do without it!!
Like the other reviewer said it is 100% waterproof and great for the car if you are traveling with your Fido. Compresses small and is super light for hiking and camping too.
I have a few of these. Love one in my car, in the yard..for camping, or just living..these are essential to have around. hold water, won;t leak, cinch the top for secure water carrying! Love it..color is sweet too.