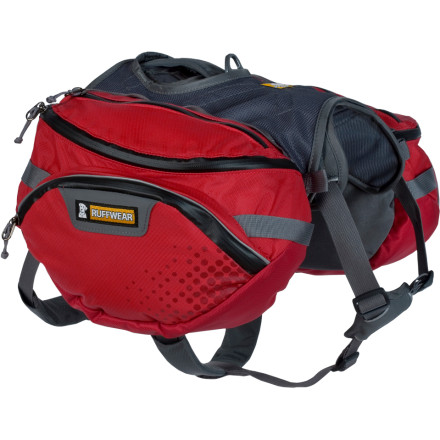 Colors

Detail Images

Community Images
Description
For the mutt that doesn't just like to roam, but likes to truly be a part of the team.
Lighten your load and put your high-energy, four-legged friend to work with the Ruffwear Palisades Dog Pack. Generous removable saddlebags, included collapsible water bags, and a comfortable, adjustable harness ensure your best friend stays hydrated and fed on extended day hikes or multi-day backpacking trips.

Durable materials ensure the packs lasts throughmany rubs and scrapes against rock and brush
Web Master Harness chassis ensures the load stays stable and features a grab handle on top to lift your furry friend up over scree fields and downed trees
Dual, removable (connected) saddlebag design utilizes heavy-duty, quick-release buckles to secure the load to and remove it from the harness
Load compression web straps feature a quick-release loop inside of each saddle bag
Two removable, collapsible one-liter water bags with snap-closure caps offer plenty of hydration on the trails
Zippered stash pocket on top stows quick-access to treats
Coated zippers help keep water out of the pockets
Reflective trim helps make dog more visible to motorists when you return to the trail head parking
Measure around widest part of rib cage for girth measurement—if your dog is in between sizes, choose the smaller pack for the best fit
Ruffwear recommends that your dog carries no more than 25% of its total body weight
So far great!
Familiarity:

I've used it once or twice and have initial impressions
We just got this so we have tested it on a full hike yet, but we've let Houston give it a spin around the neighborhood. After a bit of shaking and adjusting he seems to not mind it at all. Can't wait to hit the trail! We got the L, for our 83 lb golden lab mix, fits great. This pic shows the pack with out the saddle bags just as a harness for a walk in the park. No issues with it sliding over his head that others have mentioned.
Unanswered Question
Has anyone had an issue with this pack slipping over their dog's head? We have a different pack, and it is constantly slipping over her head and shifting down around her neck when she puts her heard down to sniff. Would that be possible in this pack?

Luna The Amazing German Shepherd
Familiarity:

I've used it once or twice and have initial impressions
This is really awesome just pricey is all. I wish they came in more colors then just red I would prefer a black or green but I suppose it is so people can see them and hunters not to shoot them. Most of my gear is camo though. The video below is me installing it on her the first time it came in so it may help you in putting it on your dog. I have had her out in it 4 or 5 times and it works really really well.
Chopper & Luna HikeMI
Familiarity:

I've put it through the wringer
Size small (older pack version) on a 45lb staffy, size medium on a 55lb american pitbull mix. Packs fit great and the pockets can cinch down to collapse space inside. The harness is excellent too, allows you to drop packs easily without taking the entire thing off.
Doc loves day trips as much as backpacking (because then he gets to lay in a real bed; a nice comfort!). When he was younger we got plenty of use out of the saddles and made him carry stuff... but now at 13 he's still getting use out of it in harness only mode. Handle helps us give him a lift if he needs it so he's still knocking off 4k's in NH and keeping in shape for all the ladies.

I never have regretted buying this pack - worth every penny!

(here he is on his 13th birthday tackling his 17th peak in the past 2 years)
I expected a better product
Familiarity:

I've used it once or twice and have initial impressions
Chessie wore her pack for her first backpacking trip five miles into the Uintas, and there are lots of things I like about it. The material seems very durable; there is lots of storage space, but is still lightweight; it never got caught on anything while she ran on the trail; it looks super cool! The bigggg problem, however, is that the harness chafed her armpits until they were raw, red, and goopy with pus. I think I'll be able to attach some sheepskin to make it better, but it was a huge disappointment to buy an expensive product that gave my dog such an injury.
Put the pups to work
Familiarity:

I gave it as a gift but have feedback to share
IF you're going to bring the pooch, put'em to work. The quick and easy fitting dog pack fits most dog breeds comfortably and easy. Certain breeds love to work so why not slap this pack on their backs and make them earn their keep. Perfect for them to carry their own food and water and whatever else you feel the need to throw in there. Removeable bags is also an extra bonus if you are already setup at camp and want to go on a little adventure and don't need the excess gear. Would recommend this for any size dog just try and use the fit guide for the appropriate sizing. The girth is very accurate if you have the chance to measure.
Yuki wearing just the vest - bags removed. She prefers it this way. With the bags she has gotten stuck and overall just moves slower. So I mainly keep her like this and she is much happier.



Pic: Here she is in the trunk getting some snug love from Jaya, Guru Adam Saucedo's dog.
Best Dog Pack ever?
Familiarity:

I've put it through the wringer
We have a older version of this pack from when Barklee was about 2. He's 10 now. He's about 100lbs give or take 3. His chest is 33in and he's 25in tall at the shoulders. The large fits him very well. He'd gone through several other dog packs from other companies. They just couldn't hold up to the beating of a big ass lab. the seams ripped, the straps tore away at the seam. This pack is not only rugged but also packs tons of features: he's able to carry a lot of water in the hydration reservoirs...for me to drink and cook with. He drinks from the river or stream. The separate pack and harness are great! You can unburden your dog very quickly and allow him to go run and swim like he wants to. You can then take his pack and (with a rope) hoist it up over a limb or strong branch to use as a running water source or shower. I also have him carry all of the food we take and separate the pack from our campsite up high in a tree as kind of a bear bag. This way I never carry food in any of the human packs so they never attract wild life. We also stuff it with a Ruff Wear sleeping pad and a collapsible bowl for food.



The red looks great, I just wish it came in a bright orange for safety reasons. I guess that's how Ruffwear got met to purchase the orange Track Jacket. There are a lot of really dumb hunters out there who will shoot at anything that moves.



My version is 8 or so years old now and unless they've let it go way downhill, it's amazing. From what I can see it's gotten better with sealed zippers.



It's not cheap but it's cheaper than buying new packs over and over from companies that make stuff for humans, but have a dog pack as an afterthought.



Git It!!
Great fit.
Familiarity:

I've put it through the wringer
My rottweiler is only 80lbs and the large/xlarge fits great and gives him plenty of room to grow into it. Theres no chafing and it doesn't seem to bother him at all! Wish it came in a few more color options but overall love this pack.
Works well, but slips a little bit
Familiarity:

I've used it several times
My lab is unusually tall and long with a normal, healthy, althletic lab "lady-waist" shape at 110#. So the Medium is waaaay too small, and the Large / Extra-Large is too long. Even when I cinch it all the way up over his shoulders, it is very difficult to get the pack snug enough to stay put without it looking like it might hurt. We'll keep experimenting though. I love that I can remove the backpack and leave the harness on - very handy for securing him on a long line if I need to.
Nala's Rocking her new pack!
Familiarity:

I've used it once or twice and have initial impressions
Thanks to a video on BC's website comparing the Ruffwear Palisades & Approach packs we purchased the Palisades & are more than happy! We are starting slow introducing the pack but she never batted an eye walking with the base layer of the pack. We did review the sizing on Ruffwear's website vs BC's (sizing chart differs slightly) and went with Ruffwears. Glad we did; she was borderline small & medium and we opted for the medium. Fits her well. Think Nala will enjoy hiking with us this summer & many years to come!
Mocha LOVES her pack
Familiarity:

I've used it several times
so my dog mocha loves her pack, she will come and ask to have it put on. it fits great and I love that the back part comes off but leaves the vest part on. this is great for long back packing trips. this pack holds up better then she does :) ... its well worth the money... her smile in the photo shows just how much she loves it.
Great Pack
Familiarity:

I've put it through the wringer
My dog can now carry all of her own food, leash, bowls, and toys during backpacking trips so I'm stoked. The separate harness is a huge perk, I've used it on some technical day hikes to assist her with some light scrambling.
Our dog is a burro
Familiarity:

I've put it through the wringer
Our dog, Memphis, wears this backpack on just about every hike we go on - we refer to her as our burrito when wearing it since she looks like a little pack mule. We purchased this pack partially so she could carry her own water, but, also to slow her down a little since she is a speedy devil.

We love this backpack because the harness fits well and can be worn with or without the pack attached. The pack is big enough to fit the two included water bottles as well as food (if it's an overnight trip) and her poop (on the opposite side from her food).

We also like that the harness has a nice big handle on top which my husband has used on numerous occasions to carry the dog like a suitcase to get her down sketchy rocky sections.

The only thing we haven't loved about this bag is that the plastic used to make the water bottles can crack if you aren't careful with them (we have had this backpack about 2 years so this may no longer be an issue if they changed the composition of the bottles)
This may be the most expensive dog pack out there, but I didn't want to take any chances on having it fall apart, or having it rub or wear wrong on my dog! I spent more on my dog's pack than my own!

She loves it, and had no issues wearing it with a week's worth of food. You do have to be pretty careful to make sure the load is even, and I still had to adjust it every once in a while, but it works like a champ! The added water bladders were great, too! I loved that I could unclip the pack itself and doubled as a bear bag to hang the dog food!



This has held up to rough wear and tear very well. I totally trust this brand for all future outdoor dog purchases.