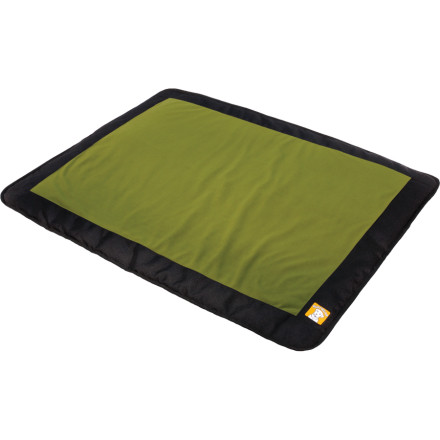 Detail Images

Community Images
The Ruffwear Mt. Bachelor Pad Dog Bed gives your dog a comfy place to lie down, whether you're chilling at home or hiking through the backcountry. This bed features double-sided, hook-and-loop closure tabs so you can roll it up for camping and road trips. One-inch thermal padding and vinyl-backed polycloth insulates and protects your dog from wet, chilly ground on camping trips, and the pad also helps minimize the hair invasion on home carpet and car upholstery. When the slobber and shedding get out of control, throw the Mt. Bachelor in the wash for a quick cleaning.
Sleep Cozily on Rock, Thorns, Linoleum..
Familiarity:

I've put it through the wringer
I originally bought the flophouse foam pad, but Osa (my dog) wanted something more comfy and this bachelor pad fit the bill without sacrificing any durability--which made poppa bear happy too.



This pad rolls up tight for backpacking (think thermarest z-lite size); the bottom shell is 100% recycled polyester so it'll take a pounding from rock, rain, mud, etc., without showing wear, plus you can pop the whole thing in the washer and--like the mighty phoenix--it'll rise up from the ash as good as new; the top is super comfy and my dog usually has to paw slap me to clear me off when we're star gazing. In addition to protecting her from the thorny, rocky, prickly high-desert trails we roam, Osa prefers this pad at home over her traditional doggie bed, must be the lingering scent of Adventure, and marmot...
Recently did some travel with our Ruffwear Mt. Bachelor Pad Dog Bed & could not be more pleased! Most recently it came with us on a backpacking trip to the Uintas and was super easy to pack in & out. Best of all, it gave the mutts a comfy and familiar place to rest their heads (especially for the little guy as it was his first backpacking trip).



You will not regret this bed one bit!
Our 80lb Lab & 30lb puppy love it - I'm sure they'll find a way to still lay on it together when they're full grown too!

Will be perfect for traveling/camping as it rolls up quite small. I imagine we'll be getting lots of use out of this dog bed.
Thin, but the dog loves it
The dog bed doesn't have much padding to it, but this does make it relatively packable. The bottom fabric is water/abrasion resistant but the top fleece would likely be destroyed by a dog that chews. Surprisingly, my 85 lb. Alaskan Malamute fits perfectly and loves the bed.
This dog pad is worth the money. very respectable weight if you are packing it in. The bottom is durable and weather resistant, rolls up easly, and comfortable for your sidekick...as well as for you.. if your hammock rips mid trip it can double as a sleeping pad, if your k-9 is willing to share! You nor your sidekick will be disapointed.
Perfect for camping... durable back, fleece top that allows comfort for my dog but survives being tossed around in the dirt. Also rolls up nicely for packing convenience.
My 30-pound Boston terrier, Boone, loves this bed in a medium. He uses it inside, and we take it with us to crag so he can have a soft place to lay down in the shade while we climb. Ruffwear is a great brand. We also have a water dish & a hoopie collar from them. Highly recommend. My one issue with this bed is that it's kind of hard to roll up tightly, but that's not a big deal at all. I love it.
This bed rocks! I picked it up for our newf puppy, and couldn't be any happier with it. We've taken it out a few times so far on day trips and camping excursions, and have been very happy to have it each time. It rolls up small enough to carry on the trails, and can be tossed down on the ground just about anywhere- it's super tough! She also loves the water and will track it all over the fleece, but it dries surprisingly quick.
I purchased the size L- our girl still has a bunch of extra space for now (so I can hang on the bed with her), but she'll definitely grow into it. If you're looking for a good bed for any outdoor pup, this is the one!
This bed kept my dog comfortable at a avy dog school in Canada a while back, the first day the high temp was -15 F, and snuggled up on this bed she stayed nice and comphy on the mountain between training drills for 6 hours. Another nice thing was when it was time to head down, even at hours of minus temps, it's rubber bottom was still pliable, and rolled up nice and easy.
fits perfectly in the back of the car
This is perfect for my dog - my dog is a 55lb husky mix and I got the large. The rubber mat in the back of my Subaru gets really hot in the summer, and this bed fits perfectly on top of it so he's more comfortable in the car. It's also easy to pull it out and use it while we camp or picnic. Seems really durable so far (I'm pretty sure it will outlast the cheap bed he has in the house). Haven't washed it yet, but I'm stoked that it's machine-washable.
On a recent camping trip I noticed my dog got a little chilly just hanging out at the campsite. I bought this for her to sit/lay when we're not in the tent so she can stay warm and comfortable while being close to the action. This mat exceeded my expectations in quality and comfort. Super soft, seems very durable, cozy and lofty. I bought the medium and it's about the right size for my 36lb labradoodle but if you want lots of room for your dog to stretch out, I'd go with the large.
This is a great dog bed.I have a medium size dog, and I got the large.Sadie(the dog Luv's it).We take camping,climbing,etc. When I first got it,it was a bit floppy to roll up, but I got the hang of it.Packs nicely and fits well on a backpack when rolled up.
I was worried about the vinyle backing, because the first day I put a deep scratch in it.But it hasn't torn, and now I don't worry about throwing it anywhere on the rocks.
We use on the car seat for traveling, at the crag for the dog, and in the evening it goes into the tent.But I was totally impressed when we used it at an outdoor evening concert.The temp was getting quite chilly, but pad was nicely warm. Wish Ruffwear would make a peoples version!
Perfect for traveling dogs & dog owners :)
This bed really is perfect for people who like to travel with their dog. The large takes up the whole back seat of my boyfriend's Ford Focus so it is great protection for the leather and super comfy for our dog. I LOVE how easy it is to roll this bed up and take it anywhere. With it's great portability and waterproof bottom, our dog can comfortably be as mobile as we are. I cannot wait to take it out to a shady spot for our dog to relax while we climb or camp. It's pretty clear that when I want to spoil my dog, I should go to ruffwear :)