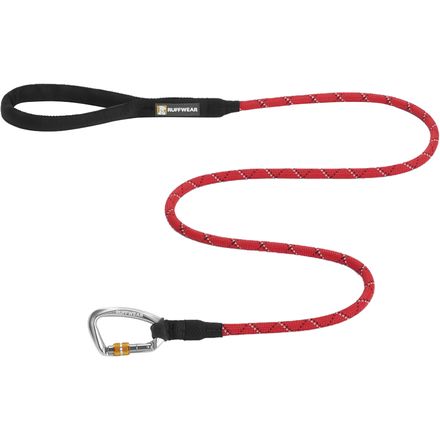 Colors

Detail Images
Instead of chopping the end off your used lead rope to make into a leash, pick up a Ruffwear Knot-A-Leash for your favorite crag dog. With a locking carabiner attachment point and a comfortable webbing handle, this leash is climbing inspired to the max and safe for your dog, too. Plus, the accessory loop gives you a convenient place to carry plastic pick-up bags.

A locking carabiner provides a secure collar attachment point
Kernmantle rope leash is durable and maintains the climbing theme
Tubular webbing handle is comfortable and provides a secure grip
Accessory loop holds plastic pick up bags
Reflective trim in the rope provides low-light visibility
Small size has a rope diameter of 7mm, large size has 10mm diameter (both sizes are the same length)
Pretty darn solid
Familiarity:

I've put it through the wringer
The locking carabiner is my favorite thing about the leash. It gives you a little more piece of mind if you are walking a bigger dog. The handle doesn't offer a lot of padding, but it is relatively comfortable. Highly recommend.
Awesome!
Familiarity:

I've put it through the wringer
Like other reviewers have mentioned - it would be nice if this had some length adjustment... I did tie a knot in mine, but that shortened up the length a bit and I don't think I'll ever be able to untie it. Otherwise, this leash is awesome! Super durable - my 5 month old pit puppy has chewed through every other leash she's had in the short time I've had her, but not this one! The locking carabiner is awesome and easy to use. And the handle is super comfy!
I'd highly recommend this! Pumpkin Spice pup approved!

**Leash is size Large. Also in this picture - "Knot a Collar" (size medium), both in Purple Dusk color. Hard to tell from the picture, but the collar is made with thinner rope (7mm).**

***UPDATE***
Pumpkin Spice got bored at the office, tired of lack of freedom - started really working on this and chewed through it before I even noticed she was doing it (under 5 mins). Still stoked on the handle, carabiner, and general style! Not as stoked on durability as I was at first.
It works
Familiarity:

I've used it several times
The Ruffwear Knot-a-Leash works. However if you have an active young dog the rope will get twisted, especially if you use a training collar (then I do not recommend this leash, the metal rings of the collar will bind from the twisting). The option to adjust the length of the leash would be a nice feature (yes, you could tie knots (no pun intended) in the rope). Lastly the reflective material in the leash can actually poke/scrape your hand if you wrap your hand in the leash, let the rope run through your hands or if you wear the leash over your shoulder it will rub/scratch on your neck. The twist lock mechanism on the clip is more of a hassle and not needed.
Great leash for the trail loving dog
Gender:

Female

Familiarity:

I've put it through the wringer
I ordered both the Knot-a-collar and leash for our Belgian Malinois puppy and I'm in love with the style of both.

Love this leash and the carabineer attachment, together your pup is trail ready. The rope on the leash is thick and feels like good quality. I like that they padded the handle at the end. It makes looping it over your wrist for long runs and hikes very comfortable. It also attached the collar perfectly and is a great length, not too far that you feel like you can't control your dog, but not close enough that you are tripping over each other on a single track. Great buy and I'll defiantly reorder when this one is on its last leg.

Baloo Approves
Familiarity:

I've put it through the wringer
My Shepernese loves to help out by holding the leash in his mouth when we go on walks. Sometimes he accidentally chews the leash in half.. This leash is pretty damn sturdy and has solved all of Baloo's problems. The rope has a little fraying from his sharp puppy teeth, but I expect this will at least last us a couple years.



Baloo is also pretty stoked about the locking carabiner. Not only does he look like a hardass rock climbing dog, He isn't able to break free from the leash when those butterfly's come around.



I would recommend this leash to anyone with a dog.. big or little, this should solve your problems.
Solid leash!
Familiarity:

I've put it through the wringer
This leash has withstood everything my 60lb bulldog has thrown at it. It remains unscathed despite the fact that he likes to chew on it from time to time. It is comfortable to use and the locking carabiner is great. A good, solid leash.
Love Everything About It!
Familiarity:

I've put it through the wringer
This leash is good looking, has a comfortable handle, is super sturdy and really just gets the job done. I have no complaints!
Great Leash!
Familiarity:

I've put it through the wringer
I got this 1.5 years ago when my dog was a puppy. Hundreds of miles later, it is still the #1 leash I use.



It's in great shape and held up through the pulling phase of our 70lb golden retriever. It's comfortable to hold, durable, and with the locking carabiner, he won't get free. Love it!
Love it
Familiarity:

I've used it several times
Got this with the Front Range Harness for my 35lb Saluki Mix. Very sturdy. Long length is great. It has a little stretch which is great because my dog is a puller on walks. Comfortable handle. Carabiner is sturdy. I never worry that it will come undone. At first I felt that I went over the top buying Ruffwear as we aren't a hardcore outdoor hiking duo, but the first time she came across a squirrel on a walk and jerked forward, I knew I picked the right stuff. It was so much easier to tug back and keep her under control.
Perfect Leash!
Familiarity:

I've put it through the wringer
I have been using this leash since my dog was a pup. It has hundreds of miles of trail and sidewalk use. Its a little rough looking now, but still works great.



This is a great leash for any size dog. Mine is a 80lbs lab. The loop on the end is big enough to either hold it there or warp it around your wrist.The loop is made of tubular webbing that is soft so it won't be rough on your skin. This is also extended down the leash a little ways so when the loop is on your wrist, you still have a soft area to hold in the palm of your hand when your dog needs a little reminder to stay close. The rope is strong and last. Mine is faded over time, but still strong as ever. The carabiner is strong and easy to lock and attached to the rope securely. I never lock mine, and my dog has never managed to work it loose. The length is good, just long enough for your dog to stay ahead but close enough that you can still be in control.



I highly recommend this leash to any dog owner. You will love it. Also as I write this, mine sister has stolen mine because she used it once and immediately got rid of her adjustable locking leash that she has been using for years. Looks like I may be needing a new one!
Shop No Further!
Familiarity:

I've put it through the wringer
Rufferwear makes well thought out products, which I have always been pleased with and this leash just continues with that trend.



It is well thought out with a locking carabiner so there is no doubt that your magician of a dog is going to get unclipped. I also love the loop for tying a poop bag around. The handle is comfortable and don't rub on your hand.



The leash is strong and I like that there is so stretch to it for when my dog lunges after that random squirrel that runs out of no where.
Cute
Familiarity:

I've used it several times
I purchased this simply to match the knot collar for my dog. The color is much prettier in person than in the pictures. The screwgate clip is really cool! I use it to attach it to my dogs float jacket.
Patent Pending.....:)
Familiarity:

I've put it through the wringer
I have the knot a leash, and the slack line leash. If There was anyway possible to take the clip and padded handle from the slack line leash and put it on the rope that the knot a leash is made of....perfection! I love the slack line because of the adjustability, and that when I bring my pooch to an outdoor padio restaraunt, the handle can clip to the leg of my chair easily...but the material the slack line is very easily chewed thru. My 5 mo old boy chewed thru one in the turn of a head, Backcountry of coarse replaced it...and he did it again........so I won't replace it for a second time.....I will just deal with the not so cushy handle, and kind of a pain clip of the knot a leash....sometimes the lock gets locked when I don't want it locked....all in all both decent leashes if you don't have a chewer.
I have a lab/border collie mix . . . 7mm...
I have a lab/border collie mix . . . 7mm or 10mm diameter? Tx
Best Answer
I would recommend going with the 10mm. The 7mm is still very strong and you probably could use either one, but I've heard the larger one is more comfortable to hold.
Best leash!
Familiarity:

I've put it through the wringer
I am a loyal Ruffwear buyer, and this is my favorite leash! The length is perfect, the handle is a great material and size, and you can't beat the durability! My only gripe is the carabiner.. I have a boxer that pulls on leash so I use a halti with her (google it for reference).. and when I'm not careful on correcting her, the carabiner can hit her in the face. Usually this isn't a big deal with leashes, but that biner is pretty heavy duty. Just something to think about. Great for regular collars!
Still love it
Familiarity:

I've put it through the wringer
Hands down, my favorite leash out there. The Large is a good thickness for our newfie, and the rope has just enough stretch to it that she doesn't pull out your arm when you take her out. The carabiner is durable and easy to function- and I like that it locks, just in case. Plus it's incredibly durable- our newf likes to chew and play tug with EVERYTHING, and this is by far the most durable leash that we've found. I would hands down recommend it!
Handy
Familiarity:

I've put it through the wringer
Love Ruffwear leashes. We keep this one in the truck all times. Easy to use when we forget our puppy's collar. The feel and length is just right. You can use it with a collar if you have a carabiner.
Favorite Leash!
Familiarity:

I've put it through the wringer
Love love love this leash! Perfect length and very durable. My dog has chewed through many leashes except for this one.
This leash is extremely durable and the carabiner is a nice touch. The carabiner is a locking biner, though I dont see how a dog could sneak his way out of a non-locking one. The land hold is large and comfortable and the leash holds up to puppy teeth quite well.
Nice Leash
Familiarity:

I've used it several times
Nice large hand hole/large that is padded and comfortable. Rope is not continuous through the handle. Carabiner is very small but functional. Length is a good length.