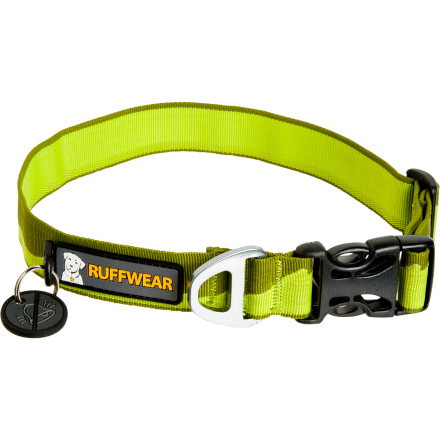 Detail Images

Community Images
We don't know if your dog has a sense of style, but if he does he'll thank you for dressing him up in the Ruffwear Hoopie Dog Collar. Tubular webbing hangs tough during energy-fueled walks but is soft against his neck. A separate ID attachment point with a silicone silencer keeps your pooch from sounding like a series of bells during your park adventures, and a clean, simple look will leave the other dogs drooling.
Small collar fits dogs with 11-14 inch necks
Medium collar fits 14-20 inch necks
Large fits 20-26 inch necks
Share your thoughts
What do you think of the
Ruffwear
Hoopie Dog Collar
? Share a...
I love that the dog's tags have a different attachment point that the leash loop. I don't have to worry about clipping Bert's leash to the key rings on his tags. Sizing is spot on, his neck measured 14 inches exactly, I got him the small since he has a small noggin and it was the only size we had left in blue. It was a little tight when I first put it on him but hes worn it for 2 weeks and it's stretched out enough that there's some room underneath. The tag silencer is a cool feature but we don't use it with Bert since he likes to roam and the noise of his tags let us know where he's at.

This is a great collar for any non water dog. Bert hates to swim so I don't have to worry about it getting stinky.
Easy and Versatile
Familiarity:

I've used it several times
We got this collar for our border collie/cattle dog, Bandit and it's absolutely fantastic! She's been a long-time wearer of Ruffwear gear and has a nasty habit of putting everything she owns through the ringer. This collar was super easy to adjust, controls her pulling just right and has the added bonus of a rubber stopper that prevents the loud jingling of her tags in her ears as we're out and about. We have the collar in green - there is just the right amount of reflective material on it to make her visible both night and day.

The collar itself is very light which is great for the dogs - it doesn't get too heavy or too hot and makes long hikes easy. The fabric is also quick to dry on a wet day or after a jump in the lake. I would highly recommend this collar for your furry friend.
Agree with review below
Familiarity:

I've used it several times
If you want a simple, durable collar then the hoopie is for you! If your dog is more likely to be diving into lakes and snow piles, then the headwater is a great alternative. Just depends on what you're looking for. OH, and I love the no noise tag shield.
Durable But Not Suited for Waterdogs
Familiarity:

I've put it through the wringer
The Hoopie dog collar is durable and is offered in a variety of great colors. We have a 60lb. female lab and she wears a size M. The sizing is adjustable which is especially great if your pup is still growing. Our lab LOVES the water and we've had to replace this collar a few times because it tends to get moldy and stink over time. We recently replaced her Hoopie collar with the Headwater collar and we will never go back. The Headwater is durable like the Hoopie but is also waterproof so you never have to worry about that mold. If your dog is a fan of the water than I would definitely suggest getting the Headwater.
This collar is great. The clasp is secure, the material durable, and the leash hook-up makes sense. What I like that I didnt expect was the rubber dangly thing where you keep the dog tags. With two tags (name and rabies) you get that clicking noise every time the dog walks. This rubber stop makes him silent.
Comfortable collar, well built, easy to attach leash. I got the size Large for my 100 pound lab, the collar is very adjustable. Color on this collar is great and hasn't faded. A few small snags on the collar but nothing major.
Vibrant color, sturdy collar
Gender:

Female

Familiarity:

I've used it once or twice and have initial impressions
I received two collars in Red Currant. A M for my Boxer (65 pounds) and L for my lab (100 pounds). The collar is well constructed, and the color very vibrant. I love that it has a silicone silencer - a life saver during early morning shaking!
This collar is a great e.d. Collar easy to put on and an extremely durable clip
Strong and last though all weather conditions. a great buy for those with active life style.
As far as collars go, it's a collar. The best part is the seperate ID loop and the metal leash loop that sticks out making it hard for me to miss when I stumble out of bed for his 5:00 am poo run.
All you can ask for. Ruffwear stuff is really sturdy and works well.
Great collar, runs alittle large
I originally bought this in a size large thinking that it would be good for our siberian husky, but even when we adjusted it as small as it would go it was too large. I exchanged it for a medium.
This collar has worked great for me so far. I love the metal leash attachment ring, it sticks out enough to make it really easy to attach the leash, but its not big enough to get in the way at all. By the way, the current ring looks like the picture in the "cascades" color above, not the round one that shows up in the "forest green" or "glacial blue" color. I think that round one is a previous version of this collar. Probably makes no difference, but the newer one looks cooler, so your dog won't get picked on at the dog park. Unless it's a basset hound.
Great all-around dog collar
There aren't too many bells and whistles on the Hoopie Dog collar, but the features that are there work wonderfully. I particularly like the large, easy-access ring for attaching the leash -- no more fumbling around! The idea of a separate ring for tags is great, too. I agree that this runs a little large, but it adjusts down easily enough.
The dog loves it when I take him on a walk, so I had to upgrade my dog walking gear. I purchased the medium collar, which was actually a bit big for a Scottish Terrier. It's just a solid collar, with a very sturdy connection for the leash.
Ruffwear knows there stuff. Loved the lightness yet durability of this collar. Small details are amazing like the no bells icon, perfectly designed spot to attach leash. Collar is bright and visible.
Great collars. Tend to run pretty large though. I purchased 1 larges and 1 medium for my dogs (lab/collie and lab/pointer) and I have to say they ran quite big. Definitely adjustable, but I had to shrink down the medium and the large probably to a small and a medium just to fit the dogs. I am not sure what breed could use a XL because I am pretty sure a great Bernard could fit into the large. Regardless great collars. Just a little on the big size.