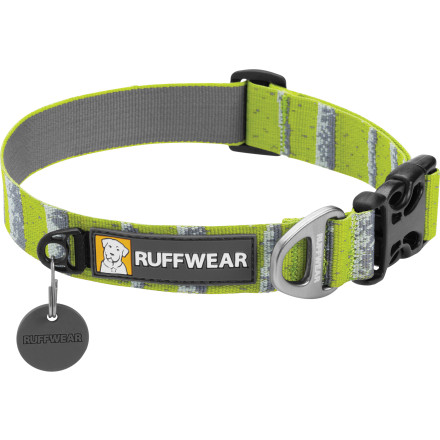 Colors

Detail Images

Community Images
Description
Always stylish. Always durable.
The Ruffwear Hoopie Dog Collar doesn't completely erase the odd furless-here, lots-of-fur-there feeling your Chow Chow suffers when you groom him like a lion, but it does help. Probably. This stylish collar has a side-release buckle for easy on and off and separate spots for clipping the leash and ID tag. The Tubelock webbing won't falter in the face of squirrel-sightings, nor will it rub your puppy's neck the wrong way. A silicone tag silencer means your pooch isn't jingling all the way, everywhere you go. With the matching Flat Out Leash, your styling pup in his Hoopie collar will be the envy of all the other dogs (or owners) at the park.

Tubelok webbing
Side-release buckle
Separate leash and ID tag attachments
Matching Flat Out Leash, sold separately
Won't weigh you down
Familiarity:

I've put it through the wringer
When you have important gravity defying tasks to attend to, such as leaping for snowballs, the ruffwear Hoopie dog collar won't get in your way. The on-trend prints compliment a handsome guy like me without overshadowing my natural beauty. I must say that I don't love the clipping noise when fastening the collar, but it seems to be a necessary evil with all of these things. If you should happen to roll in some foul smelling animal waste or other remains, which I did immediately, the first day I got the collar, it is durable enough for your human to put through the wash.
Stylish and well made!
Familiarity:

I've put it through the wringer
Everything about this collar has been great so far and our golden retriever puppy has been wearing it for about 5 months. The design is especially beautiful. I got "Teton" and our reddish golden gets a lot of compliments on the design, although is fur is so long now it mostly covers the collar. We live in a rural area in the Northeast so our dog romps through the forest almost every day. It seems to be standing up well to all the branches, sticks, running, and now swimming outdoors! The leash hook loop is ideally placed and I love that it's separate from the tags. The tag silencer is a neat idea and it seems to work great, although this is my first dog, though, so I don't have experience with a "noisy" collar.
Collar with Great Features
Familiarity:

I've used it several times
This dog collar has some great features -
#1 Leash and id tag loops are separate! -no more having people lose our tags when they incorrectly attach her leash to the tags.
#2 Silicone tag silencer - I was skeptical at first that this little piece would make a difference but am now a firm believer - our dog is now a ninja and has the ability to sneak up on us since we can't always hear the jangle anymore. This also allows her to shake her head as much as she wants at night without waking us- Hooray!
#3 - Functionality - the buckle is easy to take on and off but also seems sturdy - this collar looks like it should last us a long time.
#4 - Design -- The Bright Green looks awesome on our all black dog and the Aspens are a nice ode to our Utah home (for my East Coast friends it's like a Birch tree but smaller)

We ordered the Aspen in Medium for our dog who has about a 14in neck and it fits great with plenty of room to adjust (she has a strange habit of acting like a puffer fish sometimes and expanding her neck)
I highly recommend this collar!
I got this for my family dog- a coyote/shepherd mix- and it just looks dashing on her. She looks like a mini german shepherd and the Baja Blue is much too adorable. I like that it's a simple design- easy buckle, no extraneous knick knacks on it. I like the tags silencer- it actually does work! And it's nice that the leash clip is separate from the tags, and easy to snag quickly. Always liked Ruffwear goods, this is no exception. Would recommend it!
Could she be any cuter?!
Familiarity:

I've put it through the wringer
Sall enough for her as a puppy and large when shes a beast!
What is the country of origin?
Chloe Sage chasing squirrels
We really like this collar. I got the small, her neck measures about 14" and it fits just right but is let out about as far as it will go. The tag silencer drove her nuts, so we had to take that off.
Functional but simple features.
Familiarity:

I've used it several times
The separate tag attachment and rubber piece really keeps the noise from her tags down. I never thought much about it until we used this collar--and voila--she's stealthy!



The bright red color is bright enough to provide some enhanced visibility in the evening which is key considering our girl is all black. The material dries much quicker than her previous collar and is easily adjustable. Two thumbs up!
The red is bright enough to really stand out in the evening (this is important as our girl, Maja, is jet black).
Never disappoints!
Familiarity:

I've put it through the wringer
Thank you to Backcountry.com and Ruffwear for hand-selecting me to review this piece of gear for the benefit of the backcountry.com community.



We have been using these collars for years for our dogs and love them!



We have a 75 lbs Husky mutt named Cash with a 17 inch neck and a 40 lbs Australian Shepherd named Neko with a 16 inch neck. The medium fits both of them perfectly.



The silicone silencer is brilliant, but keep in mind it works best if you only have 2 tags. We have a ID tag, rabies tag and county license tag so it helps a bit with with the jingling, but I wish it came with 2 silencers.

There are always fun bright colors to choose from that work well for both male and female dogs.



The 2 different attachments on this collar make a lot of sense--one for the ID tags, and another to attach a leash. Before we started using these collars, we had a collar with a single attachment point. Our friend accidentally hooked the leash to the small, weak ID tag loop and when Cash lunged for a squirrel pulled the loop right off and was free. Luckily is was not near a street, but I now think the 2 attachments points is a much safer system.



The collar is very light and thin. Initially thought it would not be as durable as prior collars we have used, but to my surprise it holds up well.



Overall these are great collars. All collars get smelly over time, but at the reasonable price, we can afford to change them out when the smell gets out of control and what dog doesn't want to mix it up once and awhile???
Lookin' Good
Familiarity:

I've put it through the wringer
First off, I'd like to say thank you to Backcountry.com and Ruffwear for hand-selecting me to review this piece of gear for the benefit of the backcountry.com community.



So let me get this straight, an awesome looking collar and something that is rugged enough to stand up to whatever the outdoors can throw at it- count me in! We've gone through quite a few collars over the years, (yes, we spoil the heck outta our pooch) but much to my dismay, they usually get tossed in the bin or donated when they start to lose their shape, or get too funky beyond recognition.



Que the Hoopie! We like bright colors on Gracie, the Hoopie comes in bright colors, it's a win-win for all of us! I know some people prefer a bit more subdued colors, and guess what, the Hoopie comes in those as well. Made of that crazy durable webbed material known as Tubelok, this thing is built for the long haul. It can definitely take a lickin' and keep on ticking.



One of cool features about the Hoopie we dig is the tag silencer. Before the silencer, we'd have to rig up some rubberbands of sorts to keep those tags together to keep them from clangin' together. Not anymore! Shout outs to the sweet leash connector ring too!



Size wise, we went with the small. Gracie is right at 40 pounds of awesomeness and generally she's in between small and medium. We could have gone with the medium, but she would have been on the small end of it and it would have been a bit bulky looking.



The Hoopie pairs nicely with the Flat Out leash, in fact, some of the patterns are the same so you can get all matchy-matchy if that's your thing, if not, that's cool too!
Water Dog Approved!
Gender:

Female

Familiarity:

I've put it through the wringer
Great Collar! I love that this is on the thin side. I am not a fan of thicker plastic style collars due to how they sit on my pup and they don?t look as comfy. The weight on this means its quick dry as well. I am a fan of the features that Ruffwear included. There is an big easy to clip leash ring and a smaller streamline tag tab with a no-jingle tag. Buckle is big which means it?s easy to clip on and off. The sizing on this collarhas a huge range! I bought the large for my pup so she could grow into it, she is almost 6 months old and 40lbs and it shrinks down enough to fit her neck. The berry color isn?t overly pink, but still is ladylike so she is no longer confused for a dude. Overall, all you need in a collar and recommended for any dog owner!
A Great Looking, Functional Dog Collar
Familiarity:

I've put it through the wringer
First off, I'd like to say thank you to Backcountry.com and Ruffwear for hand-selecting me to review this piece of gear for the benefit of the backcountry.com community.

Our German Shorthair, Donner, has always been a Ruffwear user. Typically we went for the climbing rope collars that the company used to make for the look of them. The only drawback was that the collar was so thin, it made it hard at times to get a decent grip when having to help Donner get onto rocks and so forth. We were excited to the see the Hoopie Collar maintains the "outdoors" look but with an improved, thinner, supple webbing. You can easily grab it and have a solid lock on your dog. Also, Ruffwear has a ID tag clip that virtually eliminates lost tags (the prongs keep it in place) and as a hunting dog, we really like the silicon silencer that buffers the jangle of his collar and tag.



We highly recommend this collar for active dogs! And the designs are very cool, we have the Teton but may need to add the Pacific blue to our quiver.