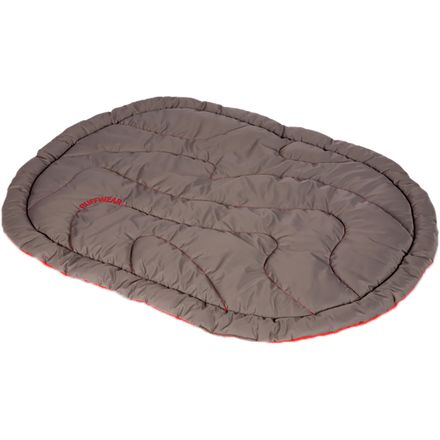 Colors

Detail Images

Community Images
Description
You have a nice cozy bag and now your best friend has a cozy place to rest too.
Your best friend is committed to burly backpacking treks and long camping weekends, so show some loyalty in return by packing the compressible Ruffwear Highlands Bed. Small enough to fit under most tent vestibules and only 14-ounces, this is pretty much an on-top sleeping bag for your mutt.
Tie-out loops let you secure it to the ground or hang if it gets wet
High-loft Thermacore insulation retains warmth when the ground is damp and chilly
Included stuff sack makes it easy for you to pack away, and it fits into any size Ruffwear
Palisades dog pack (sold separately) if your dog is a Sherpa too
Pretty decent but pricey for sure
Familiarity:

I've put it through the wringer
Really high quality bed, it is definitely durable. More than once my overactive BCD grabbed it and shook it like a toy but the nylon is strong so there wasn't even a frayed thread.



It does pack small enough to fit into his s/m pack, but it pretty much takes up that whole side of the pannier. It would definitely be able to pack smaller with a compression bag.



It stays clean very easily, a quick shake is usually enough to get all the dirt off. It probably does get wet, but you shouldn't be placing your dogs bed in a puddle anyways, so I have no trouble keeping it dry.



My only complaint other than the lack of compression sack, is that it definitely is not that warm. I think this bed would be amazing if it had more fill, and used down instead. He will always lay on it because it does help, but if he beats me to the tent he will always go into my sleeping bag first. So I usually cover him up with a sweater to help keep him warm.



Otherwise, you know it's a decent bed because as soon as you put it on the ground your dog will walk three circles and lay on it!



Pic of him sleeping next to the campfire snuggled up to a deer antler, absolute heaven.
I went back and forth on this bed because of the cost but eventually found it on sale from a return for 32$ in stores so I nabbed it.



I have a 45 pound Border Collie named Doc - he fits perfect on this bed and it fits with ease in his small palisades pack. It's thin and small - which others have pointed out - but I believe that IS the point of this bed - it is something for your dog when you're roughing it - it's helping him/her rough it a little less but still isn't as plush as an at-home bed (just like your pad + bag isn't!).



I wish there were more products like this but Ruffwear is such quality I'd probably still stick with them.



Doc is a bit of a digger at night so having this gives me peace that he'll dig in his bed instead of in my tent floor.



Picture compares his normal bed to the size of the highlands.
Our dog has a thin coat and just his jacket didn't cut it for him when he was trying to sleep and temperatures dropped to about 40 or under. This helped insulate him from the ground and kept him warm (and even better, kept him out of my sleeping bag.) Knocked it a little because I feel it's overpriced.
I have a 70 lb lab mix and he loves this thing. It packs down small and is really light weight. Because it has synthetic insulation in it, even when he goes and lays down in a creek on hot days, it wrings out really well and dries fast. It's the perfect pad when we're hiking and I even take it with us on day hikes. I was also worried that his nails would rip through the fabric, but so far so good...seems surprisingly durable for the weight.
I've read on other sites and this one that people say its "too small" I have the large and its a little small but thats why I got it. I have a 100 lb lab and he barely fits on a queen size bed! but.... this bed is great for canoe or hiking trips into the back country, its lite, drys quick, and keeps the cold/dampness of your best friend. One thing is true, its not much of a "bed" its more of a pad.
Most overpriced piece I have ever purchased.
Let me start by saying I bought this b/c I was so impressed by the quality of the Palisades pack I had bought for my dog. Previously, I had been using a Z Lite [small] foldable foam pad for my dog to sleep on but I figured a compressible bed might be a bit easier to pack. That being said, the Highlands Bed is next to useless. There is very little fill in it and I find it hard to believe that it would do much to insulate my dog from the cold ground. If you encounter water, the bed does a nice job of sopping it up. Sure, it's light but I basically spent $75 for a polyester towel. I really thought this pad might be something special since my other experience with Ruff Wear was so positive. Oh well, I'm switching back to the Z Lite pad for the pooch's bedding. It is cut down to size and straps on the outside of my pack. It may not be as small as the Highlands but at least it does its job and is a helluva lot cheaper.