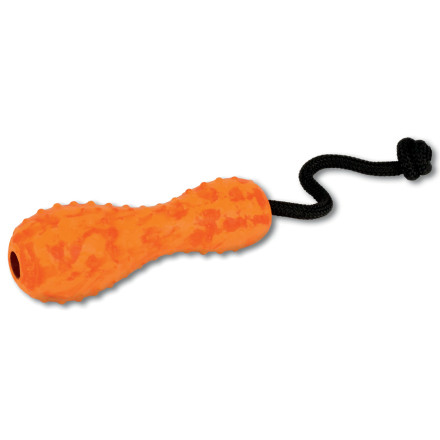 Colors

Community Images
Description
Product description by Bitey the bulldog.
NOMNOMNOM [thought bubble (bacon)] NOMNOMNOMNOM (wag wag wag) [thought bubble (ball)] NOMNOMNOM (wag wag) Ruffwear Gourdo Dog Toy (wag wag wag) NOMNOMNOMNOM [thought bubble (bacon)] (wag wag wag).
Puppy parties
Familiarity:

I've used it several times
My dog isn't too stoked on this, but when we have other dogs come over they play hard with this. It is very durable, and great for dogs that love to chew.
Orange and fun
Familiarity:

I've used it several times
The warts are the best part and the pups love it. I get great momentum as I toss it far into the lake. It floats a bit low though. No biggy. It doesn't hold a stink and I expect to bring it on our travels from this day forward.
Great toy, rope is a little weak
Familiarity:

I've put it through the wringer
This is a nice durable toy for one dog. The only weakness comes with two dogs playing tug o war. The rope on mine broke after a couple intense bouts of tug o war with two stronger dogs. They still love the rubber piece, but a more durable rope would be great for future designs.
Rubber with Bumps!
Familiarity:

I've put it through the wringer
I'd have to say, this is one of the pups favorite toys to bring to the lake. In fact, once we take it out of the toy bin, she knows its lake time!



Durability on the rubber thus far is up there with the Kong Extreme line.



Float wise, like another reviewer stated, isn't as buoyant as I thought it would be. It takes it a couple seconds to resurface after it goes into the water.




Puppy stamp of approval
Familiarity:

I've used it once or twice and have initial impressions
I will admit that I most likely should have gotten the small for Yuki (my puppy). But she does love the toy. The rope did not last very long against the teething 6 month pup. Luckily she does not chew on anything she should not and has plenty of toys to destroy.



I believe that this Ruffwear Gourdo Dog Toy will last in the long run. But I am strictly speaking to the rubber part.



*Pictures to come
Good size for a beardog!
She can't get enough! The toy so far, after a few days of good play, is still in 1 piece, and it doesn' t look like it's going to be failing any time soon (although I do see how the rope will be the first to go, when it does). The plastic material is good enough for a tough chewer- Camber goes through EVERYTHING else in less than 20 minutes, even the "indestructible" stuff. Plus I like that it has a good swing to it so you can throw it far, and you can definitely stuff treats in there. I would absolutely recommend this to any fun-loving dog!
Pup loves this
Familiarity:

I've used it several times
Our golden retriever loves this. The rubber part is really solid and after several weeks of playing with it, it is still pretty much completely in tact (usually she is able to rip things apart pretty easily). However, I can't say the same for the rope. I gave it to her to play with for a minute so that she'd get excited about it before we went to fetch and before I knew it the rope was shredded.
A little heavy, but dog still has fun!
Familiarity:

I've put it through the wringer
Great durable toy, a little on the heavy side, so be careful throwing it inside, rope tears easy but dog still has fun with it without the rope.
Doesn't float great, but dog LOVES it
Familiarity:

I've put it through the wringer
This is, without a doubt, my dog's favorite toy. He'll carry it from the car to the pond and back when we're done. Sometimes when I throw it far out, he won't be able to find it because it doesn't float right at the surface of the water. I still plan on getting another one if he ever manages to wear this one out.
Dog hasnt used, but I think its cool
My dog has ignored most if not all toys beyond a basic tennis ball, but I think this thing is sweet. Its about 8 inches long in the large and is extremely solid. The black rope was torn off by one of my dogs friends so that does leave a bit of durability to be desired. You can stuff treats in one end like a kong if you'd like. I expected it to float a bit better as well, but it seems the Ruffwear Lunker would be better for that.
Doesn't float as well as hoped.
The pup seems pretty pleased with this one. The rope makes it easy to fling, the tough rubber is likely to stand up to the type of dog that could chew itself out of a concrete room, but unfortunately it doesn't float as well as I had hoped. This was primarily purchased as a toy for the dog pond in town, but after it splashes down, it takes a little while to bob back to the surface, and when it does, it floats low enough the it is easy for the pup to miss. On the plus side, you'll increase your rock throwing accuracy since you might have to lob stones to let your canine know where her toy is.
Great fetching toy, especially for heavy chewers. My BC mix can chew his way out of a bank vault, but the gourd part of this toy is definitely the most indestructible toy I've come across. The rope won't last if your dog drags this toy around by the rope (like mine). But that's no biggie, a buck fifty will get you a three foot long rope at HD. And adding a longer rope allows me to really hurl this thing far, further than a chuckit can toss a ball. Or when I'm in a crowded dog park I'll tie the rope in a loop for shorter throws. Just be careful, this toy started a dog fight yesterday at my local dog park! Also my dog seems to go crazy over the irregular bounce pattern.
works great for dogs with a deep bite and loves to play amazing for training.
durable toy that floats and bounces
Whenever I'd bring this toy to the dogpark, all the other dogs would fight over it - it floats, which makes it a fun fetching toy for the water, and it bounces on concrete. It also has a hole on one end that you can stick treats into when you're at home. My dog wasn't interested in playing with it (he only really likes one kind of pull-toy), so I ended up giving it to a very grateful dog owner at the park whose dog was in love with it. I'd definitely recommend it for people whose dogs love retrieving.