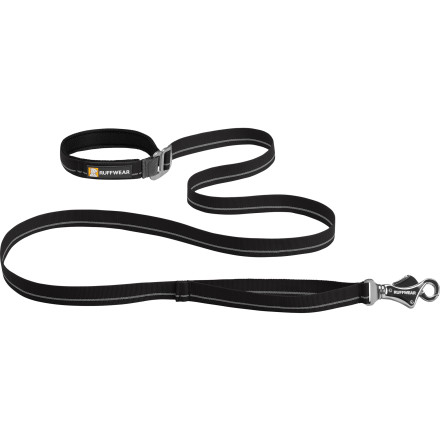 Colors

Detail Images

Community Images
Description
An affordable and stylish leash.
That old, ratty climbing rope you call a leash needs to die, once and for all. Not only does it clash with your pooch's Hoopie collar, but it's about to break for good. Pick up the Ruffwear Flat Out Leash—the low-profile webbing maintains a bit of your climbing style, and the Talon Clip is easy on your paws and won't tremble in fear when the squirrel taunting escalates. The padded handle won't rub your hands raw and can be adjusted to go 'round your waist when you're taking your dog for a run. The traffic loop gives you a solid place to grab when you need to keep your pup close around cars or other dogs.

Tubelok webbing
Adjustable padded handle
Talon Clip, ergonomic
Traffic handle
Best Dog Purchase I've Made
Familiarity:

I've put it through the wringer
I bought this leash to run with my dog and I highly recommend it for that. I've also started using it for hiking and keeping my dog in the near me in the house. It washes well and feels like my dog will have a tough time pulling off of it.
awesome leash
Familiarity:

I've put it through the wringer
I love this leash. It's adjustable so you can keep your dog close or give her 12' of space, but it's not retractable (booo retractables!) Also I LOVE the way the handle detaches so you can hook her to a fencepost (useful when we're hanging out at my favorite dog-friendly bar)... you don't have to detach the clip from the collar, thread it through the loop and reattach while dealing with a squirmy pup. Also, the clip is super bomber. Would definitely recommend it for anything but hands free running.

My only little issues are that if it were about a foot longer, I could put it around my waist and run with her (it's just a touch too short), and that the padded handle isn't movable (of course, really, if it were, it would probably get caught in the buckle and be more annoying.

So for real... my dog is spoiled. This leash (and the Hoopie collar) were the first things I bought for her and now she has a harness, a backpack, another leash, a bowl, a few toys... and in a few weeks she's getting a whole sleep system. So spoiled... but I also know it's a great investment because Ruffwear makes great stuff.
It's FLAT-tering!
Familiarity:

I've put it through the wringer
Yuki loves this leash! And the pacific wave color looks great with her with fur! This leash is not only light, it's soft and comfy to hold. Not to mention that the clasp is super easy to use and there is no worry about you dog getting loose. Did I mention the handle is padded? oh yeah super sweet! Also the handle comes apart so you can attache a poop bad dispenser with ease. ALSO! you can shorten the leash super easy! and it has a loop at the end so if you have two dogs you can stick them together on one leash! Ruffwear seriously knows what is up when it comes to #dogwalkingproblems. I would highly recommend this to any dog owner. Yuki is about 45 lbs and we got the medium length and it's plenty good for length.
Solid all day e'ry day
Familiarity:

I've put it through the wringer
Great leash for doing anything, and dealing with the unexpected. The wrist lock that can unclip is absolutely amazing. I never realized how handy something like that would even begin to be until now.

It has made walking my dog fantastically lazy, because the webbing is narrow enough to fit into my belt loops. So, unclip, belt loop, reclip, hands free strolling in 5 seconds. Great for when you are walking your dog, enjoying a delicious adult beverage, and putting the hurt on a sandwich. Because, lets be real, as much as we judge that guy walking down the street, we all kinda wish we had his sammie, brew, and that dog really is kinda cute. So now, I have become that man, and it is glorious.

The clip is also able to grab onto the normal part of the leash and not just the handle part. So, got a fat tree you need to hook your dog to while you dive into a cafe to get a second sammie? Boom, hook him up to it, and chat up the cute girl at the register cause you are good to go. At least until your dog barks at you and you can now tell her about how awesome and cute your dog is. Nice move.

I can't tell if people cower in fear of my awesome while I strut down the street, or are scared that I may attempt to shove them off the sidewalk for walking too close to me. Either way, the leash is a perfect length for me to walk, not step on my lanky dog's legs, (he is a hound mix and is all legs, not like Jessica Rabbit though). Yet the length is manageable enough to give him a solid tug as a little baby who decided to smash his face with her sausage fingers attacks him all the while her parents fight in the busy intersection and you secretly hope for a large truck to drive through.

Its thin, light, durable, tough, easy to manage, and the bright blue is a hard color to miss, so it doesn't get lost under the table at beer filled cook outs. I have used a ton of leashes, all the way from a piece of rope to some fancy pants feature filled shenanigans.

The only thing I personally don't like, but totally understand is the Talon clip where you hook to the dog's collar. You push down on it (very easy and nice for arthritic people and the like) but its just.... weird. I don't like it. The number of times I have missed the clip and felt like a 5 year old, no motor skills dum dum as my dog has scurried off thinking he was on the leash ready to hike.... well.... lets just say its far too many. However, I can't discount points for this because for anyone with hurting / not well working hands the design is money.

So, be the king of the neighborhood, walk with your hands free, or full of beer. Your call.
Unleashed!
Familiarity:

I've put it through the wringer
This thing is sweet! has been a great tool for training my 90 pound Cane Corso puppy. Nice to have the hands free option and the ability to leash her to a tree or pole without having to run the leash thru itself. Also the loop near the collar comes in handy when I need to pull her close or keep a little more control of her
Flat Out the Best
Familiarity:

I've put it through the wringer
I'm not sure that I had many expectations for a leash other than to keep my pup nearby, but the thoughtful design of the Flat Out leash has amazed me.



I'll start at my hand and work to my dog's collar, pointing out notable features:

The webbing is light, but strong and looks great after its fair share of abuse on muddy hikes. The padded hand loop isn't bulky but provides some comfort that is much appreciated on long trips. The hand loop is adjustable for use as a waist leash (something I've yet to do), but also unclasps completely to quickly wrap around a tree, post, or that railing outside the local coffee shop. I was a little skeptical of the loop staying secure, but after seeing the design and using it, I feel confident that the loop will only come undone when I want it to. Near the dog-end, the traffic loop allows me to keep my pup nearby when we're waiting to cross the street or passing a less-than-friendly dog on the trail. Finally, the clasp quickly and easily attaches and detaches from a collar or harness (not that my dog has a problem patiently sitting, but...OK, we're both incredibly impatient). Even when the collar loop is hidden from sight by fur, I find it's easy to get the leash securely fastened.



There have been a few times when a leash of a different length (longer or shorter) may have been ideal, but I find that this is a good all-around length. Many parks actually require a leash that is 6' or shorter, so this fits the bill quite well. Friends and dog sitters who have used the leash have commented on how great it was, and despite my apprehension to get too excited about a dog leash, I must agree.
Flat Out Goodness
Familiarity:

I've put it through the wringer
First off, I'd like to say thank you to Backcountry.com and Ruffwear for hand-selecting me to review this piece of gear for the benefit of the backcountry.com community.



Out of the box and easily clipped to Gracie's collar, we are ready to go! Of all the leashes I've used, the ease of the Talon Clip design is way ahead of its time. Seriously, say goodbye to all the wrist-wranglin' attachments of yesteryear when it comes time to getting your pooch attached in a hella quick manner!



At 6 feet long, the Flat Out leash obeys all the leash laws and then some. Shoot howdy, there is even an adjustable traffic loop for city sidewalk strolls to keep the pup close; heck yeah! The padded handle is a nice touch too.



Out of the city and down the beaten path, the Flat Out handles like a champ. We've got a strrrrrong puller on our hands and it definitely keeps her in check. We like to use it in conjunction with the Webmaster Harness or even the Float Coat at times as well. So far, the durability and strength of the Tubelok webbing is taking everything we throw at it.



The only drawback we found with the Flat Out was its length on certain... extreme trails. Every so often, some of our hikes turn out to be more like crazy scrambling sessions going up some rather boulderous terrain. Sometimes, a bit more length is required (I'd say by another foot or two; seven to eight feet total) so when your pooch finds their next step, you've still got some slack in the line. This is crucial so your pup doesn't lose footing and fall backwards if there is not enough slack. Ack! But like I said, this only comes into play when doing some more extreme trails where the longer length would be required.



If you're looking for a great, easy to use leash, stop looking and snag one of these already!
Awesome Leash!
Familiarity:

I've used it several times
Thank you to Backcountry.com and Ruffwear for hand-selecting me to review this piece of gear for the benefit of the backcountry.com community.



We got this leash to tame our border collie/cattle dog, Bandit and aren't disappointed in the least! The leash itself can function as either a traditional, hand-held leash OR can snap around your waist. Before you start thinking to yourself, "do I really want to be that nerdy person attaching their dog to my waist?" give it a shot.. we were those skeptical folks and have been completely impressed!



The leash is super easy to swap between modes as well as completely comfortable around your waist. It's light and it doesn't dig in at all.



The magic with this leash happened, however, when we started trucking with Bandit. She's not great with other dogs so you always have to be cautious when you're passing by people on the trail. When you have her hooked-up to your waist she feels confident enough that we found she didn't even flinch when we walked past other dogs along the way. To make things better, there is an awesome handle near the collar that is super easy to grab for those moments when you do want a bit of control.



My husband and I were impressed with what this leash brought to the table with Bandit. She pulled less overall and not having her react to other dogs on the trail was an added bonus. I highly recommend this leash for all dog owners out there, but especially for those who might have a pup that pulls or needs a bit more assurance with other dogs along the trail.