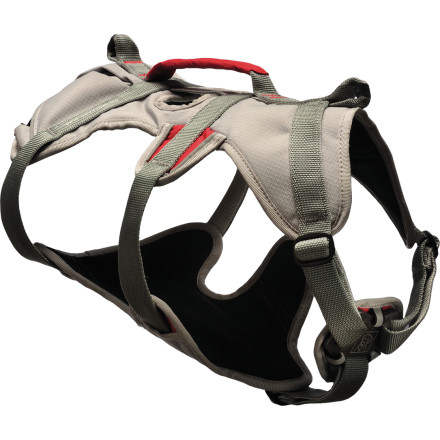 Colors

Detail Images
Description
You're wearing a harness, why shouldn't your dog?
Tired of leaving the pup at home when you head to the crags or into the mountains? Take your pooch over technical terrain, sketchy slabs, or dangerous sections of trail with the strength-rated Ruffwear Doubleback Harness. When you can't stand to leave your pal behind, this climbing-style harness lets you belay your canine through terrain where a fall might be disastrous. The adjustable design features a 8.9kN-rated tie-in point, sturdy aluminum buckles, and padded webbing to keep your companion comfy in the vertical world. Ruffwear also included a padded grab handle for when they need a quick human assist.
professional harness
Familiarity:

I've put it through the wringer
It's a really solid harness! Wish it had clips to lock in place than the current system it has is the only down fall, so it's not an easy harness to put on and off of your dog.
best harness I've found, definitely worth the money
Like another reviewer I bought this harness for my German Shepard who has hind end problems, degenerative myelopathy. I didn't find this harness hard to put on at all, trying to figure it out at first was a little harder, but since then it's quite easy. The handle on the hips harness part is very useful, and makes it so much easier for us to help our girl get up. With this harness we are able to lift her into the car and down stairs without any issues. She wears it all day, every day with no problems. We take it off to make sure there are no sores developing from rubbing, and have seen nothing.

I would %100 recommend this harness to any one who's looking for something to help with their dog.
I bought this as a support harness for my Rottweiler who has hind leg weakness, not for rock climbing. It's pretty comfortable for him,and I especially like the broad chest piece that supports him from underneath without cutting in to his "armpits" . It's very well made, but for my purpose I find it pretty difficult to get on him & the straps are hard to get secure & tight as you have to weave them through the metal rings, I would prefer a different type of closure. I also would like it better if the hind leg straps were removable, as the pouch they stow in would be handy to use as a mini backpack when they aren't needed. If I was dangling him from a rope it would be great. Just wasn't what I needed, but I will continue to use it. It is worth the price & will last a very long time.
This is a great harness. My wife canyoneers with her service dog, a 25 pound Westie. This dog goes everywhere we go and we have never had a problem. I would recommend this harness to anyone
Unanswered Question
Ever have any problems with the dog urinating...
Ever have any problems with the dog urinating on the harness while wearing it?
Ruff Wear DoubleBack? Safety Harness for Dogs - Fitting & Instructional Video
Instructional video
Are the rear leg loops detachable? Looks...
Are the rear leg loops detachable? Looks like they are sometimes there in the photo and sometimes not. Can someone help me out?
There is a zippered pouch in the back of the harness that they tuck into when not needed.