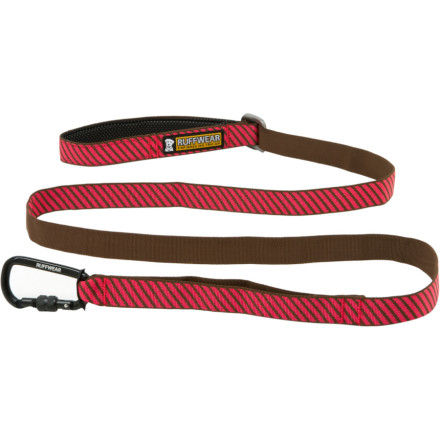 Detail Images
You trust your life to carabiners all the time; trust your dog to one too, and hook him up to the Ruffwear Doubleback Dog Leash. The screw-gate locking 'biner keeps your pooch firmly hooked to the leash, and the padded handle keeps the leash comfortably hooked to your hand.
What do you think about this product?
Have questions about this product?
I got this leash and it's ok. I HATE how the carabiner doesn't swivel - seems small but its a big deal. It means you have to un-twist the leash ALL THE TIME. Also, the little rubber piece of fabric that secures the carabiner to the leash started breaking on mine and then the clip would flip all around. I got it for running, but am looking for a new option, if that tells you anything.
The padded handle is nice if you've got a stubborn puppy like i do. The locking carabiner is a little overkill; have you ever known your dog to work your regular carabiner? Does it really need to be a LOCKING carabiner? But whatever, it's certainly not hurting anything.

At first i was dissapointed that it didn't have a swivel end like most leashes, so it gets twisted up a lot, but then i realized... uh... it doesn't matter. so the leash is twisted, again, it's not hurting anything.

Cool looking leash, perfectly functional, LOVE the way you can adjust the length. In the end, you've just gotta decide if $30 bucks is really worth it for a dog leash. I mean, it didn't TRAIN my dog for me.
I got this leash after losing my other double handled leash at the dog park. The webbing on this one is thinner than most leads and easier for me to hold onto when my dog pulls, while still just as strong as the other leads. I LOVE the ability to make the lead shorter or longer using the buckle at the top. It's very solid and does not slip, I can attach Rusty to my waist, or shorten up the leash in places where I'd like him closer to me. The padding on the main loop is nice and dries pretty quickly. The carabiner makes it easy to hook the leash onto his collar and the locking feature and traffic loop are great for situations where I need a lot of control.

This thing still looks almost new after 6 months of hard use. The only drawback is that I wish it was a little longer, which would make it more useful when the leash is around your waist.