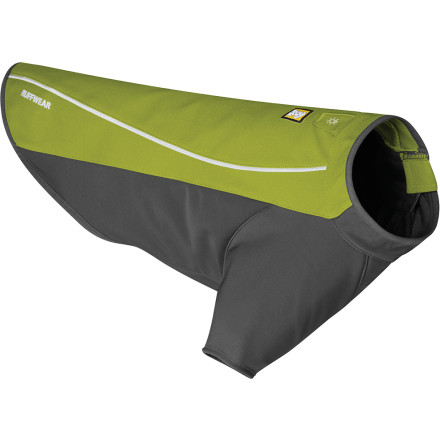 Colors

Detail Images

Community Images
Never see your dog shiver again—the Ruffwear Cloud Chaser Softshell Jacket's waterproof and windproof three-layer fabric keeps your dog at constant warmth, and it's still breathable so your pup won't get overheated. The Dupont Teflon-coated lower fabric doesn't allow dirt, snow, water, and other unwanted environmental substances to enter your house after a muddy hike or an epically dirty game of fetch. Four-way stretch gives your dog a comfortable yet active fit which looks so good you'll wish Ruffwear made this jacket for humans too.
Waterproof and windproof three-layer softshell upper fabric keeps your dog dry and warm
Dupont Teflon-coated fabric repels water, dirt, and snow
Insulating interior maintains heat so your pooch doesn't freeze
Four-way stretch keeps your dog comfortable and ready for action
Raglan sleeves maintain circulation through his or her limbs without limiting range of motion
Zippered closure so your dog won't wiggle out halfway through your adventure
Reflective trim and light loops keep your dog visible to you and others at night
Nice quality but didn't fit
Familiarity:

I returned this product before using it
The softshell material seems durable, and the underbelly stretchy fabric seems like it would be comfortable. I ordered a medium for my 50 lb. male coonhound/lab mix. He is slender but long. The fit was okay, except he would have peed right into the jacket. Yeah, not good. Nothing I can really do to fix that, so I'm returning it. Pretty sure a size small would be super tight and uncomfortable for him.
Perfect Softshell for the Active Dog
Familiarity:

I've put it through the wringer
I take my dog with me just about everywhere. I made the decision long ago, that if I need quality gear, so does she. The Cloud Chaser is her go to layer for hikes and runs when the weather gets a little cold. It's also perfect as a windbreaker on mountain peaks. She's been using this jacket for about a year now, and we have no complaints.



Isla is a Mini-Goldendoodle and weighs in at 24 lbs. She wears a size S, which fits well on it's own, or with her thin fleece layer underneath. The elastic fitted arm bands hold the jacket snugly in place, and trap warmth. The materials are soft, comfortable, and durable. The side zip works very well, and allows for easy on and off.



We've been in light snow and rain with this jacket, and it does a great job of keeping moisture out. The only place it can get in, is the panel under her belly. This is a trade-off, as it also allows for a little breathability on the pushes towards the peak when she's really getting after it.
I am a huge fan of Ruffwear. From jackets, to packs, to toys they're gear is always durable and well thought out. I have a size small Cloud Chaser for my 45 lb Australian Cattle Dog and it's a perfect fit. We use this jacket skiing or at night camping when temps get low.

My favorite aspects of the this coat are the full body coverage, water/snow proof, and stretchy fabric for a dog on the move. I also have an overcoat that I occasionally put on ontop of the Cloud Chaser on colder ski days, but it's rare that I take her out when it's that cold. It's critical that the Cloud Chaser covers her belly, prevents snow ball from accumulating. Snow never clings to the jacket, it just slides right off and stays dry. She can run full out sprints without any hindrance. It's comfortable enough for her to sleep in when we're camping. Taking it on and off is easy, the zipper is sturdy and reliable. The interior has a soft fabric, and the leg loops work well. I also like the reflective trim to spot her easily at night.

Overall I don't have any complaints with this jacket. It keeps my pup warm and comfortable without slowing her down. Highly recommend this product and Ruffwear in general!
My dog looks sooo adorable.
Familiarity:

I've used it once or twice and have initial impressions
And it seems to keep her warm! I will update once we take her skiing... I originally got it to keep the snow from clumping on her belly.
Great coat for my Vizsla for backpacking
Familiarity:

I've put it through the wringer
I got this coat for my 42# female Vizlsa (medium fit well, tho her measurements put her into the small - tried a small and it was way too small). Just got back from using it every night while backpacking for 6 days. She was able to run, hike, play and sleep comfortably in the coat. At first I wasn't so sure if the sleeves would work - but they were great and the added chest protection was nice for both warmth and for avoiding bug bites. I also liked the way the zipper was on the side and didn't seem to bother her when sleeping (an improvement over the big clips on the side). The coat held up really well and still looks brand new. I would highly recommend it for active dogs who need an extra layer of protection. I was more impressed than I thought I would be and my dog really loved it! We will use it a lot!


Great Coat for Small Dogs
Familiarity:

I've put it through the wringer
This coat is high quality and the XXS fits my 7 lb yorkie perfectly. It's been to the top of 14-ers, backcountry skiing/snowshoeing, and on numerous day hikes.
I compiled these three photos to show the difference of Doc's behavior at summits when wearing the jacket and not - When not wearing the jacket (top left) he finds the most sheltered spot available and curls into a little ball to keep warm. With the jacket, he rolls like crazy (top right) which is his typical behavior when "happy" - when we get somewhere "fun" he rolls - when we get home after a long day at work he rolls, etc. And then he's happy to sprawl out in the snow, post roll (bottom) giving more of the happy ridiculous look than the "I'm cold and miserable can we keep moving" look.



Eh maybe I'm anthropomorphizing a little but it is the best I can do since he can't talk and tell me what he actually thinks.
Layering on Clouds
Familiarity:

I've put it through the wringer
Doc loves his softshell and loves that it can be layered with his Webmaster Harness -- He reminds all dogs that layering isn't just for humans!



It seems to breathe super well for him (from what I can tell reaching under it when we stop) and cuts the wind (he doesn't hunker down behind trees in windy spots anymore when we're knocking out 4000 footers in NH). Great for dogs with enough insulation already - and those that need the warmth - remember to layer with the quinzee or similar.



Jacket means no snowballs on the belly for him - repels water/snow really well (better than my softshell actually!).



Tailored "athletic fit" means there's not bulk for him to trip on so his agility stays high.



I love that the red shows up well from a distance when he can't have his blaze orange track jacket on.
Just what I was looking for!
Familiarity:

I've used it once or twice and have initial impressions
I have a 23lb Boston Terrier who I want to feel more comfortable on the cold days we go snowshoeing and hiking. I like the chest protection, and after several hours on the snow and temps that ranged from 19-40 degrees F, he was doing fine. When I took it off, it was dry, including the stretchy chest fabric.



A note on sizing: His girth is 22", so I opted for the Small size. It was too long under his belly and would interfere with urination. If you have a male dog who is big in the chest and short in the body, this might be an issue for you, too.



So I returned it and got the XS and it's a snug but very good fit. No chafing or rubbing and it stays put. The zipper is a little difficult to get started, especially with cold fingers, but once it's zipped up, it's very secure.



So far, no issues at all. Very pleased with this. If over time I see an issue, I'll report back.
Neck-deep in the pow at Mammoth Lakes.
"BC" stands for Backcountry. But it's also acronymical (<-- is that a word?) for Border Collie. Here's mine, totally stoked and ready to rage, in about 9 feet of snow, wearing her RuffWear Cloudchaser.

When I tell my climber friends that my dog has a softshell, they raise eyebrows in skepticism, but this thing is full on. Not that Neutron (The Dog) cares (That's her whole legal name, parenthetically complete...), but this dog jacket sheds water as well as my Arc T Hercules does. Only she could tell you if it keeps her warm or blocks wind (it's not Windstopper...need it be?), but honestly, I'm not sure if dogs even care about that when there are sticks to be chased, plus she has not one, but TWO layers of coat, both of which I am allergic to. (I know, it's a drag...)

What it most definitely prevents, in my dog's case at least, are the dreaded fur, clot, balls-of-ice...thing...that happens on her belly. Actually, sometimes I don't wanna put it on her, because watching her try to walk and the look on her face when she's trying to process the meaning and consequences of the cantelope-sized spherical orbs that build up like so many dangling snowmen on her chest and belly fur is just downright HIGHlarious. A close second to when I strap her little dog shoes on and she takes those first guffaw-inducing exploratory steps. (i should upload a video of that...)



Anyway, other people have said the sizes run small. I'm not sure if I agree, but I do know that my BC is skinny, and she needed a medium, and our Aussie looked like an over-packed Lil'Smokey sausage when we attempted squeeze her into a small. So maybe those other people are right.



It zips totally shut, keeps out snow and is short enough on the underside that they don't pee on it. (important detail...)

The only thing I wish this coat had was a handle on the back so I could pick her up out of deep snow. Other than that, I love it.



5 stars...
Sizes run very small
Familiarity:

I've used it several times
i went by the size charts on ruffwear's website for these and when i received them it was much smaller than expected :(

On the bright side! it is made very well and looks great! as well

the water resistance is superb!

i ran it under the water in my sink and it just rolled right of like magic!
Leg openings too tight.
Familiarity:

I've used it several times
I measured and ordered a L for my Vizsla/Lab Mix...fits him perfectly, even a little extra room. However, after an hour hike, his fur was rubbed off on the front of his front legs. I took a seam ripper and removed the end cuffs, which gave him an extra inch of room for each leg. Had the same problem with the Fleece Jacket. Once the cuff is removed, both jackets are fine. Took off one star for this problem. Otherwise, the jacket(s) are great.