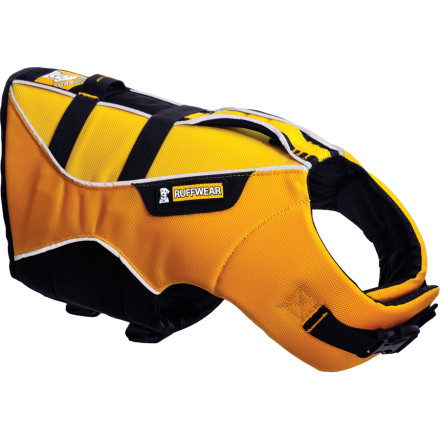 Your pooch may have perfected the doggie paddle, but when he comes along in the raft or out into rough water, the Ruffwear Big Eddy Float Coat Dog Lifejacket will help keep your pal safe and sound. The Big Eddy features strategic buoyancy cells that support your dog's natural swimming position, allowing him or her to swim to safety or just enjoy a cruise downstream. The tough ballstic nylon shell takes years worth of abuse, and reflective trim helps you keep a watchful eye. Ruffwear also added a low-profile top handle for lifting your dog out of the water.
They get used to it
Familiarity:

I've used it several times
I was a little nervous at first because our dog basically wouldn't move when I tried it on him in our kitchen.



However, the second I took him to actual water to try it on he was pumped! He must have realized that it made swimming much easier & he could swim for a lot longer.



Our lab is a great swimmer, but we got it for him for long days at the lake & safety when we're on the river. Definitely worth the investment & peace of mind.
Even though my lil' pup is a great swimmer, I wanted an easy way to lift him out of the water and back on to the boat or dock. This well constructed vest does the trick. My dog loves wearing it, it's easy to get on with 3 snaps and supports him well when we have to get him out of the lake. It's also great for when we take him on the jet ski as I can buckle him right on to my vest.
Best for Already Seasoned Water Dogs
the Portage lifejacket has a little more flotation and should be picked for dogs new to water or with less buoyancy or as just a standard lifejacket.

If your dog is an active water dog, then I would recommend this big eddy lifejacket as this one is a little more streamlined if the dog is going to be wearing it for many hours/days.
The Big Eddy Float Coat Doggie Life Vest
I've been looking for this life vest for my 20-pound Jack Russell Terrier for the past year. Ruffwear has two life vests for sale and it took me a while to realize the difference between the two. I picked this life vest because there's a high probability that my dog will be on a boat in the Long Island Sound. This life vest is designed for ruff water conditions, ideal for the conditions we may face. Although my dog is a good swimmer, I realized that any dog would be unable to stay a float for a long period of time, especially in choppy water. This life vest will give me peace of mind when we're out on the sound. Since its presently winter, I've only been able to put the vest on her to insure a proper fit. Since my dog is between sizes, I picked the larger size. It a perfect fit. The price and fit were both excellent. I'm looking forward to the summer and having some water fun with her.
'Woof!' said my girlfriend's black lab, Cody, when I asked him what he thought of this doggie lifejacket. Well, in all my years of speaking dog-ese, I can honestly say that he was right. With the heavy duty webbing material sewn into the design, Cody is more than confident swimming across Reudi Reservoir outside of Basalt or thrashing around in the Last-Chance Rapids on the Colorado River near Glenwood Springs. With a wag of his tail, he let me know just how much he likes the extra bit of flotation when he swims sidekick to my stand up paddle (SUP) board on the water. And with that useful handle on his back, I can hoist him right into the inflatable kayak and on my lap when my girlfriend wants a try at the SUP board. He's not a big dog, but at 60lbs, the medium size fit his athletic body just right.
Hi there, I was just wondering if you could...
Hi there, I was just wondering if you could use this for a dog that doesn't even know how to swim? Would it keep him a float for a couple of hours? Also my dog is a black lab but is still a puppy. Do you know what size would be ideal for him? When he is fully grown he should be 85-110lbs.

Thanks....
, ☃bcs_badge_alumni_label☃
Oh yeah its just like a life jacket for humans, but for dogs. So it will keep your dog afloat no matter how long he is in the water. For the size he is going to be I would recommend most likely the Large would work perfect.