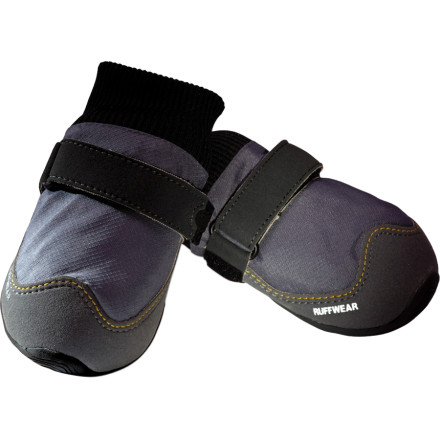 Detail Images
Whether you're out on a day hike or just cruising to the dog park for an afternoon of sniffing, the Ruffwear Bark'n Boots Skyliner gives your canine pal some everyday paw protection. With a stretchy gaiter and a cinching hook-and-loop closure, these protective booties fit securely on your dog's paws without hindering movement. The pliable rubber sole keeps out rocks, thorns, and other nasties while providing solid grip on slick surfaces.
ummm..
Familiarity:

I've used it once or twice and have initial impressions
Dogs are made with natural boots, they are called paws, they don't have as many nerve endings in their paws as we do on our feet, so i think these are kind of pointless, plus my dog hates them, waste of $35 for me, personal opinion though, others may like this product..
Tried these our on our dog, and a good idea but he hates them. He bites and them and tries to tear them off.
Ok concept, but tight cuff fit was not doable for my dog
These are a good concept, but my dog is not very easy to put stuff on her feet, and these have a tight collar that you need to spread and get on the paw. This was not doable for my pup.
So I have a husky who is getting older and has arthritis. It is hard for him to walk on our hardwoods in our house without slipping and freaking out. This is why I ordered the dog boots. The problem with these is that they are very difficult to get on over his big wide paw. He freaks out when the process is being attempted, so I am going to be returning them. If you have a dog that doesn't mind you messing with their paws and will just lay there comfortabley while you put their shoes on, this is a good product and would work well.
I really wish that I could recommend these boots. I spent a long time shopping for them, comparing reviews, measuring my dog's paws, etc. However, despite my many attempts to secure the boots on my Jack Russell's paws, they keep slipping off. I know that the fit is correct (XXXS) & I've secured the velcro snugly around each ankle--but the boots just won't stay on. And this is in my house, on hard wood floors! If my dog was to step in snow with these boots on, she would definitely lose them. I will be returning them to backcountry.com.
THESE ARE AWSOME!! my dog hates people touching his feet but these he was fine with. I got them so we could play in the snow, backcountry ski,snowshoe... but don't ware them without a liner or even just a small pair of socks because the don't have much insulation. But I completly recomend these to active people who have cold winters.
I have seen these booties and other RuffWear booties constantly slip off many dog's paws when they run.
Pretty stiff, but the fit is good...
Unfortunately the material (I guess the blue part is tough leather?) is really kinda stiff, but they do their job well, and if you measure your dogs' paws accurately (go to ruffwear.com, click on the boots, then click on 'how to size') they fit really well too. We also use baby socks under each of the boots too, as they advise you to buy liners to use under the boots on ruffwear's site to help achieve a snug fit, but baby socks are cheaper, and they go up on our dogs legs nice and high... Fortunately we haven't had any problems with the top of the boot hurting the area around his dew claw. I think this boot is just a little bit taller than the other boot that we tried, (the Bark n Boots Grip Trex boots with the vibram sole), which hit right where the dew claw sat, which was terribly irritating for our dog, not good!
*Heres a little FYI- you might want to check out geartrade.com, they have a bunch of these boots right now for over 50% off, and its all from the returns that come to backcountry.com...They prob don't want that advertised, so shhhhhh, so don't tell anyone, lol....(just go to geartrade.com and type in ruffwear in their search engine). Hope this helps someone!
Unanswered Question
Have 2 Bernese Mtn Dogs. One has a 3 1/4...
Have 2 Bernese Mtn Dogs. One has a 3 1/4 paw width, the other 3.5+
I specifically want the booties for Snow Showing. We do 3 + hours on Saturdays and they both are getting ice balls on there pads and between toes - up to 1" diameter Am concerned about durability and snow / ice appropriateness.
Not for large active dogs
I purchased these for my 90# bullmastiff pup. He wore them outside one time and poked a hole in them. The shoes fit pretty well although the back shoes kept turning on him. I don't know if they did not last due to my dog's size or poor quality. I expected more from a $50 set of shoes.