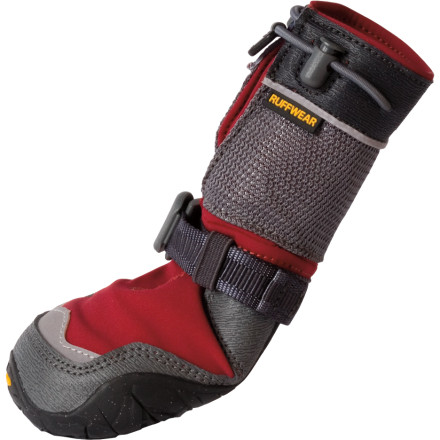 Colors

Detail Images
Description
For the adventure-bound canine.
Your pup doesn't have to be running the Iditarod to enjoy the benefits of the Ruffwear Bark 'n Boots Polar Trex Boots. A grippy Vibram IceTek sole provides ice-specific traction in the slipperiest winter conditions, while a laminated softshell upper provides the protection of a DWR finish . Camstrap this bootie to your pooch, and rest assured knowing that extended gaiters help keep out even the deep snow. Scotchlite reflective trim adds safety for evening frolics.
Ballerina dog?
Familiarity:

I returned this product before using it
I have a 10lb JackRussle/greyhound? mix who runs/and backpacks long distances with me year round. BUT, he doesn't have an undercoat, so I'm asking a lot of him in the snow. I usually end up carrying him once his beard is frozen and toes are bright pink.
I hoped this would be a great solution, but alas, he could not EVEN BEND AT THE ANKLE, he literally walked around on TIP TOE.

There is absolutely no WAY for him to wear these, they seem like good quality, but they are completely unusable. Would have been amazing if they'd worked out.

Unless you need a "pee-your-pants" kinda of chuckle, I wouldn't even bother with this.
Worthless
Familiarity:

I've used it once or twice and have initial impressions
The Polar Trex boots are the only piece of Ruffwear equipment I've purchased that I didn't love. I wanted them to be the answer to my dog bootie dilemmas so badly, but alas it was not to be.



I'm always looking for the next big thing in dog bootie technology for my Australian Cattle Dog when we go skiing together. These seemed like the perfect answer. I love the idea of the protective high cuff. Anyone who goes skiing with their dog regularly knows of the danger ski edges pose to our canine friends. I've sliced open the forearm of my pup before and it was a miserable experience. The grippy vibram sole and lined interior all seemed like the perfect solution to dog footwear in cold conditions, and I was confident from my previous experiences with Ruffwear products that, as always, they would nail the design. I was wrong. Took her to the dog park to test them out and they were falling off within seconds. Put them back on, restrap tight as can be, they last a minute. It wasn't a sizing issue, the boots just won't stay on, as is the problem with almost every dog bootie out there. Apparently it's not easy to design winter dog footwear that works! I know a few people with the same boots who use medical tape to secure each bootie, every time they go out skiing. It's an option but not the most desirable one, especially when you're spending more money on your dogs shoes than your own!



I ended up returning the Polar Trex, I'm crossing my fingers that eventually Ruffwear will have a major breakthrough in dog bootie technology and that one day my pup can come skiing with me on longer treks without the worry of numb paws. Until then I'm sticking with the $5 a pop basic nylon bootie with a velcro strap ontop. They don't grip on ice and don't conserve much heat but they're easy to replace if lost, stay on pretty well, and are better than using nothing.
DON'T WASTE YOUR TIME OR MONEY
Familiarity:

I've used it once or twice and have initial impressions
I purchased these boots to prevent 'snowballing' in my dogs paws while cross country skiing, (after already attempting 'Mushers Secret'). I put them on and had her walk around the house for a while the evening I received them and then made sure they were well fitting and tight before letting her run in the back yard, in the five minutes she was outside 3 fell off... The next day I tried again, this time I made sure to really tighten them up. They managed to stay on while walking around the back yard but when I took her skiing out in the field she lost one about a mile later! after spending an hour looking in the foot deep snow it was no luck, gone till next spring maybe... then on the way back (after checking again to make sure there was a tight fit) 2 more fell off... and after another hour of searching I again gave up... at that point I took the last boot and put it in my pocket.



This product was down right horrible and I would recommend that it should actually be removed from the site.
Unanswered Question
I have a pair of mutluks for Jake...they...
I have a pair of mutluks for Jake...they have a suede bottom. No traction and he ends up with clumps of snow and ice around the top of the boots. Another huge problem...the pads on his paws are sloughing off. I assume this is from the friction. Anyone had issues with these?
Not Useful for a Fluffball
Gender:

Female

Familiarity:

I returned this product before using it
I wish with all of my heart these would have worked for my 7 month old goldendoodle. We sized her correctly but even around the house the boots just would not stay on. We cinched and pulled but no tightening could penetrate her wild hair!



My in-laws poodles, on the other hand, love these boots. They fit great and stay on for hours of snowshoeing. The boots are durable and will get the job done for the right dog!


Love the idea and wished they would have worked for my Lab/Setter mix, even tightened down they came off just walking around the house. Ordered a size medium per the size chart, they fit perfect across the foot, maybe the long hair was a factor. Watching him walk in them was the best laugh I've had in a year.
Must have for touring with your dog
Gender:

Male

Familiarity:

I've used it several times
We just got these for our golden doodle so she can tour with us. She definitely didn't love them in the house, but she got used to them after about 15 mins outside. They came off twice when she was running around frantically on an icy parking lot, but once we tightened the straps down, they stayed on for the whole tour through snow which was often deep.
I want to buy boots for warmth more than...
I want to buy boots for warmth more than for traction. Will these keep my dog's paws warm in the Alaskan winters?
Marianne, these should work fine to keep your dogs feet warm in all but the most brutal conditions.
You'll notice many sled-dogs donning booties; many times the boots have holes for the toenails so as to help dogs gain more traction, too.

I'm sure these will definitely help. Have you considered contacting a local dog-club for more tips/ideas specific to your climate? It's a lot of fun, and very helpful, too!
Questions about fit: I'm looking for a...
Questions about fit:

I'm looking for a snug fitting winter dog boot that comes high on the leg for maximal protection from ski edges.

1. Can anyone tell me if the upper part of the boot stays high on the leg, or does it slouch down over time? I'm concerned that since the leg sections of these boots are not made of stetchy material like neoprene they'll just sag down like a pair of loose tube socks, thus providing no protection, only a bunch of extra material to accumulate snow and ice.

2. In Ruffwear's instructional video for these boots, the front portion of the boot upper, below the elastic closure, looks like it forms a large loose fold in the material, which seems almost certain to accumulate snow and ice. Can anyone confirm or refute this?

Thanks for any suggestions.
Best Answer
the boot comes up to the last pad on my great dane and they stay up pretty well, like a high top. i got them for the exact same reason as you. she's been cut more than once by xcountry skis. they are a good height for protecting against skis, but it has taken some time for my dog to get used to having something on her feet. getting them on can be the toughest part when my hands are cold and she chews on them if i put them on before leaving the house. the loose folds you speak of aren't as bad as it sounds... they don't collect a lot of snow, but my dogs feet do end up wet. not sure how good that would be on long trips. hope this was helpful!
is there a sixe chart for these? 100lb...
is there a sixe chart for these?
100lb lab?
thanks for the link. after looking at the different reviews these boots seem to come off very easily in the deep snow. also the sizing seems to run big. so some more reserch to find a good boot. thanks.
Unanswered Question
do you have size xxs in stock? I purchased...
do you have size xxs in stock? I purchased size M and need to exchange...?