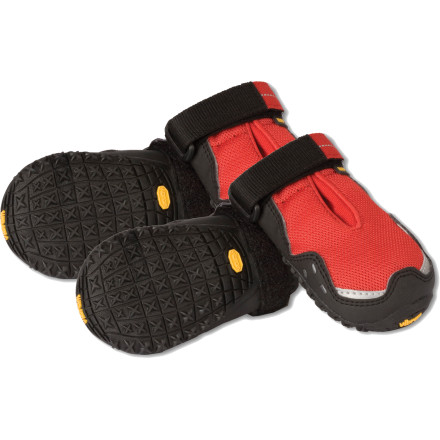 Colors

Videos

Community Images
Description
Power to the pup.
Suit up your all-terrain pup with the Ruffwear Bark'n Boots Grip Trex. Vibram outsoles protect your pup's paws against abrasion in rough terrain and iceballs on snowy trails. The adjustable closure ensures the Grip Trex stays put, even if your pup won't. 3M reflective detailing improves visibility for low-light adventures, and tightly-woven mesh allows breathability without sacrificing durability.
Great Investment
Familiarity:

I've put it through the wringer
Toshi got the larges and fits like a glove! If you need them a little bit snugger, try just baby socks. It works amazingly!

Great product to keep your dogs safe and protected from the elements.

Great shoes for any dogs needing protection and traction outdoors. We always used them while camping and dogs feet stay clean and safe from any foreign debris. Stays on pretty well,front fabric wears off but new style better stitched. Tried other brands, but found these the most durable and secure.
If you boots are slipping, use the doggy boot liners, or just buy/borrow some baby socks to go under these bad boys. That trick is particularly useful with slick and shiny hair, or dogs with small ankles.
Hopefully a Sizing Issue
Familiarity:

I've used it once or twice and have initial impressions
Looking at my buddy Jasper (Aussie Collie Mix), and the pics of Aussie dogs in their shoes below, I went with the 2.5inch paw size shoes. Jasper had a miserable time in them! They kept sliding down his very soft fur, and I can't figure out if it's because of his soft fur, or because they're too big. He was so mad at me for putting him in them, he licked his paws for a few hours afterwards while giving me the evil eye. He wiped out pretty hard in them while trying to jump, and now I'm hoping he's not actually injured.

Moral of the story: Don't assume your dog's paw size from the type of dog, like I did. Also, trust the sizing chart, and test it out with your dog to see if they can handle it.
Great Investment
Familiarity:

I've put it through the wringer
I bought these for my 6 year old Skye Terrier Rufus. We take him out with us climbing and hiking often. Sometimes the terrain can be really rocky and sharp. That is exactly the reason I thought I'd give these booties a try. Rufus' pads get torn so often so we needed to do something different. I went by the sizing chart on these and, first try, got the sizing perfect. I also invested in the Bark n' Boot Liners by Ruffwear (item #RUF000O) to prevent blisters and chaffing. Together, went put on and tightened properly, they don't come off and they stay in place perfectly. Go by the sizing chart and you can't get it wrong! And, most importantly, don't forget to film your dog the first time you put them on him/her!
Great concept...
Familiarity:

I've used it several times
....however, dogs are finicky beasts, and each one is different.
I wish my pup Oakley loved these boots as much as I love them for him (they have freakin' Vibram soles! Talk about puppy luxury!), however he has had some difficulty adjusting to them.
My partner and I picked up these boots for our doggy-filled hiking and backpacking trips to areas with lava rock or excessive scree rock, so his precious little pads don't get scraped or cut.
Initially, when putting them on, he walks very, VERY awkwardly... high-stepping like a Clydesdale and often stopping to chew on the ankle straps in a frantic attempt to rip them off. We have learned to just keep hiking, and to call him on... usually he gets sick of messing with them and obliges us, in which case they are fantastic and help a lot. However he's had such a hard time getting used to them, and the velcro ankle straps seem to loosen pretty often... hence the 4/5 stars. The one saving grace I've found is weighing him down with a full puppy-pack (one of the Ruffwear dog bags) on our excursions... he barely notices the shoes! :)
Hank is one happy hikin' dog!
Familiarity:

I've put it through the wringer
Hank has all white feet, which means all pink pads. He regularly goes hiking with me and would continuously come back with "tender " feet, and on some hikes he would just come back with ripped paw pads. His feet just never toughened up.



Not taking him hiking was just not an option, so I decided to cave and invest in the Ruffwear boots for him. These are almost crucial on some of the desert hikes we go on, protecting him not only from sharp rocks, but cholla cactus and hot ground as well! He also has added traction with the boots on, allowing him to almost stick to the side of slippery rocks when climbing up.



Hank is 45 lbs and has slightly smaller than average feet, he wears a size small in these boots.



* I think the Ruffwear Bark'n Boot Liners are also crucial to these boots. As expensive as they are, I am always paranoid about losing one of the boots on a hike while running or at night. As far as I know, you cannot purchase individual boots on the off chance that you do lose one! They did occasionally slip off and gather dirt before I purchased the liners. The liners though, seem not only to pad his paws and keep them more dry, but it allows the shoes to strap on a little bit tighter and keep them from ever falling off. You can see more of Hank's hiking adventures (with his boots) on www.instagram.com/hankahoula
sizing
Familiarity:

I've used it once or twice and have initial impressions
The way the sizing works on these is a little confusing. I got these for one of our dogs and measured his paws to be in between 2 and 2.25 inches wide, so I went with the XS thinking the XXS would be way too tight. I was wrong. The XS were way too big, I returned them and had to size down.



Bert is not really happy with them, but its better than his paws getting cold and having to stop every 100 feet to rub his pads to get the snow out.
Enjoy the boots
Familiarity:

I've used it several times
Got these little boots for my mini aussie. Never in a million years would I agree to getting my dog boots, but they are essential. He isn't a dog that would allow you to cut the fur between his paws, so this is the next best option.

Initially putting the boots on:hilarious. Very awkward for a dog to have these on their feet, but I remained optimistic that he would get used to them. First day out with the boots in action, we went hiking in 2 feet of snow. I was a little worried he would stop and chew at them, but he didn't seem to notice. The only time I saw him stop to chew was on his wings of fur on his legs that I just need to trim or get the higher cut boot (polar trex). I would NOT suggest these boots if they are going at full sprint. I usually put the boots on for the hike up the canyon and remove them on the way down, since he is running/sprinting the majority of the way down. The first time I had him running at full sprint, one of them flew off. It was a good thing I had kept an eye on this, other wise I would have been SOL and had to buy another set to replace the missing one.

Also, would suggest getting the boot liners for added comfort.
Not for little Izzy
Gender:

Male

Familiarity:

I returned this product before using it
I bought these because I was afraid for my pup's paws during my last backpacking trip. She has never had paw issues in the past but she had never gone on such a long backpacking trip. We were doing the highline trail, which worked out to roughly 90 miles in six days. Although my pup was noticeably tiered by the last day, her paws showed no major wear or cuts. Her muscles were giving out sooner than the paws would. As a result I never used the shoes and chose to return them. I would not get these for Australian cattle dogs. Their paws tend to be tough enough that it is unnecessary for them to put up with this ridiculousness. However I do not run on the road with my dog and other breeds that tend to wear paws faster may find that these are perfect (I mean your buying your dog vibram soles).
Months later - Doc still says "no"
Familiarity:

I've put it through the wringer
I got these last summer and have made Doc wear them a bunch to get over the initial weird-out feeling. However, after months of use and trying o get him adjusted I finally gave up on these boots after our weekend hiking above treeline. I'm either going back to softer boots or just sticking with mushers secret.



We tried these with socks, without socks, we bought smaller boots when they still slipped off ... we tried everything. He tolerated them and they did a good job of protecting his feet BUT he lost significant traction on scrambles and whenever they got wet they bothered his feet (or so I assume - because he would lay down and refuse to move).



Even when the correct sizes were velcro-ed tightly he still would drop boots on the trail regularly.



At the end of the day - disposable booties seem to work better to protect his paws because he can (1) poke his toes through them allowing him to use his toes to climb, (2) actually feel the ground under him (I think the vibram soles are TOO stiff for many dogs - at least one's hiking on strenuous steep trails), and (3) not worry about wet shoes (hey I don't like wet shoes!).



I'm curious about the summit trex because they seem to have a softer, more bendy bottom, and a nice gaiter to keep them on feet for longer.



If you're using them for non-steep scrambles in dry areas they might work - but for us, they just didn't do the trick.
Dissapointed
Gender:

Male

Familiarity:

I've put it through the wringer
My dog loves them, and they do a fantastic job of protecting his paws and giving him extract traction in talus fields...when they stay on.



When hiking uphill, this is a MAJOR problem - I've taken to a routine of checking his booties every 100 steps to make sure that they havent rotate around so that he his walking on the "tops" of the bootie, or just fallen off all together. Inconvenient, sure. I've also ended up losing a few of them as a consequence - resulting in sliced up paws and a very slow descent. So, I try to only use them on the downhill portions of any hike, where the issue is less prevalent. I'm happy to hear anyone else's suggestions.



Long story short, if there was a viable alternative, I would have abandoned these long ago. A $70 set of boots shouldn't be considered disposable on the trail.
they are ok not great
Familiarity:

I've put it through the wringer
I have two goldens and have found that they adjust to the boots quickly . Our one dog Riley loves them in the house because he can corner on the hardwood floors.

My issue with these boots is that they don't stay on. They tend to spin around on their feet. I'm constantly readjusting the strap or replacing the boot.

First time that I used them the dogs were running across the driveway and just chasing each other. Both dogs had boots spin around and the tops became shredded from the driveway.

If ruff wear designed a better way to tighten the boot instead of the cheap velcro strap, I'm sure they would be great
Paw Protection
Gender:

Female

Familiarity:

I've put it through the wringer
I got these for my handsome pup due to an injury he underwent last year. I do field work down in southern Utah and he tags along. Last summer he followed while I was taking bedding measurements in volcanic strata. Not only did he rip up his little paws on the harsh rock, he also managed to walk straight through every cacti patch we passed. He's a good sport, but he took a month to heal. Though he looks like a total dork in them, these boots are the answer to our problems. He's a little confused each time I shod him, but after a few awkward prances he is ready to hike all day long. I got the smalls for his cattle dog paws, and they were a little loose. I purchased some sock liners and now the boots never slide off. I am very pleased with this purchase, though I do feel like a crazy dog lady now... I also love that they have Vibram soles, we match.
booties that fit my lifestyle
Familiarity:

I've used it several times
Maya drags her back foot until it bleeds during our runs. These booties keep her nails covered and protected, making it more enjoyable for everyone. The boots don't bother her at all.
Apologies for the shrill voice, but too cute not to post.
My dog has nicer boots than I do
Familiarity:

I've used it several times
I cannot believe I purchased Vibram soled shoes for my dog but they've made a huge difference on winter hikes and walks. No more ice chunks between his pads or in his fur. Once he got used to them and I strapped them on tight enough, they seem to stay on fairly well.
Great boots
Familiarity:

I've put it through the wringer
These are tough boots, with killer vibram soles and durable material. My dog got used to them very quick and they don't bug him when running/playing. Here is my only complaint, but it really has nothing to do with the boots. We first got them for a 89 mile backpacking trip that we planning on doing during the week. My dog had worn these a lot before the trip to get used to them. Lesson learned day 3. These will rub very bad when putting in long days. The day we did 20 miles wore his hair down to the point where it looked REALLY raw. We still had several days left so we ended up using our extra socks to line the boots. Long story short, if you're planning on doing long trips, and want these so your dog doesn't kill his pads, make sure to buy liners or bring socks. We ended up doing day on with them (and socks), then day with them off. Great boots though!!!